Struggling to find the perfect gaming monitor for your AMD RX 7800XT? I'm here to share my top monitor picks that are a perfect match for your Radeon 7800XT-powered PC, ensuring you get not just high resolution but also the smoothest frame rate and most vibrant gaming experience.
Whether you're a competitive gamer or just an enthusiast, here are some of the best monitors that can help you harness the raw output of your Radeon 7800 XT for a smooth gaming experience.
Alienware AW2723DF 1440p 240hz Gaming Monitor
If you're rocking a Radeon RX 7800XT Build, the Alienware AW2723DF is a great monitor to pair up with. This 27-inch monitor is just the right size and its IPS panel shows off everything your 7800XT throws at it in crisp detail.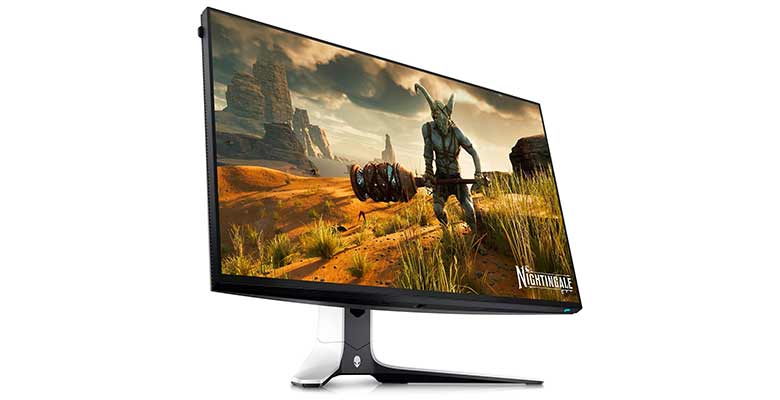 The 1440p resolution of the Alienware AW2723DF is ideal for the Radeon RX 7800XT because it strikes a good balance between high-definition detail and performance efficiency. This resolution allows the 7800XT to deliver sharp and detailed visuals without overburdening the GPU. Also, the 240Hz refresh rate combined with a fast 1ms response time means your games will run super smooth, with no annoying lag or stutter, no matter how crazy the action gets.
The colors on this monitor are pretty spot-on thanks to its 90% Adobe RGB and 94% DCI-P3 color gamut coverage. Everything on the screen looks vibrant and real and it's bright too at 600 nits peak brightness, so you won't have trouble seeing details in your game even in a bright room.
Now all those features come at a price and that is sub-650 dollars, while it is a bit steep you do get to see all your 7800XT has to offer without any hiccups. It's a solid pick if you want a monitor that keeps up with your gaming and you don't have any budget restraints.
AOC Q27G2S 27-Inch 1440p 165Hz Gaming Monitor
The AOC Q27G2S is a good pick for those using a Radeon RX 7800XT, especially if you are on a tight budget. At 1440p, this 27-inch monitor beautifully complements the Radeon 7800XT, providing sharp details without taxing the GPU.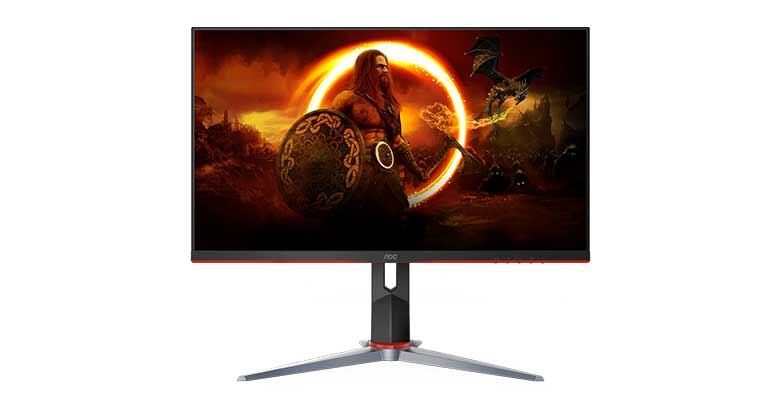 One of the highlights of this monitor is color accuracy, boasting an impressive 95% DCI-P3 color coverage. This means whether you're gaming or dabbling in creative work, the colors are vivid, accurate, and true to the creator's vision. It's a treat for the eyes, especially in detail-rich games.
This monitor by AOC also runs at 165Hz framerate, which I am aware is nowhere close to 200Hz or 240Hz but not all everyone needs or runs their games at 240Hz. One of the reasons could be not having the highest-end CPU or maybe not having a high enough budget to afford monitors with 240Hz display panels like the Alienware monitor we discussed above at more than double the price of this monitor
AOC Q27G2S sits comfortably in the budget category of under 300 dollars, making it an accessible choice for gamers who want a good frame rate and true-to-life colors without paying a hefty price tag.
As for the CPU pairing, I'd say a mid to high-range CPU like an AMD Ryzen 5 5600X or Intel Core i5-13600K would be ideal. That makes sure your system isn't bottlenecked at any point, allowing you to get the most out of your 7800XT-based gaming setup.
LG 32GP850-B 32-Inch UltraGear 1440p, 165Hz HDR10 Display Monitor
This LG UltraGear monitor while providing the same 1440p resolution as the other monitors we have discussed also brings a larger 32-inch screen to your gaming setup compared to the AOC Q27G2S or the Alienware monitor I have talked about, providing a more immersive experience.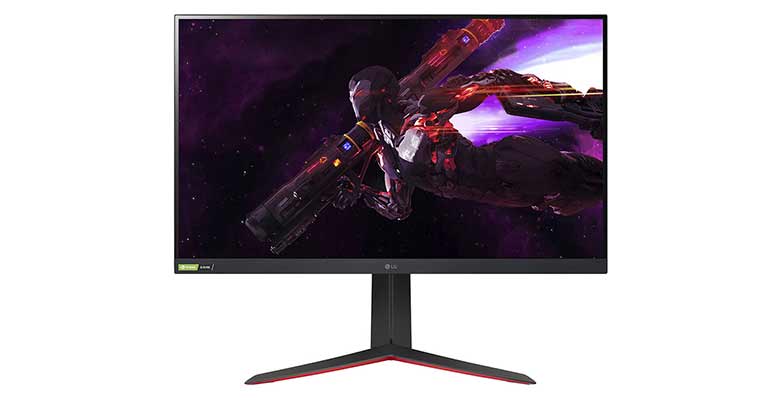 The same high 165Hz refresh rate ensures smooth gameplay, but it's the HDR10 rating and Nano-IPS backlighting where this monitor really stands out in my opinion. HDR10 enhances the dynamic range, giving you deeper blacks and brighter whites, producing more striking and lifelike visuals. The Nano-IPS panel improves color accuracy and offers a wider 98% DCI-P3 color gamut coverage, making the imagery on this monitor pop with vibrancy and clarity.
Priced around $350, the LG 32GP850-B is a bit more expensive than the AOC Q27G2S, but investing the extra 70 dollars brings these enhanced visual features. The larger screen size, combined with HDR10 and superior color reproduction, justifies the higher price for those who prioritize top-notch display quality in their gaming experience. And even want to work on some creative projects every once in a while.
The framerate on this LG monitor can also be overclocked to 180Hz (if you are into that sort of thing), providing an even smoother experience for fast-paced games. This feature is great for competitive gamers who value the extra edge in responsiveness and fluidity.
GIGABYTE M32U 32-Inch 4K 144Hz Monitor
The GIGABYTE M32U is a top-tier choice for those with a Radeon RX 7800 XT, offering 4K gaming at its finest. At around $650, it's an investment, but the features are worth it. The 32-inch 4K display monitor brings out the best in the Radeon 7800 XT, showcasing ultra-high-definition graphics with incredible clarity and detail. This is especially noticeable in visually rich games.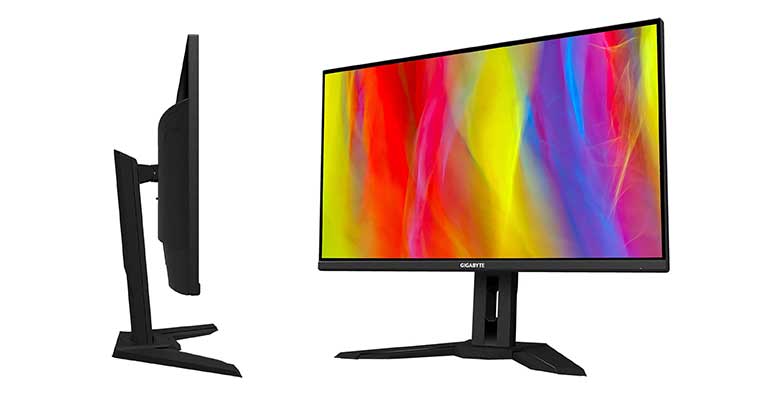 While its 144Hz refresh rate is a step down from lower-resolution monitors, it's impressive for a 4K display, especially when paired with an RX 7800 XT-based PC build. The 1ms response-time adds to this, making for responsive and lag-free gaming sessions at super high resolution.
Color reproduction is another strong point, the 10-bit color depth provides vibrant, true-to-life colors enhancing your gaming experience. Especially with that 90% DCI-P3 color gamut coverage paired with the 4K resolution, you can more than dabble into creative work that relies on a crisp, color-accurate monitor.
The 7800XT's power is well-matched with the Gigabyte M32U, allowing gamers to delve into 4K gaming without any compromises. Additional features like USB-C connectivity and KVM functionality add value, making it not just a gaming powerhouse but also a versatile monitor for all uses.
Personally, I think the GIGABYTE M32U's price reflects its ability to deliver a premium 4K gaming experience, making it a fantastic choice for those looking to leverage the 7800XT's full potential in a high-resolution setting without overspending.
Conclusion
Just like choosing the right CPU, choosing the right monitor for your Radeon RX 7800 XT, is about balancing your gaming aspirations with the capabilities of your hardware. Whether it's the immersive 4K experience of the GIGABYTE M32U or the budget-friendly excellence of the AOC Q27G2S, each monitor offers a unique something to help with your gaming journey.
It's not just about the specs; it's about how those specs translate to real-world performance, matching stride for stride with your 7800XT's power. If you think I missed a monitor that deserved to be included in this round-up, comment on this post and I'll check if I missed a gem.