There are a plethora of iPhone accessories, from the Dongles to Power banks, Wireless headphones to Premium or rugged cases. And sometimes it's hard to choose which ones are the best bang for your money.
For the people who can't decide or want some options to look through, here are 10 iPhone accessories you should buy this year. I've curated this list of iPhone accessories that should work with the past 3-4 generations of iPhones and change your iPhone experience for the better, let's dive in.
Best iPhone Accessories to Buy in 2023
iPhone cases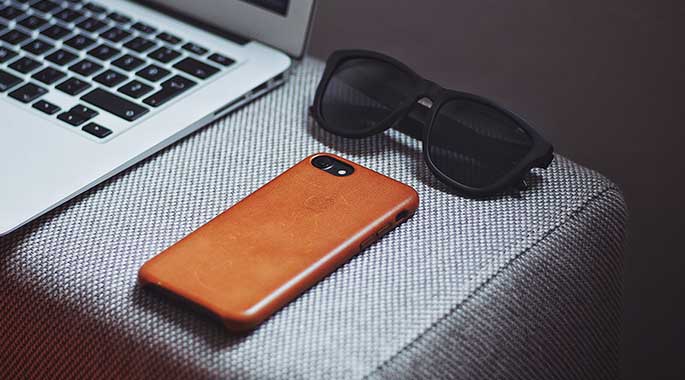 If you are Clumsy from Smurfs or drop your iPhone, as I do from time to time, one of the best accessories you can get for your iPhone is of course a case.
Spigen Tough Armor Case for iPhone 13 Pro Max
I, being an OCD guy who constantly worries about his phone getting dropped and broken from tables and pockets, am very particular about the choice of cases, and the Tough Armor lineup of phone cases is where I settle.
The Spigen Tough Armor case is made of two layers, one is shock-absorbing, kinda soft, TPU, which engulfs the whole phone. Then comes the hard polycarbonate bumper part of the case, which is only on the edges and corners of the phone, providing more spread-out shock absorption. It even has a handy kick-stand feature for you to enjoy content hands-free by propping it up on your desk.
Both work together to provide your phone with unbeatable protection. So if you are the kind of guy who wants max protection for your phone against catastrophic drops and you don't mind your phone looking like a tank, Spigen's neo-hybrid is the case for your iPhone.
Spigen Liquid Air cases for iPhone 13 Pro Max
Now that we have talked about the rugged king of the phone protection world, some people just want protection without their phones looking like a brick, especially with devices that are this premium.
Let me introduce you to the Liquid air lineup of Spigen, I know I sound like a Spigen sales rep right about now but bear with me for a bit. Liquid air cases provide slim and sleek design cases with the necessary protection required for your phone, without looking like a tank. The material used in this is shock-absorbing TPU, which is really high-quality stuff and protects your phone from drops and bumps. If you are one of those people who want minimal protection but also don't want to leave your iPhone naked, I'd recommend this case.
Leather Cases for iPhone 13 Pro Max
Now that we are done with absolute protection, let's talk about making your iPhone stand out.
Sure, some people use vinyl skins and different colored cases to do that, but others prefer leather cases, which, alongside protecting your phone, also provide a nice look and feel. Leather is one of the most exotic materials, making the phone look even more premium.
Sure, you can go pick a case from Apple's own website, what could be better than an official iPhone Case, right?
Well not exactly, some people don't like the official leather cases for iPhones sold by Apple. People either want a case that isn't as overpriced or simply better than a run-in-the-mill Apple accessory, for that kind of demographic, I have Nomad's Rugged leather cases.
Nomad Rugged Leather Cases for iPhone 13
Nomad uses one of the best quality vegetable-tanned leather by Horween leather which ages beautifully. It's made with a Rubber TPE bumper to absorb shocks and bumps, combined with a leather back to give it a more premium look and feel and more importantly to give it that personalized feel.
Not a surprise to see that all their Rugged leather cases work seamlessly with wireless charging as well. Nomad cases are tested for up to 6 feet of drops which is a height way above where you are most likely to drop your phone. Add the fact that its edges are raised a bit to protect the screen in the scenario of a face-down drop and the fact that it is lined with a micro-fiber cloth makes it a pretty compelling deal. Highly recommended.
Glass Screen Protectors for iPhone 13 Pro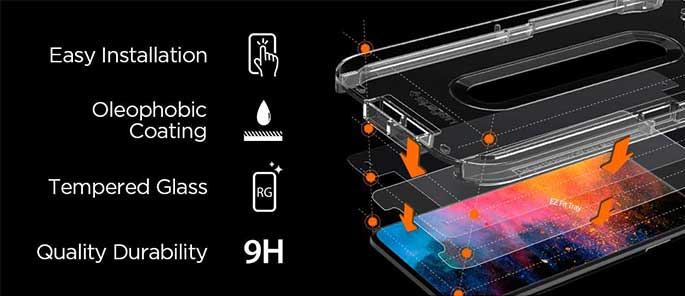 Talking about protection, the display screens are the most important part of the phone and the most fragile, especially now, when the replacement screens cost an arm and a leg.
So I'd highly recommend using a tempered glass screen protector for your iPhone, it adds an extra layer of protection to your phone and a good one like Spigen's Tempered glass screen protector doesn't even feel like it's there and keeps your screen, ermm, unbroken.
I know I know, at this point, it might seem like I've taken a bribe (not true, although I'd like some, hey there Spigen exec) from Spigen to promote their products but trust me, once you use some of their products, you know they are that good.
One of the reasons is that they come with an alignment application kit, that helps you to align the screen protector with your iPhone perfectly while an application for a hassle-free installation.
What I like the most about these tempered glass screen protectors is their oleo-phobic coating which lasts longer than any of your cheap run-in-the-mill screen protectors, providing me with a smooth and seamless touch experience. Also, they fit perfectly with their cases if you are using any, for a better experience.
Dongles / Adapters for iPhone
Griffin Type-C to Lightning Cable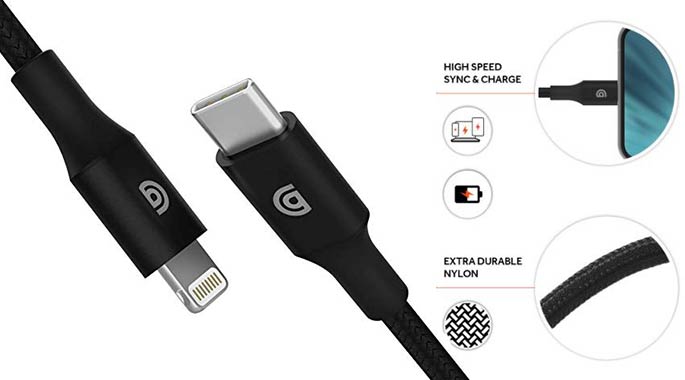 These days everything from smartphones to wireless headphones to laptops is shifting to USB Type-C ports for charging as a standard. Even Apple's own MacBooks have switched from USB type-A to type-C for even charging.
But Apple still hasn't switched to type-C in iPhones which means you have to use dongles and adapters if you want to charge or sync your iPhone from your Macbook. Now, Apple has an official Type-C to Lightning cable in its store but if you are like me and want premium quality cables that last longer, you should take a look at this Type-C to Lightning cable from Griffin.
It supports PD fast charging from any PD brick or power-bank and charges your phone quickly and transfers data between your Macbook and iPhone much faster. Also doesn't hurt to know that it's Apple MFI-certified. Highly recommended.
iPhone Photography Accessories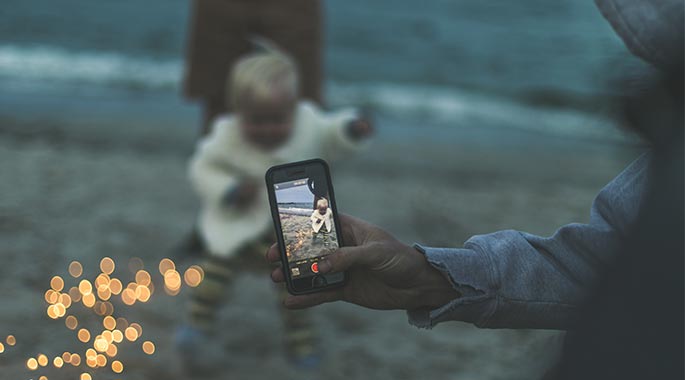 I don't think anyone will ever say that some accessory can convert your iPhone camera into a full-fledged DSLR, but a little bit here and there can make a great deal of improvement in your iPhone photography and videography game.
So here are a couple of accessories to up your iPhone photography game.
Aukey Ora iPhone Clip-on lens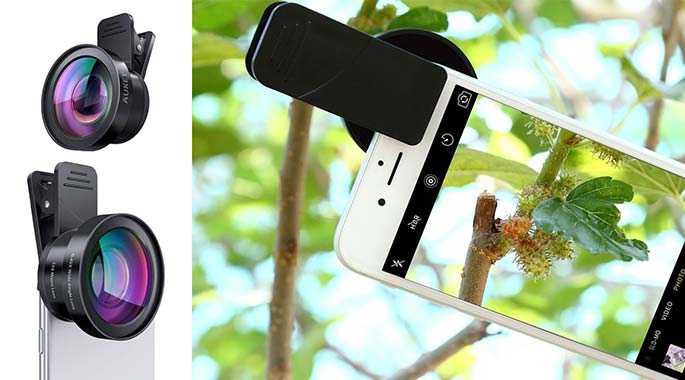 iPhone 12 Pro introduced the wide-angle lens in its camera setup and 13 pros after that but there are older iPhones that don't pack the neat wide-angle lenses and for most people, it's not worth upgrading to an expensive device just for the set of new lenses.
For those people here is a 2-in-1 lens kit from Aukey, which packs a 140-degree wide-angle lens and a 10x macro lens. It is a clip-on accessory so you can clip it onto any phone you have but we are talking about iPhones here, so you can get all the scenery in the frame you want to with that wide-angle lens.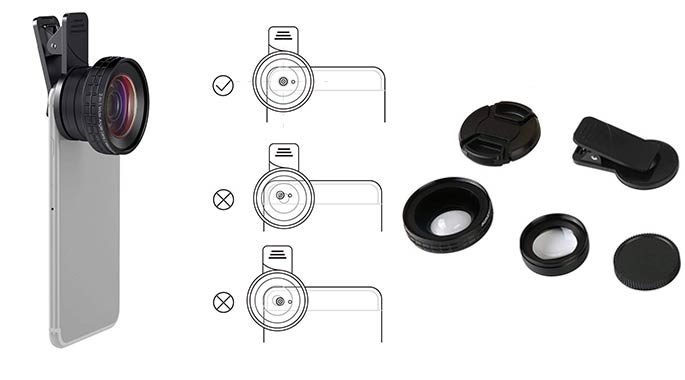 I know since the past couple of years iPhones have been packed with a macro lens for up-close and personal shots but smaller models like iPhone 11/12 or iPhone minis don't have that luxury. So if you have either of those iPhone models or any of the older iPhones, you can take those close-up shots by clipping on the lens.
The whole package is under 20 Bucks on amazon, so it's worth the money in my opinion. Highly recommended.
DJI Osmo Mobile 2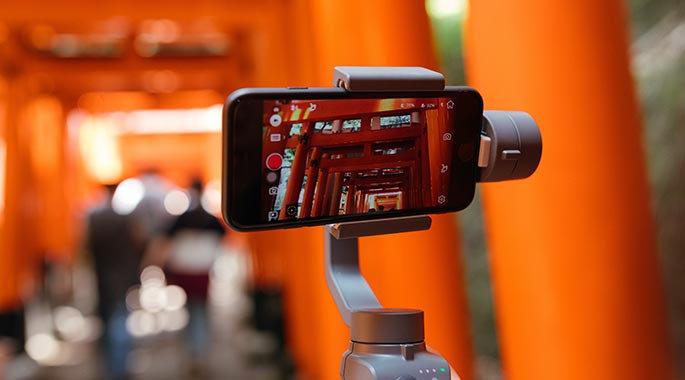 Modern-age smartphones have come a long way and replaced almost every electronic gadget you'd need in your daily life while becoming thinner and lighter. They shoot excellent pictures and videos.
But due to their lightweight and thin designs, it is very hard to hold a phone while shooting a video and the optical image stabilization is not good enough to handle the shaking of the hand, this is where mobile stabilization gimbals come into play.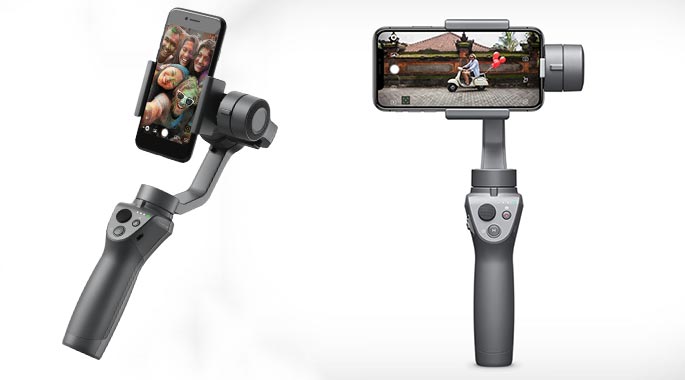 I am personally a fan of DJI Osmo Mobile 2 and it has served me a solid year I love the smooth video it helps me to capture, no matter what the situation is. It is lightweight and easy to carry and still manages to last around 12 hours of continuous use.
Other than capturing cinema-like video, it can do slow motion, hyper-lapse, time-lapse, and panoramas. It comes with a carrying case and can even charge your phone if you are running low on battery. It is a fruitful buy for any aspiring filmmaker because it helps you to take your video and photo game to the next level.
Apple AirTag – To keep track of Your Things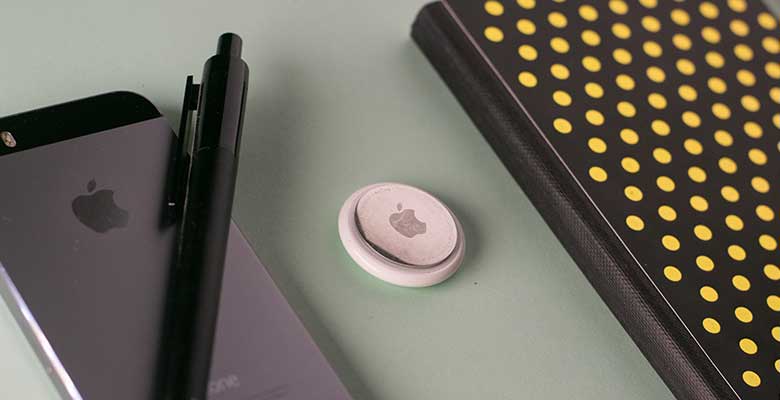 I have already talked about this when sharing my top picks for Macbook Pro accessories but I think the AirTag deserves to be on this list as well. I truly believe that the Apple AirTag is an essential accessory for iPhone users, as it brings a sense of security and convenience to our daily lives. The AirTag, with its sleek and unobtrusive design, solves this issue by allowing us to track our possessions for a lot longer thanks to its low power consumption, its battery lasts a long time without needing to be changed.
Thanks to its seamless integration with Apple's Find My ecosystem, using the Find My app becomes second nature, ensuring I'm never far from our lost items. The Precision Finding feature is a game-changer, making the search process even smoother, I've talked about how AirTag tracking works here. If you are into the Apple ecosystem or even if you only own an iPhone, I'd highly recommend investing in an Apple AirTag or two.
Power Banks for iPhone
iPhone batteries last good time on a charge, but it's hard to top it up real quick when you gotta leave for work or go out and you have no time to put it on charge and wait for it to get charged.
Or hey, maybe you are the kind of person who has access to a charger and a wall outlet 24/7, if that is the case, skip this portion of this post. But for digital nomads like me who like to camp up inside a coffee shop or the local library and are worried about keeping their iPhones charged, here are some portable charging options.
Anker PowerCore Speed 10000 (PowerIQ)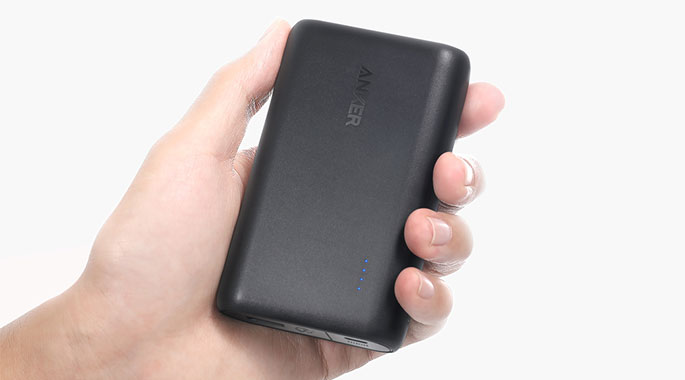 There are some people who don't carry backpacks with them at all times but they do want to have some sort of portable power bank in their jeans pocket to recharge their iPhone 13 on the go but don't want a huge bulge grabbing the wrong kind of attention.
Powercore speed 10,000 is the perfect power bank for those people, it's small enough that you can carry it with you easily in your pocket without it making your jeans look like cargo pants but can charge your phone X twice from 0-100 percent, now that's convenience in a really small package
Also doesn't hurt that it supports quick charge 3.0 to juice up your iPhone quickly without waiting for 3 hours. If you are the kind of person who wants power in possible size, go buy this thing.
Anker PowerCore Speed 20000 PD Powerbank for iPhone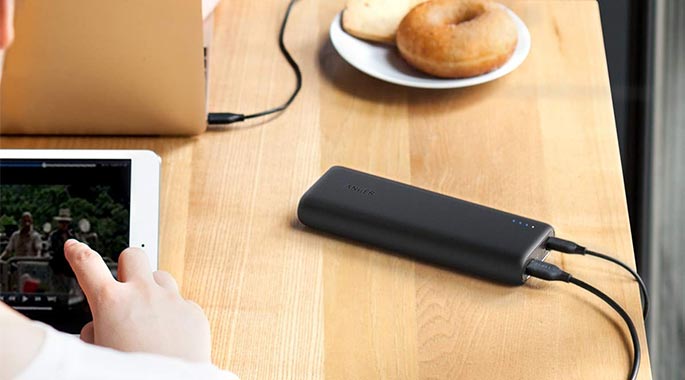 This one is for the people who want to charge multiple devices including their iPhone 13 pro, MacBook, or any other laptop which supports PD (power delivery) whenever they want, and not have to worry about recharging their battery bank again.
Powercore 20,000 PD comes with a huge capacity of 20,000 mah, but it also is physically bigger in size. Now does that mean you can't carry it in your jeans pocket?
Absolutely not.
But it would be better if you put it inside your backpack and forget about it. It outputs 24 through USB-C Power Delivery to quickly charge your iPhone 13, 6-7 times mind you. And at this price, this kind of capacity of a power bank coming from a reputable consumer brand like Anker?
I don't know about you but I'd grab it instantly. Highly recommended.
Bose QuietComfort 35 II Wireless Headphones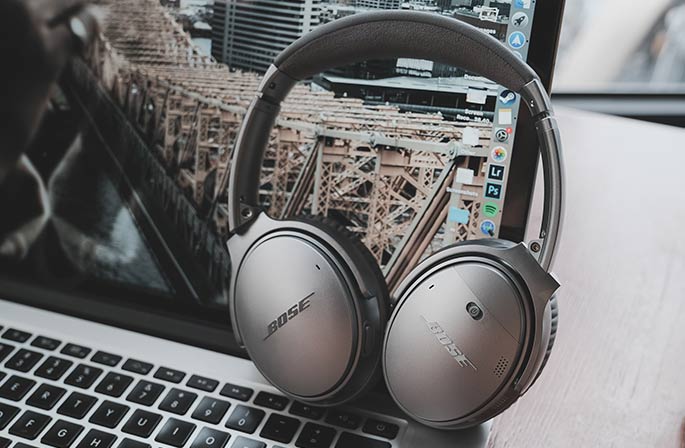 Choosing wireless headphones with a comfortable fit and premium music quality is a unique combination that you won't find anywhere else. Even I was surprised when I first listened to Bose QC 35 II. It weighs only 240g, which makes it extra comfortable to wear for a long time.
The sound is so much detailed that even low-quality songs sounded very well. The active noise cancellation is much improved and for me, it's the best out there in the market. I tested it in a crowded workshop, but the ANC surprisingly impressed me with no outside noise. You'll clearly notice the difference with ANC.
The battery life works for almost 20 hours with ANC and almost double on BT mode, (which is pretty good to use while traveling or working in a noisy environment), and even if that ends you can connect an aux cable and enjoy the music. But without a battery active noise cancellation doesn't work.
Which is still good if you are not surrounded by too much noise. One thing that I didn't like is that the aux cable is 2.5 mm to 3.5 mm, which is not common. So, if you need to carry its own cable in case if you need.
Inside the earcups, 'R' and 'L' are denoted prominently. It's very rare that you mistakenly put on them wrong. The hinges and the build quality are way above any normal headphones. As far as I used them I never felt like giving them an extra piece of care for them. There is a dedicated button for Voice assistant'. These are an excellent choice for travelers or commuters.
Wireless Speakers for iPhone
Even if it's 2023, For a party and picnic head like me, portable wireless speakers are a must. They need to be loud enough but sure enough, they need to be carried around so they need to be small enough to fit in my backpack as well.
Here are the wireless speakers of choice for me, the ones I almost always carry with me.
UE Boom Wireless Bluetooth Speakers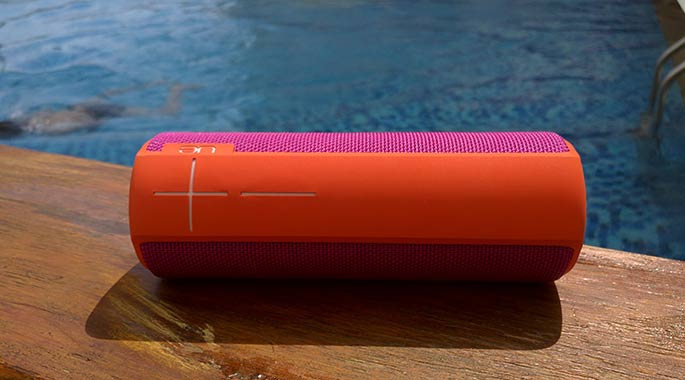 UE Boom is a long cylinder measuring 7 inches tall. You can stand it up tall or lay it flat on the table.
This Bluetooth speaker has a very solid build, the exterior is made up of a really nice-to-touch nylon braided mesh which gives a very slight cushion when pressed in. But behind the material is a premium-feeling solid shell that protects the UE Boom itself.
On the other side, there is a grippy silicone with volume buttons up and down which also tells you the charge status when pressed together.
On one end of this portable Bluetooth speaker, there is a power on and off button with a Bluetooth pairing button and on the other side, there is a clip to hang UE boom to your bag alongside a micro-USB port to charge and an audio Line-In jack. It takes about 3.5 hours to fully charge and you can get about 9+ hours of music playback at 50-70 percent volume.
It also features NFC for easy pairing to your NFC-compatible Bluetooth device. Secondly, it offers water and stain resistance, I can not clearly tell how much, but in our testing, it held up pretty well. Sound is offered at 360 degrees which is the huge selling point of this Bluetooth speaker.
There are two drivers on either side offering a balanced and more wide-spread sound in the room and walking around, the sound is evenly distributed – perfect for those who do not want a dead zone.
For the sound quality, it sounded great to me and many of my friends loved it as well. There is a nice amount of bass, not over-powering but just perfect to make your tracks go live. The mids, where most vocals reside, are played with enough clarity and detail. Blasting this at full volume, there was not any distortion or cracking.
It really shines in pop, hip-hop, rock, and alternative music. It still does well very well for more bass-focused genres. It is a very well-done, well-balanced portable speaker that can fill medium size rooms and is as loudest as some of the more expensive brands out there.
You can even pair two UE Booms together to play the right and left channels individually and listen to music in a more detailed sound stage (a feature called double up). All in all, recommended.