The stock coolers Ryzen 5 3600 and 3600x that come with are pretty damn good on their own but if you are looking to go beyond the thermal performance of these stock coolers, you are in for a treat.
Thermal issues have always been a hot topic for power users and new things are always experimented with when it comes to keeping CPU thermals on the down-low. I've tried the crazy liquid CPU coolers, I've tried the small low-profile air coolers, and also the crazy HUGE ones.
And after experimenting with all that cooling hardware, I've also compared the numbers to see which ones actually deliver a cooler CPU and ultimately a quieter, better-performing PC build. After all that, I've come up with a list of CPU coolers to pair with Ryzen 5 series' (now) upper-mid tier 3600 and 3600x CPUs.
My Top Picks for Ryzen 5 3600 and 3600x CPU coolers
Now I Also kept in mind that the people who are looking to buy a CPU cooler with this tier of CPUs are looking to spend more but don't wanna spend a HUGE amount of money as their builds mostly tend to stay under a certain budget but they just want something little better than the stock coolers. So here is a list of CPU coolers I think are best suited for a Ryzen 3600 or Ryzen 3600x to get much better thermal performance out of them.
Scythe Mugen 5 Rev.B CPU Air Cooler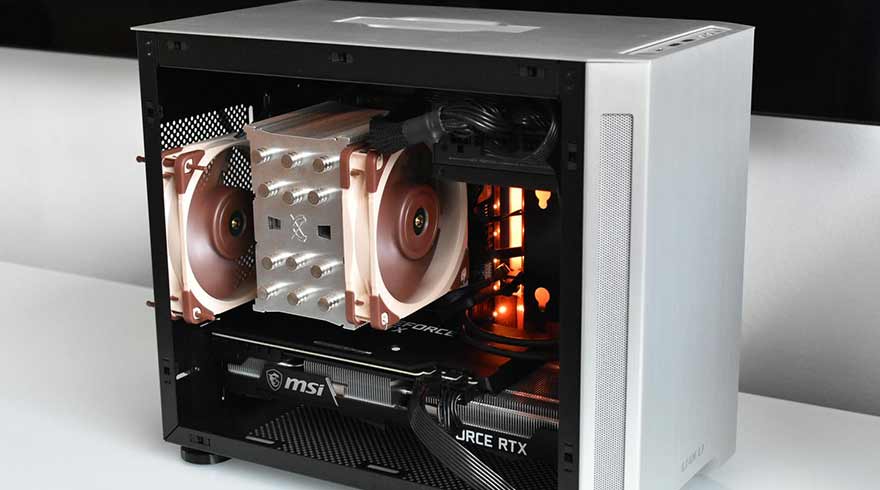 I want to preface my review of this Scythe Mugen 5 Rev.B by saying that this is not a low-profile discreet cooler by any means. That means two things:
This cooler is not going to fit inside a mini PC case, so if you are going to buy this, make sure you have room for a 154mm tall CPU cooler. Which means a bigger/thicker PC case.
Don't buy this if you want a very sleek-looking PC with lots of RGBs shining through your PC case's glass side panel.
I'm still shocked by the performance I can get out of my Ryzen 5 3600x paired with this cooler. Even with high workload situations, this cooler doesn't ramp up and create noise/distractions for me, yet manages to keep the temperatures cool and that is surprising because of the fact that it has only one fan. "Rev.B" in the name means it's compatible with the AM4 CPU socket so you needn't worry about the CPU socket compatibility as well.
Talking about the build quality, this cooler screams premium and is made of high-quality materials. It is also very easy to install as compared to the other CPU air coolers on the market so it's safe to say that it's nearly impossible for anything to go wrong with the installation process.
Pair that with the fact that it comes with a magnetic-tip Phillips head screwdriver and Scythe thermal paste, and this CPU cooler is worth every penny of the mid-to-high price it is available for and I'd highly recommend you to buy this one if you are looking to spend 80-ish dollars and want the absolute best for your PC build.
Noctua's NH D15 Air Cooler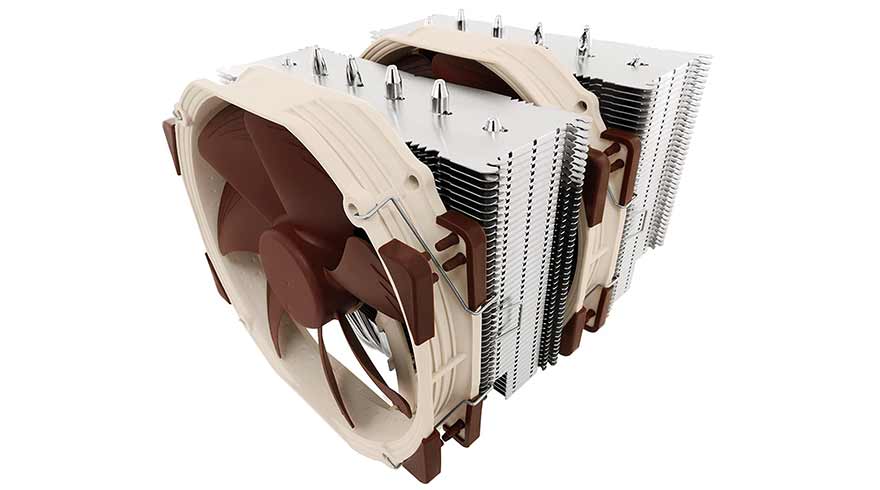 Here is another high-profile cooler that is a tad more flexible and has a bit of a different take on how to handle thermal dissipation in a PC. Noctua's NH D15 is based on the tried and tested design of NH-D14 and it has two separate heatsink towers that share the same 6 heat-pipe vapor chambers with a fan between both towers. The bottom of the towers on both sides have been slotted to make room for any RAM compatibility and that works as intended.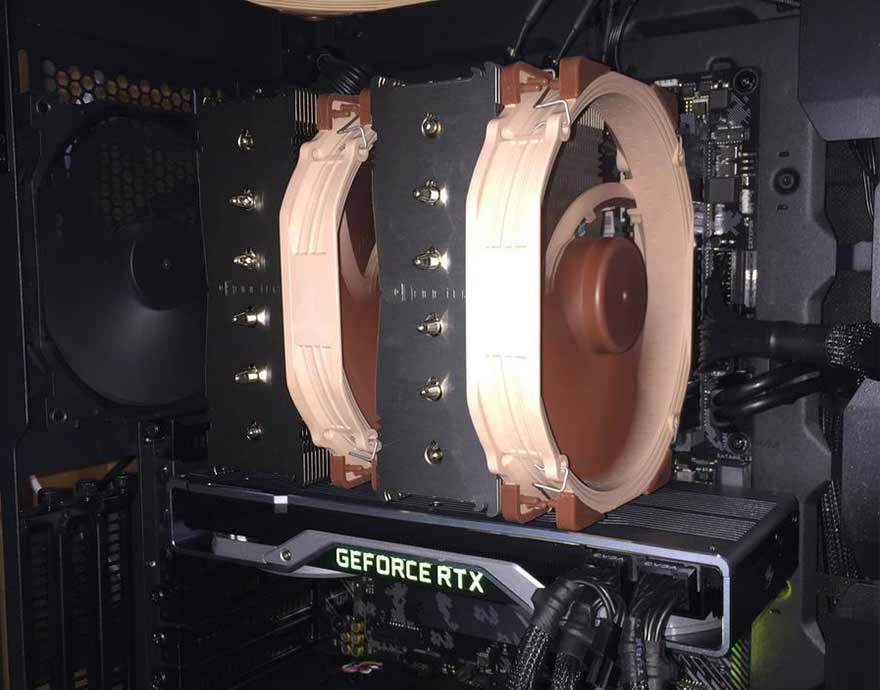 Now there is also a second fan included if you want to stack it on either side of the towers if you are gonna be working with heavier workloads. In my case, I had to add the other fan as well because of my adobe premiere pro work, and safe to say the PC managed to stay quiet and didn't give me any whine. One of the reasons for that silent performance is that the fans (which are NF-A15 140mm fans) have anti-vibration mounts.
D15 also comes with a Y-adapter, so if you decide to use both fans, you can do so by using only one header instead of two. NH-D15 also comes with Noctua's high-end NT-H1 thermal paste. Overall, looking at the performance and what's included in the package, I highly recommend this Noctua cooler if you are not worried about the looks of your case as it's the best bang for the buck CPU air cooler under 90 dollar price bracket and it actually delivers on its promise.
Cooler Master Hyper 212 Evo CPU Cooler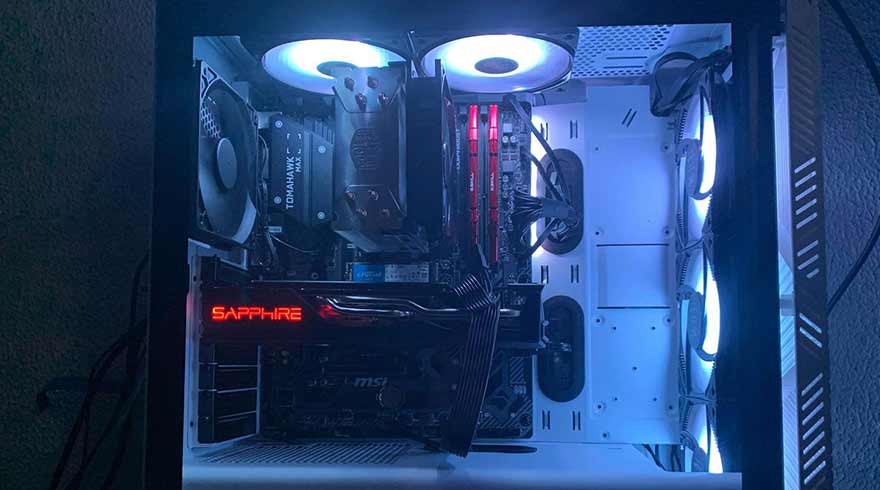 Now here is a cooler for people who aren't looking to overclock their Ryzen 5 3600 or 3600x CPUs. Well, technically you could do that but I won't recommend doing that with this kinda low-profile air cooler. This cooler is slimmer and isn't as much of a heavy hitter in terms of looks but for the affordable price it goes for, it's hard not to recommend it.
Now don't get me wrong, it doesn't cut any corners in terms of providing good thermal performance, not by any definition of the word. Cooler Master's Hyper 202 Evo air cooler features four heat pipes in a flat array on the CPU cooler base (in direct contact), which, not surprisingly, delivers quicker heat dissipation, hence providing a quieter PC overall.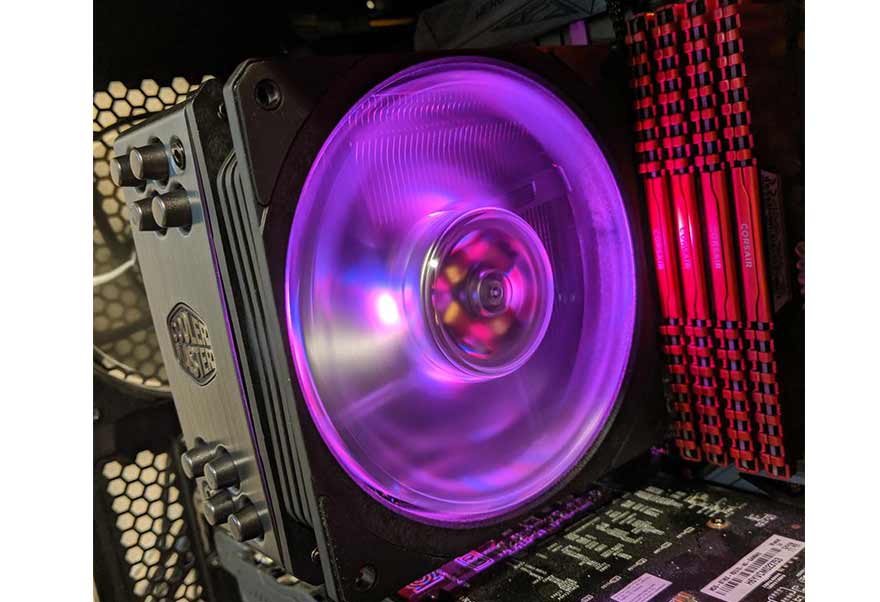 Now onto the bad
The place where this CPU cooler cuts the corners is the CPU thermal paste, it's not included, but really who cares. Most people who are going to use it already have their own preferences for thermal paste and even if they don't, decent thermal pastes aren't as expensive as much money you are going to save because this cooler is so affordable. Another caveat is the mounting mechanism, depending on your PC case design, you'll have to take out your motherboard to mount this CPU cooler because of the little bit of fiddley cooler bracket installation.
Honestly speaking though, that wasn't much of a problem for me and at that price, I was really surprised by the performance I got, so the Hyper 212 Evo Air cooler is highly recommended by me to anyone who is looking to buy the best CPU cooler for Ryzen 5 3600 or 3600x CPU and wants to do so on the budget.
Final Word of advice
The CPU coolers I recommended aren't liquid coolers and that is for a good reason, studies and numbers across the board have proven that in these kinds of thermals Air coolers perform almost the same if not better than expensive liquid CPU coolers.
If you are on a very tight budget, I'd recommend not buying a cooler at all and using the stock cooler as that is pretty good for most people. Although, if you are looking to squeeze a little extra performance out of your PC without overclocking it, and stock cooler isn't cutting it for you and you need a better cooling solution.
But if you aren't willing to spend anywhere upwards of 60 dollars, my best recommendation to you would be Cooler Master hyper 212 Evo.
And if you own either your Ryzen 3600 or 3600x and are planning to overclock it and need the best CPU cooler on the market and price is no problem, both Noctua's NH D15 and Scythe's Mugen 5 Rev.B are excellent choices and at this point, it's down to your personal preference.