There's hardly any Smartphone or MP3 player out there that comes without its own pair of earbuds that you can use to make calls and listen to music. Trouble is that companies generally don't put as much effort into their accessories as they do with their actual devices.
This is the reason why many of us prefer using aftermarket Headphones or In-Ear headphones that are more focused on audio performance, over these stock hands-free earbuds.
The good news is that there's a myriad of earphones and headphones out there that easily outshine stock ones in all respects but if it's a true sound performance that you're after, then what you need to do is to invest in a decent pair of headphones.
As a general rule, these headphones are rather pricey, and the more you spend, the better build quality and sound you get (Not always that case, but most of the time it is the case). But with the right pair of headphones, you can experience your music on a whole new level; maybe you'll hear things (instruments, the depth, highs/mids/lows) that you've never heard before on tracks you've listened to so many times.
The goal of this list is to help you find the best headphones that satiate your hunger for great sound and not overstep the bounds of your budget. We've got the best headphones of 2022 for you that we think are potentially the best bang for your buck. But before we start, let's quickly go over three of the main factors anyone should know to look at before buying their headphones.
Frequency Range: Simply put, the wider your frequency range is, the more sound you hear which is obviously what you're after. Anything between the recommended range of 10Hz to 25,000Hz will be just fine but more importantly, you should look for something that has a decent sound curve.
Ideally, you want a graph that's more or less balanced but you needn't concern yourself with these curves too much since we'll be telling you how each headphone sounds.
Sound Isolation: If you really want to be alone with your music and get the most out of it, you need something with decent sound isolation. Many high-end brands such as Bose include active noise cancellation features that allow you to enjoy your music even in the noisiest of places.
However, unless you're planning to be out and about much, you can save a handful of bucks by skipping out on sound isolation. Also, if you want to listen to music mostly on the go, we recommend you take a Look at our list of top Earbuds of this Year.
Build Quality: This is pretty self-explanatory; If you're spending money, you want to make sure that you get what you paid for and that it lasts long enough to fulfill its value. If you plan on carrying your headphones on your neck everywhere you go, you want something that looks good and doesn't break if it is dropped or faces harsh conditions.
Our Picks of Best Headphones of 2022
Now that that's out of the way, let's start talking about headphones that provide the best bang for your buck.
Grado SR125e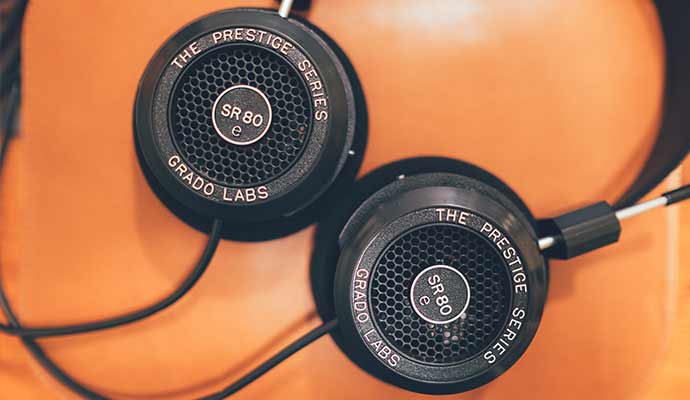 Grado is a Headphone manufacturer from Brooklyn that's made quite the name for itself among the most enthusiastic of listeners over the past handful of years. What makes Grado stand out as much as it does among other emerging brands is the fact that all their headphones deliver outstanding sound performance at budget prices. The Grado SR125e is a shining example; it's not much to look at and looks pretty retro as a matter of fact.
The overall build quality isn't bad but these headphones are not here to make any kind of a fashion statement, it would seem. It may still appeal to those of us who maintain a retro outlook though. The only real flaw we see with its design is its crude feeling foam cushions that aren't comfortable enough for extended use but then again, the SR125e is lightweight compared to its competitors.
And keeping the open-back nature of the design of these headphones, they are not ideal to use in public spaces or office spaces where you don't want to disturb people.
And since it's designed to plug into home equipment, it doesn't come with a 1/8-inch adapter that you can use to connect it to your phone. We should also mention that due to the high impedance, your phone's battery might drain a bit faster than usual but it doesn't compromise the sound quality.
In terms of performance, however, the SR125e really shines. The fact that something this low-priced can sound this good was really something hard to believe. The sound is superb, the frequency range is impressive and the amount of detail in the sound is enough to appease even the pickiest of audiophiles.
The Bottom line is that the Grado SR125e is a great headphone if you're an enthusiastic music listener on a budget. For the price at which they're offered, you don't usually find something that sounds this fulfilling. However, at the same price, you will find comfier and more modern-looking headphones that are designed for your phone as well.
Sennheiser Momentum 2.0 – Better Than Last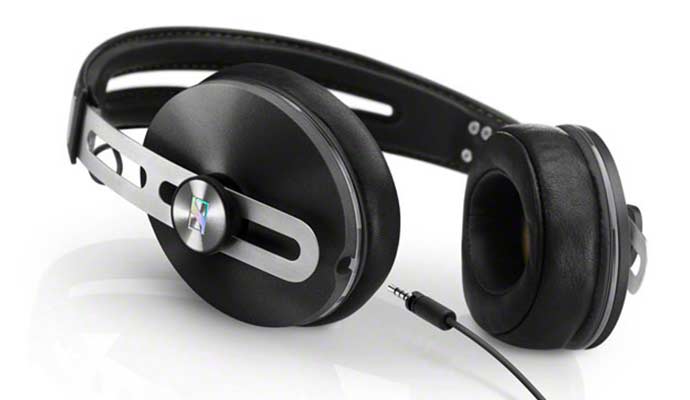 The Momentum headphones from Sennheiser were one of the most critically acclaimed headphones of 2013. They had everything any avid listener would look for: great design, amazing sound but there was a slight catch. The ear cups on the original Momentum weren't very comfortable and they'd fatigue your ears after extended periods of listening. The new Momentum 2.0 addresses that issue with its larger, softer ear cups and even a flashier design.
The Momentum 2.0 and its wireless counterpart both come with a new folding design that makes storing them easier, an inline remote/microphone for phone use, and a very premium design that is hard to dislike. We're impressed by the build quality, feels very high-end and durable which makes the Momentum 2.0 perfect to wear on your shoulders in public even when you aren't listening to them.
As far as sound performance goes, we're happy to share that the design and comfort aren't the only improvements Sennheiser made with the new Momentum 2.0, the sound performance has also improved slightly over what the previous model offered. If we had to describe the difference, we'd say that it sounds more refined overall ranges and offers better sound isolation as well.
Overall, we're really happy with the Momentum 2.0 and think that Sennheiser did a great job addressing the flaws of the previous model but with that, we do feel that they upped the price a bit too much. These headphones aren't really in the budget category but they could have been a bit cheaper. And since these models are sold separately for Android and iOS devices (when the only difference is the cable), we'd have liked it if the Momentum 2.0 simply came with both cables.
Audio-Technica ATH-MSR7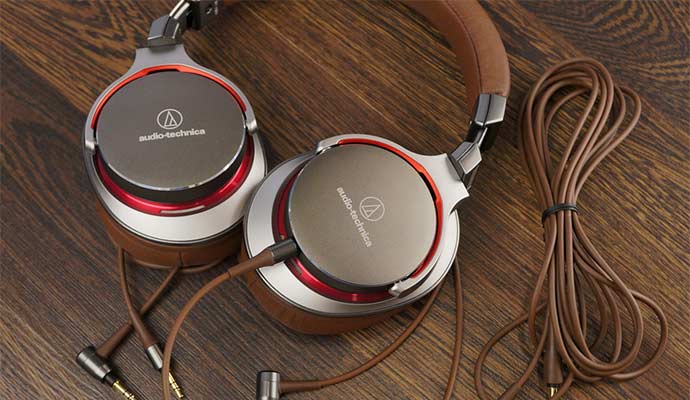 Audio-Technica has developed quite a repertoire for itself as a brand that brings you the best-sounding headphones in the budget category. The ATH-MSR7 is the result of Audio-Technica stepping up their game and producing a more 'Premium' model to compete against other headphones in the $250+ range. The ATH-MSR7 is sturdily built, smartly designed, and even comes in a few different color options than the 'Premium' black.
It may not be as comfortable as many other competing headphones in the same price range but it's not particularly uncomfortable either. The only drawback we see in the comfort department is that the ATH-MSR7 is a little too heavy but it's still easy on the ears. The ATH-MSR7 comes with three detachable cables of varying lengths, one cable even has an inline remote for phone use.
Moving on to performance, the sound of the ATH-MSR7 is among the best we've ever heard from any headphones in terms of clarity. These headphones bring out the most of any given source material. No matter what kind of music you listen to, the ATH-MSR7 will bring you the most balanced mix of lows, highs, and mid ranges.
In fact, the sonic detail on the ATH-MSR7 is so good that it even unmasks the distortions in recordings, which is about the only drawback we can see here. However, if the music you're listening to is recorded well, you won't face this problem.
Sony MDR 1A – Premium Hi-Res Headphones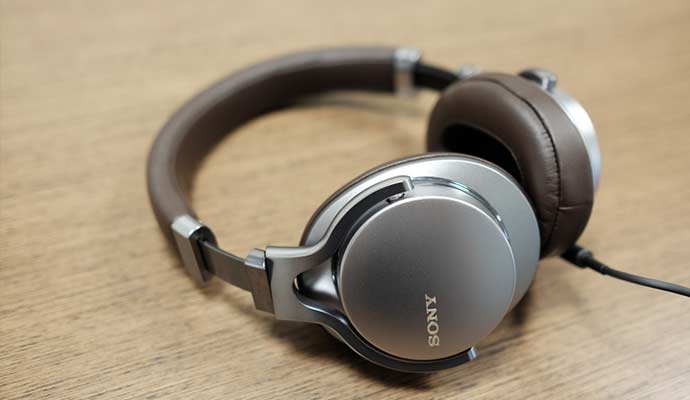 In all the time we've spent testing and reviewing audio devices, we've observed a pattern that Sony never fails to impress us. The MDR-1A, being flagship headphones from the Japanese electronics Giant, stayed true to that pattern and delivered exactly what we expected it to; a gorgeous material design, luxurious comfort, and most importantly: top-tier audio performance.
The large ear cups combined with the adjustable headband provide an extremely comfortable fit, you can wear these headphones for hours without getting tired of them at all. Overall, the build feels very robust and the good news is that these headphones aren't uncomfortably heavy either.
These headphones come with 2 detachable cables, which we believe that all headphones should have given how the sound drivers in the headphones usually last a lot longer than the cables do. One of the detachable cables even has an in-line remote with a microphone, for phone use.
Moving on to sound performance, the MDR 1A sounds superb with deep booming lows and very clearly defined highs. The bass response is very clean and powerful but we might add that the bass-heavy sound might not sit too well with those of us who prefer a purer, flat response sound. To sum it up, Sony has once again lived up to our expectations with their MDR 1A over-ear headphones. True to the trend, however, these headphones are quite expensive but if you're looking for a bass-oriented sound then these won't disappoint you.
V-Moda Crossfade M-100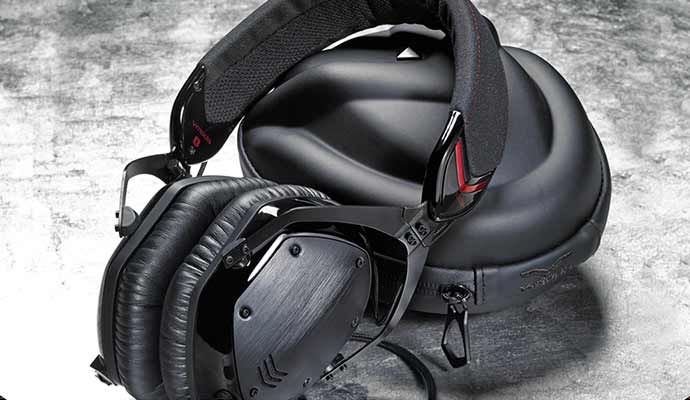 The M-100 is a very durable, stylish headphone that brings out the most detail in your music. Usually, when a company focuses on making their headphones Look sturdy and feel premium, they do so by adding a considerable heft to the weight of the headphones.
However, we were glad to find out that this wasn't the case with the M-100s. These headphones weigh roughly 280 grams, which is an impressively comfortable weight given their rugged construction. Even the 2 detachable cables that come with the M-100 are Kevlar coated and for those who use iOS, the M-100 even comes with a 36-inch wire for Apple devices.
Another feature that we really appreciated about the M-100 is its collapsible design, which adds value for those of us who like to travel and don't want to leave our favorite headphones behind just because they take up too much space.
In terms of performance, V-Moda has always been popular amongst audiophiles because of the impressive bass response you hear in their headphones. The M-100 stays true to this trend and then some, these headphones are all about sonic detail, making them great for those who want to hear every little detail in their music.
This also makes them great studio headphones for those who record music. However, if you're on a tight budget then these headphones might not be for you.
Shure SRH1540 Premium Closed-back Headphones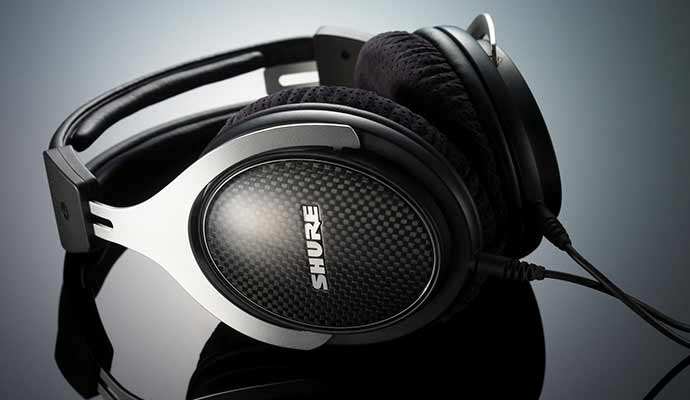 The Shure SRH1540 is the kind of headphones that are designed to please music listeners and mix engineers alike. However, they're expensive and don't fit everyone's budget. The first thing we noticed about the SRH1540 was its large and very plush pads, covered in Alcantara, which feel very smooth to the touch, making wearing these headphones a real pleasure.
Despite their relatively large size, these headphones are surprisingly lightweight. Needless to say, we're very satisfied with how comfortable these are.
Typically, the headphones and earphones that we've seen from Shure are more focused on performance rather than aesthetics. These headphones feature a very sleek and minimalistic design with carbon fiber detail on the back of the ear pads, which gives them a bit of a flare as compared to other Shure products.
These don't fold but you still get a remarkably sturdy hard-shell case with them, along with two detachable cables and a spare set of ear pads out of the box. However, neither of these cables has an inline remote or a microphone. Supposedly, Shure wants to remind you that these headphones are for listening to music only.
In terms of performance, these headphones are exceptional. The bass response on these headphones is far more intense than what we're used to hearing on studio headphones, they can go as low as even 5Hz and still manage to sound clear across the mid-high ranges, making them a blessing for bass lovers who want to hear intense lows without drowning any other detail in their music.
Our review: The Shure SR1540 are some of the most powerful yet accurate sounding headphones that we've had the pleasure of testing out. They're also remarkably sturdy and very comfortable to wear and you get all the accessories that you need with them, with the exception of a cable with an inline remote.
Audio-Technica ATH-M50x (Our Pick of Best Studio Headphones of 2022)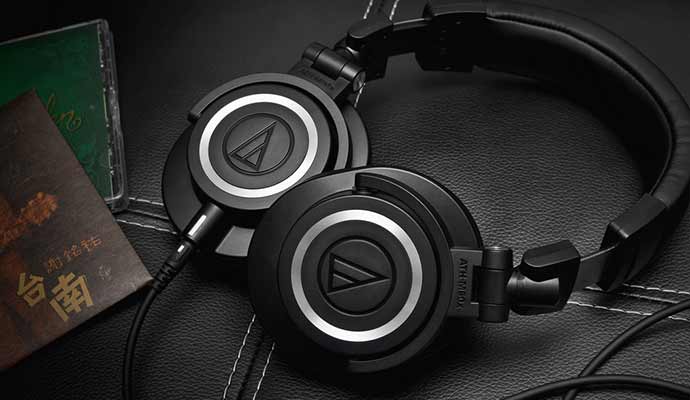 The ATH-M50 is one of the best headphones to buy on a budget EVEN IN 2022. They sound fantastic, are really comfortable, and don't look half bad either. The ATH-M50x is the successor to the M50 and costs just a little bit more. Visually, the M50x is pretty much the same thing as the M50, however, there is a very major difference in design that we were very glad to see: The M50x comes with detachable cables.
You get three cables of varying lengths out of the box, two straight ones and one coiled cable which comes in handy when you're using your headphones at a desk. These cables lock into the headphones nicely and securely but it's worth mentioning that because of this locking feature, cables from other manufacturers won't work. Other than this very welcomed new feature, these have the same fold-able design and remarkable attention to detail, that we saw in the critically acclaimed M50.
The sound performance is also the same as the M50, which we're happy with, considering how many manufacturers ruin one thing or the other when producing a newer model of a product that was previously just fine.
The sonic detail is incredible and there is no harshness anywhere in the sound. These headphones are great for music listening as well as studio recording. At the price at which they're offered, there really aren't many other headphones that deliver as much as the ATH-M50x.
Grado Prestige Series SR325e Headphones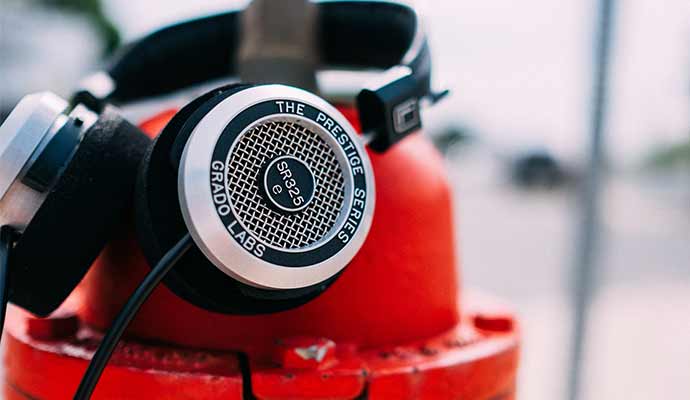 Unlike the SR124e from Grado that we spoke of earlier in the list, the SR325e is the beacon of Grado's Prestige series. They may not look as retro as the SR125e, they are just as sturdy. However, these headphones are considerably more expensive than the SR125e, at almost double the price.
They have the same firm foam pads that we saw on the SR125e, which isn't uncomfortable at all but they may not be to everyone's liking as far as comfort goes. At this price, we'd have liked to see Grado step up and include detachable cables but to our dismay, that wasn't the case either. There's no carrying case included either.
At such a price, we expected a lot more from Grado, however, the most redeeming quality of these headphones is their magnificent sound performance. The sound is very open and well detailed, making the time you spend listening to these headphones extremely pleasurable. We'd like the SR325e as much as the SR125e if only they cost a little less.
Philips Fidelio X2 – Open-Back, Hi-res Headphones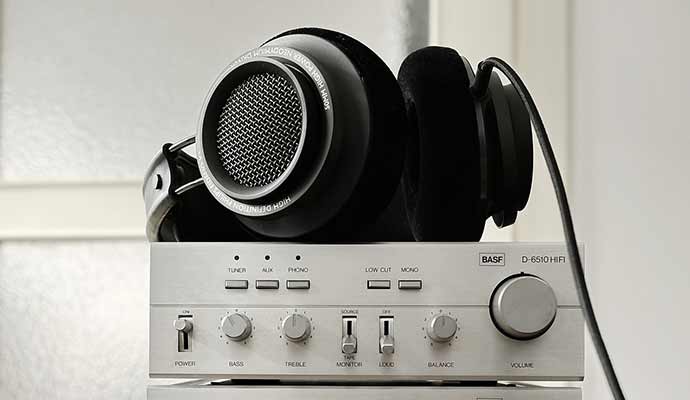 The Fidelio X1s by Philips were leading-class headphones that were extremely well received. This leaves their successor, the Fidelio X2, with a lot of expectations to live up to. The Fidelio X2 is a reasonably handsome-looking can that you can proudly show off to your friends.
What's new with the X2s is their new multi-layered diaphragm drivers that promise to deliver a more accurate bass response and cleaner highs than before.
We don't really hear too much of a difference between the sound performance of the X1s and the X2s.
Which is a good thing in the sense that the spacious and warm sound of the X1s was preserved in the newer model but the fact that we have new drivers on the X2 warrants some kind of an improvement that we failed to notice during our tests.
Overall, these headphones are good-looking and sound just as great as the outgoing X1. However, unlike the X1, the X2s have a lot of tough competition from rivals in the same price range and many of these rivals have better alternatives this time around.
Bowers & Wilkins P7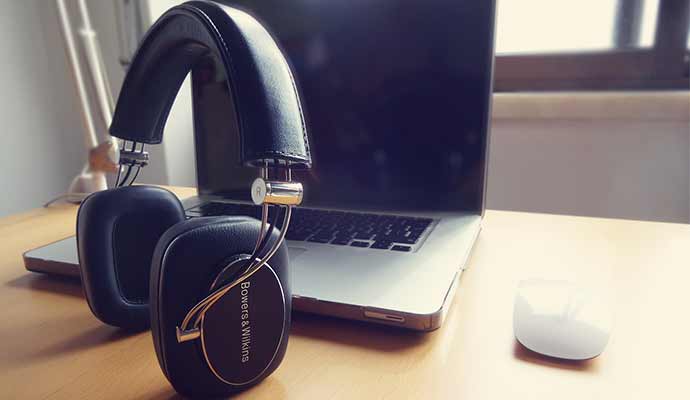 The B&W P7 Over-ear headphones come in two variants, wired and the slightly-more-expensive wireless. Both of these variants are still pretty pricey albeit great in terms of performance. The design looks a bit bulky but the headphones themselves don't weigh so much that they'd be uncomfortable. They feel pretty luxurious to wear but the headband can get a little annoying if you put them on for longer periods of time, which is why we're forced to dock down a few comfort points for the P7.
But, when it comes to audio performance, we got an excellent bass response and very clear highs. The bass isn't too unnecessarily overwhelming, so that's some good news right there. The ear-cups offer a considerable degree of sound isolation as well, which is obviously good news but at the same price, there are many other headphones that are more comfortable than the P7 and have better noise cancellation. Besides the high price, we're pretty pleased with the P7s.