The past few years heralded an era of evolution for a lot of products from the audio family. Wireless/Bluetooth speakers are one of the most critically acclaimed products of the said era of evolution and are becoming more and more popular for what they offer.
Back in the '80s, we had kids going around the neighborhood blasting Metallica on their cassette-playing boom boxes and now we have these portable blocks that can wirelessly play your entire music library from your phone or iPod pretty much anywhere you can carry them. Due to their immense popularity, almost every major manufacturer of electronics with an audio division has some kind of wireless speaker on their portfolio.
Needless to say, this leaves anyone who's looking to buy a wireless speaker with a daunting amount of choices.
In this list,
I'll talk about my recommendations for the Best Bluetooth/Wireless Speakers of this year and see what they have to offer in terms of style, durability, battery life, portability, and most importantly, audio performance.
Best Bluetooth Speakers to Buy in 2023
Wireless Speakers come in all shapes and sizes and even follow a handful of wireless protocols that determine how (well) you connect to them. Now without further ado, let's get right into it and start talking about Wireless Speakers.
Harman Kardon Aura Wireless Speaker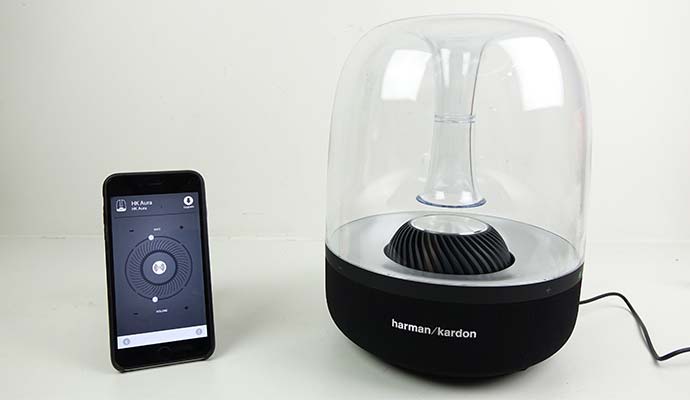 One of the most notable factors of a wireless speaker is its design and shape. The Harmon Kardon Aura won in that department for us the moment I first laid my eyes on it; its unique and beautiful 'jellyfish' dome and high-quality cloth-covered base make it every minimalist's wet dream. If I had to pick a single word to describe how good this thing looks, I'd go with 'art'.
Looks aside, Harmon Kardon packed the Aura with many goodies that feel good to use and come in handy. One of the goodies I liked most was how you could slide your finger across the front of the speaker to increase or decrease the volume.
Moving on to connectivity and Performance, the Aura connects through all wireless protocols, including Bluetooth, Airplay, DLNA, and even Wi-Fi in addition to AUX and USB which makes it compatible with all devices. What I like most about the Aura is the way it sounds; the Aura has a single 4.5" Sub-woofer and six 1.5" high-mid drivers. The bass is powerful and complements the mids instead of overpowering them.
The DSP speaker system is capable of blasting music at loud stereo volumes which is impressive given its small footprint and considering how having a smaller speaker usually means compromising the sound performance. Moreover, the 360-degree Omni sound system allows the aura to project sound to every corner of the room for a full listening experience.
The Aura is a bit on the expensive end of the price spectrum at about 300 Dollars, but then again, with all that it offers, I think that you get your money's worth.
However, there is a catch: if you drop it, it will get damaged rather fast. This is a stay-home speaker and if you want to travel with it a lot, you might want to consider a sturdier alternative. Also, if you want to control the bass, you'll have to do so through the remote app.
Bowers & Wilkins A7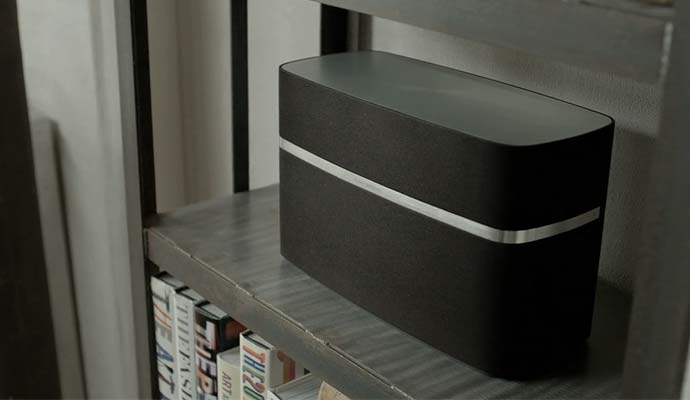 The A7 by Bowers & Wilkins is a powerhouse of a speaker designed to please audiophiles who want to get the most out of their music. The speaker boasts a sleek and sturdy design that has a way of inspiring your confidence in it even before you start playing your music. However, despite its durable build, the A7 isn't the most portable speaker out there due to its large footprint.
In terms of performance, the A7 is about as good as it gets. I tested its audio capabilities by playing all sorts of music ranging from classical piano pieces to heavy metal. I'm surprised by the clarity at which I can hear each note played by each instrument over the crisp crashes of the cymbals and the deep booming of the bass drums. The lows are deep and rich, the highs are clear and the mids are very present in the mix. However, I might add right away that the A7 is a speaker, not everyone has the budget for; you can get one for around $800.
The sound experience may be very fulfilling but there's a catch: the A7 is an AirPlay speaker and will only connect wirelessly with iOS devices. You can still connect pretty much anything via USB or AUX but that pretty much defeats the purpose of buying a wireless speaker this expensive, unless, of course, you will be using only iOS devices for the foreseeable future.
Overall, the A7 is a force to be reckoned with but if you're looking for a little more versatility, which is always good to have especially if you plan on sharing your speaker with friends, a great cheaper alternative is the JBL OnBeat Rumble or the SRS X9 by Sony.
JBL Authentics L8 – The Hi-Fi Wireless Speaker System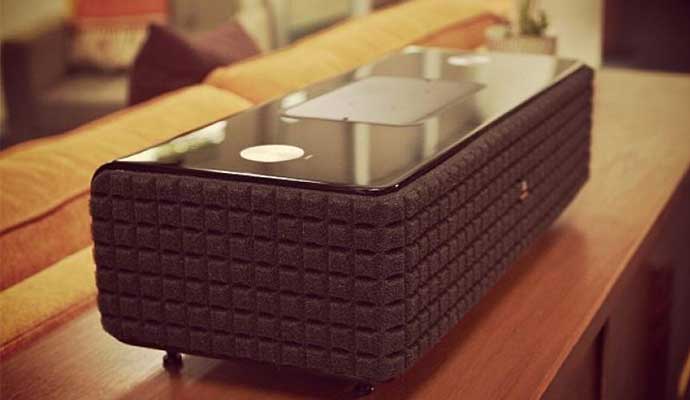 If I had to pick a word for the kind of look JBL was going for while designing the L8, I'd go with traditional. The speaker's face is rather retro-looking but make no mistake, this is a modern wireless speaker capable of great sound, otherwise, it wouldn't have been on my list.
On the top, you'll find touch-sensitive volume controls and a switch that lets you select your input source.
The L8 supports wireless connectivity through DLNA, Bluetooth, Airplay, and Wi-Fi making it compatible with any devices you'd want to connect it to.
In terms of sound performance, the L8 delivers a very powerful sound with a rich bass response and remarkable clarity across mids and highs. The L8 has two 4-inch woofers and four 1-inch tweeters on its face which you can see after you pry the face screen off. The face screen itself feels cheap and plastic-y and is hard to pry off.
Retro-Designed Bluetooth Speaker Packing Modern Sound Technology
For a speaker in this price range (around $600), one would expect higher quality. The large footprint of the L8 tells you two things right off the bat:
You can expect a powerful sound
And that you probably won't be carrying it around all that much.
The JBL L8 is a great speaker to have on your shelf and you can expect a very full sound experience from it pretty much all over the place but if you want a speaker that you can carry on you at all times and play outdoors, then the L8 might not be for you.
JBL OnBeat Rumble – The Bluetooth Speaker You Always Wanted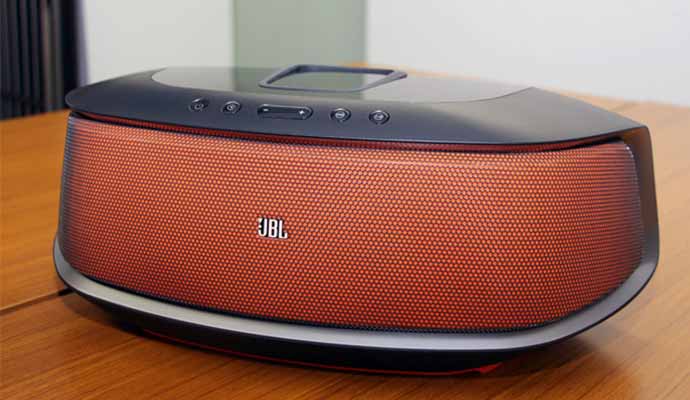 The OnBeat Rumble from JBL is large, stylish, robust, and most importantly – a powerful Wireless/Bluetooth Speaker. Unlike the case of the Authentics L8, this wireless speaker features a more modern look. I also love the striking red front and think it contrasts well with the matte black frame. However, if you're looking for something minimalist then the Rumble might be too flashy for your liking.
Looks aside, this speaker has several features that I wish I could've on more speakers in this list; one thing I like is how you have sound controls on the top of the speaker itself. A lot of great wireless speakers require you to download an app to tweak the sound or even change presets.
When it comes to performance, the OnBeat Rumble is a true powerhouse with a 4.5-inch subwoofer and two 2.5-inch speakers that are capable of delivering powerful sound with outstanding clarity at all frequencies: mids, highs, and lows. Another thing that I loved about the Rumble was how well it performs at extremely loud volumes: there is no distortion at all.
If you use iOS devices, you'll be glad to know that the Rumble has a retractable Lightning Dock that allows you to simply dock away your iPhone or iPod to play music. Though, thanks to TrueStream Audio, you get outstanding performance even if you connect wirelessly through Bluetooth.
Overall, I'm very pleased with the JBL OnBeat Rumble. It's powerful and versatile and it sounds incredible. If you're looking for performance and are okay with the bold look then the Rumble is a great less-costly alternative for the B&W A7 I spoke of earlier.
Polk Audio Woodbourne – Wireless Bluetooth Speaker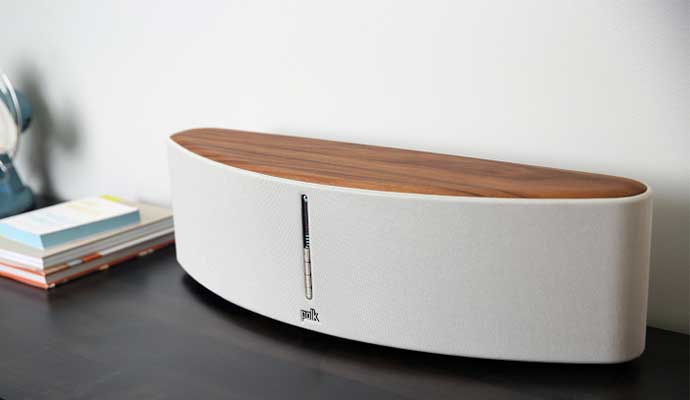 The Woodbourne by Polk Audio is a pricey system that isn't intended to be moved around the place a lot but is capable of the kind of sound output you'd expect from a speaker that costs this much. The Woodbourne gets its name from its nicely finished mahogany top which complements its light-colored body very nicely.
This is the kind of Wireless Speaker you'd want to place in your living room as a home theater speaker.
In terms of performance, the two 5.3-inch mid-range drivers and the two silk dome tweeters under the speaker grill make for a total of 180 watts of power. The DSP keeps the sound from distorting at even the highest volume, allowing you to make the most out of the powerful speaker configuration.
However,
I did notice that the DSP can result in a sound that's a bit sculpted, especially across the mid-high range. While it's not particularly bad, the sculpted feeling sound may not sit well with some audiophiles who prefer raw sound. The Bass response, however, is rich and intense throughout.
The Woodbourne connects via both AirPlay as well as Bluetooth, which is the kind of versatility that I like to see in all Wireless Speakers. However, to my dismay, I did notice that the Bluetooth stream is prone to interruption while you're navigating through your tracks which is hard to overlook considering that the Woodbourne costs around $600.
What do I think about it?
Overall, the Woodbourne is one hell of a performer; versatile and powerful. However, I do feel that the fact that this speaker is as heavy and large as it is, it lacks portability no matter how I cut it. As far as I'm concerned, it's an indoor sound system that allows you to connect wirelessly.
Bose SoundTouch 30 Wi-Fi Music System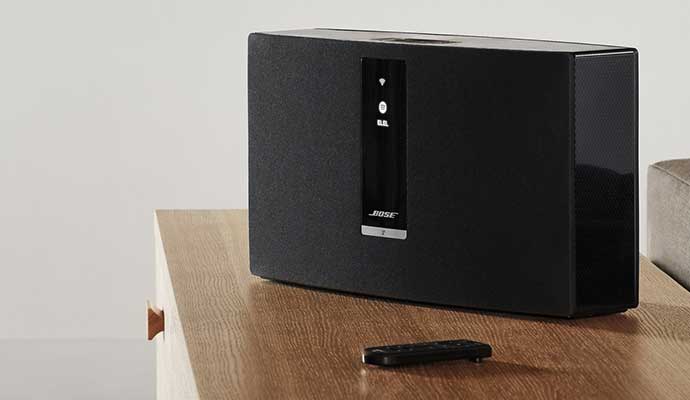 The SoundTouch 30 is a wireless music system that's large, robust, smartly designed, and very pleasing in terms of performance. Thanks to its chunky form factor, it's hardly anywhere near being compact but it still boasts a sleek and elegant design. The front of the cabinet is slightly curved and covered in black cloth.
The single panel on the face has a pleasing 1.6-inch OLED screen that lets you know what's playing and the 6 buttons on top allow you to program functions or playlists that you want to access quickly.
In terms of performance, I like its ability to fill up the entire room with a rich booming sound with solid bass and bright highs. The SoundTouch 30 has built-in Dual-Band Wi-Fi that lets you stream music from your PC and NAS devices and to top it off, it also features a built-in app for Spotify, it is 2023 after all.
Using the Bose SoundTouch app (available for both Android and iOS), you can play music through Pandora, Deezer, and Internet Radio as well as access multi-room controls for the SoundTouch 30, if you have more than one.
Overall, the Bose SoundTouch 30 is an impressive speaker with multi-room support and great sound. It is also robust enough to withstand getting damaged from falling off of your shelf, which is good to know when you're buying a pricey speaker. However, the fact that the SoundTouch 30 supports Wi-Fi and Bluetooth connectivity, I can't help but wonder why it doesn't support AirPlay as well so it loses some versatility point there.
Audyssey Bluetooth Wireless Speaker System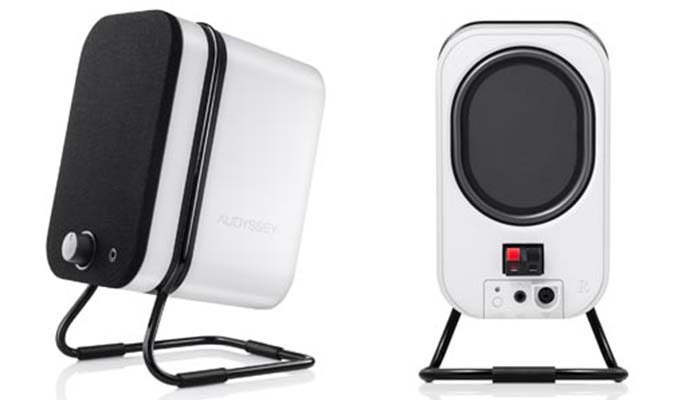 The Audyssey wireless speaker set is the successor of a previously wired and much cheaper set known as the Audyssey Media Speakers. While the audio performance is very similar to its predecessor, the wireless speakers allow you to connect via Bluetooth but you still have the option of connecting the speakers to your PC through a wire, so it's more or less an added connectivity option.
The design is modest but attractive and they do not take up much space, which is nice. In terms of performance, I'm pleased with the rich bass response I get from these speakers and everything you hear sounds high quality.
However,
If you crank the volume up you will hear some nasty distortion on tracks with heavy bass, which I believe shouldn't be the case given how these speakers employ Digital Sound Processing (DSP) which is supposed to counteract distortion at high volumes. At moderate volumes though, everything sounds nice and clean but I might add that the DSP-driven sound may not sit well with audio purists.
Overall, Audyssey Wireless Speakers are good-looking Bluetooth Speakers that offer you a great yet somewhat sculpted sound as long as you listen to them below 80% volume. They feel a little overpriced for what they offer but I can't deny that these are good speakers at the end of the day.
Sony SRS X9 Hi-Res Wireless Speaker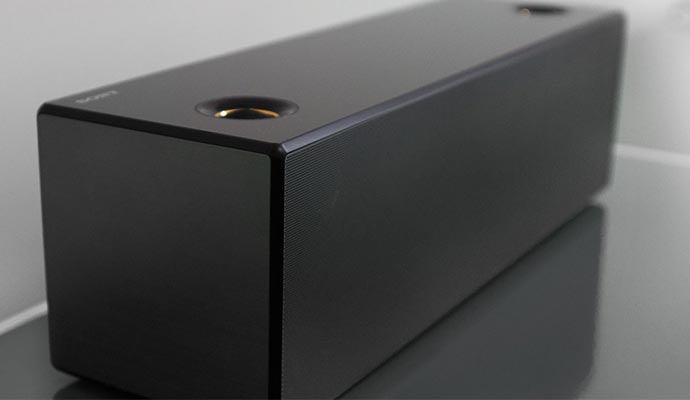 The Sony SRS X9 was perhaps the speaker I was looking forward to reviewing the most on this list. With an elegant all-black brushed metal and glass design, the X9 is definitely what you'd expect from a Sony device – attractive and premium.
The X9 employs a seven-speaker configuration with two additional gold-trimmed speakers (Indicating High-Res audio) on top, just under the controls. On the face, I have a central woofer, two mid-range magnetic fluid speakers, and two more tweeters.
Long story short, in terms of audio performance, the SRS X9 is a powerhouse capable of extremely loud, very vividly detailed music with an impressive bass response and impeccable clarity along with the mid-high range, just what I like to hear.
The X9 supports connectivity through Bluetooth, Wi-Fi, DLNA, and NFC. The mall antenna on the back significantly boosts the Wi-Fi signals on the X9 and I found no compromises in audio quality when I streamed music through DLNA. The remote control that comes with the X9 is fairly basic to use and not very comfortable to hold due to the narrow form factor.
My Verdict
Overall, I'm quite pleased with the Sony SRS X9 and I don't see how anyone wouldn't be impressed by this minimalistic-looking performer. However, the X9 is an expensive Speaker that will cost you around 600 bucks. While it sounds great, I do wish that it supported multi-room connectivity.
Bose SoundLink Bluetooth Speaker III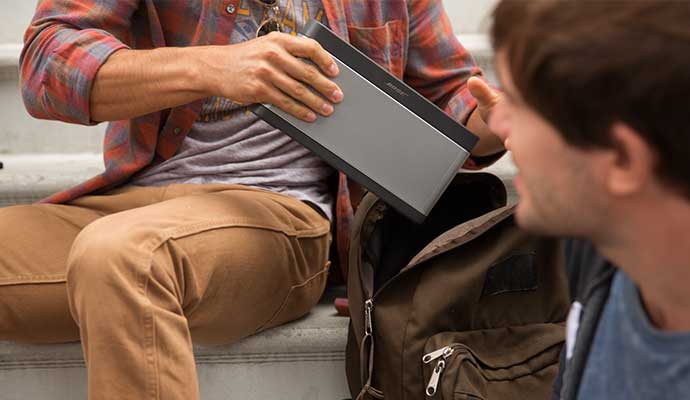 The Bose SoundLink III isn't exactly the most premium-looking among wireless speakers but there's more to this speaker than meets the eye. The SoundLink III is perhaps the most portable wireless speaker on my list – small and robust. It may not be as much of a looker as the SoundLink II but offers a relatively warmer and fuller sound across many different kinds of music than what the predecessor offered.
However, I did notice that the previous model had slightly crispier highs than the SoundLink III. Overall, the sound is pleasing at best but isn't exactly audiophile-grade. If you're a casual listener who wants to enjoy their music outdoors, the SoundLink III will serve you well as it is small enough to carry around.
The speaker connects well over Bluetooth and has a significant enough range. You can get one for about $300 which, all things considered, isn't exactly a very high price for a decent Bluetooth speaker, but you do have alternatives.
My Take
What I particularly disliked about this speaker was the retro look and feel of it. It's not even the nice retro, it just looks dated to us. Considering how the previous model looked better and was less chunky, I don't know what Bose was thinking while designing it, but the sound quality sure makes up for it.
B&O BeoPlay A9 Wireless Speaker System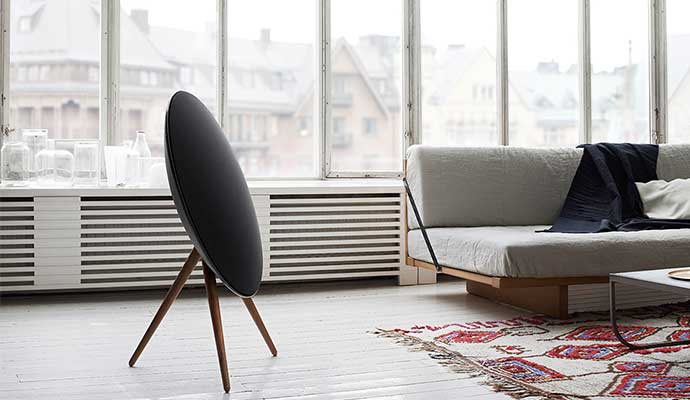 The Bang & Olufsen BeoPlay A9 is a state-of-the-art speaker system that's more than capable of full-bodied, crisp, and powerful sound output and has a unique design. However, there's a catch – it's crazy expensive. I might have used the word 'expensive' for a speaker or two in this review but when it comes to the almighty A9, we're talking about $2700 expensive.
Needless to say, you could buy a small car for how much this thing costs.
The speaker itself is a large dish-like structure that's well-crafted and measures 27.6 inches wide and 8 inches deep. It stands 35.8 inches tall, supported by three screwed-in wooden legs. I just Couldn't decide on whether to call it a satellite dish or just a round canvas.
Regardless, It looks superb and is designed to project sound in such a way that it fills up the whole room. The sound is nothing short of superb with clarity and power all across the low, mid, and high ranges. It connects through DLNA and AirPlay.
The only reason one wouldn't buy this Speaker is the astronomical price, otherwise, this Avant-Garde Speaker is something everyone would wish for once they experience it for themselves.
Final Words
And with that, I am at the end of my list. The good news is that no Bluetooth speaker that I reviewed in my list particularly disappointed us in terms of sound performance. There's a ton of choice out there but I believe that there's a speaker that suits you somewhere in this list.
This is 2023 and everything is wireless, so before you go ahead and buy one, it would be wise to consider exactly whether or not you want to move your speaker around a lot. Also what devices you'll be using for streaming music to the Wireless speakers you are going to buy?