While iPhones are great for everyday moments, dedicated camcorders offer bigger image sensors for better quality, longer battery life, more storage capacity, better zoom, and manual controls.
With so many camcorders boasting different features and coming at prices, it's tough to know who to trust, right? Don't worry, I'm here to help you find the perfect camcorder for you and make sure you're getting the best bang for your buck.
After testing several models, the Panasonic HC-VX981K came out on top for its 4K video and superior features. On a budget? The ORDRO AX65 camera offers impressive 4K video quality.
Ranking order: (best for most, budget-friendly, the best, upgraded, the rest)
Sony FDRAX53/B 4K HD
Panasonic X1500
Panasonic X2000
Panasonic HC-VX981K
Canon VIXIA HF G70
1. Panasonic X1500 – Best Camcorder for most Use-cases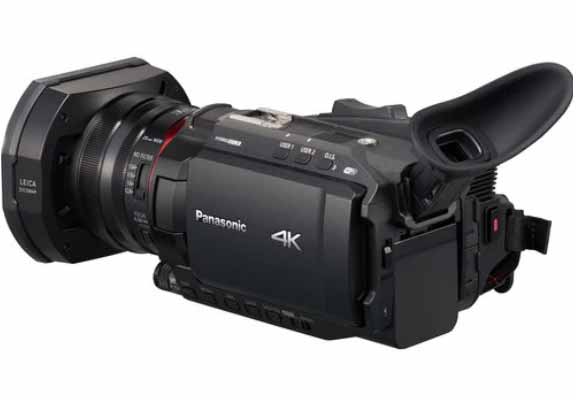 When I received the Panasonic X1500 camcorder and started using it, I was quite impressed. Although it's not the best choice for low-light situations like night-time cave diving, it's loaded with fantastic features that have elevated my video quality (I do as a freelancer).
I love that Panasonic included programmable user buttons in this compact prosumer camera. It shoots up to 4k 60fps, but I noticed the 4k footage is a bit soft in extremely low light, kind of like a 2k upscaled video. However, when there's plenty of light, the footage is beautifully crisp and clear.
The 1-inch sensor captures lots of detail and color accurately, while the high-quality lens keeps the footage sharp. I also appreciate the advanced scene file management and user buttons, which make it easy to customize settings for the perfect look.
During my testing, I was quite pleased with the robust focus settings, and the autofocus is much better than I expected from Panasonic. The area/touchscreen focus is a cool feature I'm still playing with. I love that you can set an area focus, lock it into manual mode, and prevent it from refocusing as you pan across an object.
The zoom capabilities on this camera are incredible – perfect for birdwatchers! Though I admit, it's probably more Zoom than I (or anyone) will ever need. The sensor size and variable zoom speed make up for it, with hardly any noticeable rolling shutter effect.
The built-in stabilization works wonderfully and ensures my shots are always steady and smooth. And, built-in ND filters are a lifesaver when shooting in bright light or on sunny days.
I've seen some reviewers mention color or mic input noise issues, but in my experience, the colors are accurate, and any noise can be easily edited out. The lens hood design is super convenient with its flip-open switch – no more lost caps.
This camera offers a plethora of features, and the full-color correction menu allows for plenty of customization to achieve anything. The detailed online manual is thorough and easy to understand. It might take some time to get the hang of it, but once you do, you'll feel like a pro!
In short, the Panasonic X1500 is a fantastic option for content creators looking for a feature-rich camera. While the image quality may be lower in certain conditions, it excels in controlled lighting environments and offers a vast range of practical features.
2. Panasonic X2000 – My Pick for The Best HD Camcorder of the Year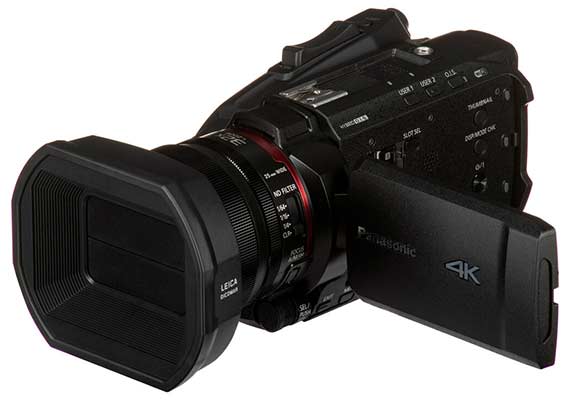 So, I've been testing the Panasonic X2000, and let me tell you, it's worth the extra $600 if you can swing it. I've put it through its paces, and I'm super impressed by its fantastic features and top-notch performance.
One thing that stands out is the 24x optical zoom. It's excellent for getting up close and personal with your subjects from a distance, without losing any image quality. The X1500's 20x optical zoom was a lot too, but X2000 pushes it further for added reach and flexibility. Plus, the advanced Face Detection Autofocus (AF) system on the X2000 keeps everything in focus, even when you are fully zoomed in.
Another cool thing about the X2000 is its built-in 3G-SDI output, which is a must-have for professional live streaming and broadcasting. This feature sets it apart from the X1500 and makes it ideal for serious videographers who need dependable live video feeds.
Now, let's talk audio. The X2000's built-in 4-channel audio recording is amazing for capturing clear and crisp sound without any extra gear. This is super helpful when you're recording interviews, events, or live performances and want to capture that immersive audio experience.
In a nutshell, the Panasonic X2000 is a fantastic choice for anyone who's all about great zoom capabilities, advanced features, and better low-light performance. Sure, it's a bit pricier than the X1500, but the extra capabilities make it a worthwhile upgrade for professional videographers, freelancers, and passionate enthusiasts.
3. Panasonic HC-VX981K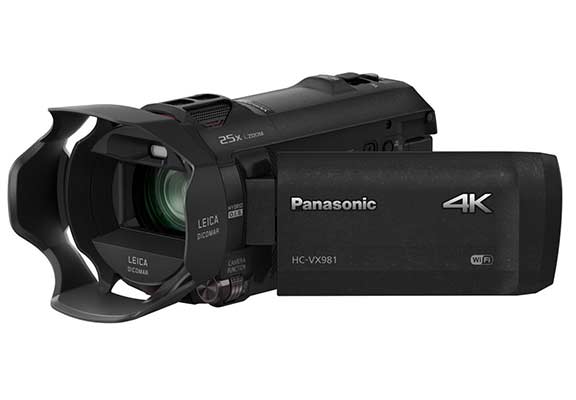 If you're looking for a semi-professional 4K camcorder, you can not go wrong with the Panasonic HC-VX981K. This camcorder is such a little gem. With its fantastic video quality and ease of use, it is surely built to impress even the most demanding videographers out there.
As a freelance videographer, I've been blown away by the crisp and color-accurate video this camcorder produces. Capturing my son's soccer games has been an absolute joy, and the resulting footage is crystal clear, even without any post-production. It also shoots photos, although not as impressive as the videos. 
I think my wife best described the video output of this camera: "making my home videos look like cinematic masterpieces".
Now, I'm not going to say only good things about this camcorder. It is great but still has a few drawbacks. First, if you plan on using an aerial mast system like the Hague Camera Support Aerial Mast, be aware that this camcorder doesn't support a physical remote or LANC jack. Instead, you're stuck with a laggy wireless link to your cell phone or tablet, which isn't something you want at this price point.
Another issue I've found is that, when using an external field monitor, the camcorder won't output in 4K, only in HD or 1080p. In fairness, I have not seen any other camcorder output full resolution 4K so this might be a thing across all of them.
In terms of design, the HC-VX981K is incredibly compact and lightweight. While some may appreciate this, I find the small size a bit cumbersome. The build quality also feels somewhat cheap for the price, but the outstanding video clarity more than makes up for it.
While Amazon's listing (where I bought it from) claims it includes editing software, sadly, this was incorrect in my case. However, you can use programs like iMovie for Mac to edit.
In conclusion, the Panasonic HC-VX981K 4K Ultra HD Video Camera Camcorder is a superb choice for those seeking top-notch video quality without breaking the bank. It's easy to use, the video quality is outstanding, and it's compatible with popular editing software. If you can overlook the minor drawbacks (I mentioned above), this camcorder is a winner in my book.
4. Canon VIXIA HF G70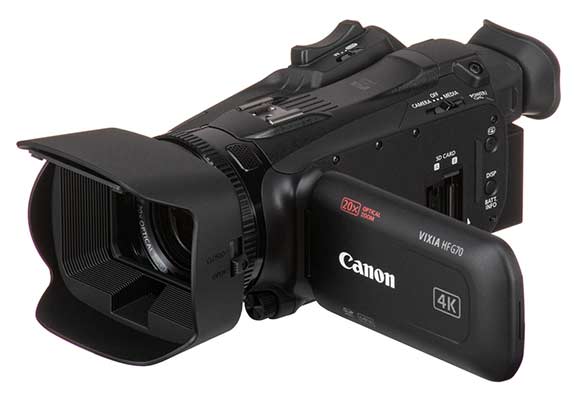 As a videography freelancer, I've tried and tested a whole bunch of camcorders, but this little gem left me smitten. I know, it's been out for a while, but trust me, it's still an absolute powerhouse in a compact size that you cannot miss out on.
When it comes to design, this camcorder is a sleek, compact beast that fits snugly in your hands, offering a perfect balance between portability and functionality. The buttons and controls are thoughtfully placed, making it incredibly easy to navigate through menus and settings.
I was also impressed by the adjustable viewfinder and LCD screen. You can tell Canon put a lot of thought into crafting a user-friendly experience for this camcorder.
Now, let's dive into what matters: image quality. The Canon G70 boasts a 4K UHD CMOS sensor, which is paired with the DIGIC DV 6 image processor, creating breathtaking videos.
In my testing, I found the details, the color accuracy, and the low-light performance are simply to die for! I took it out for a spin during a friend's wedding, and the footage was nothing short of cinematic.
Another excellent aspect of the G70 is the crazy 20x optical zoom lens, which gives versatility to capture moments from a distance without losing quality. I could easily switch between intimate close-ups and wide-angle shots, giving my videos a dynamic and engaging feel. During testing, I found the image stabilization works well and made my handheld videos look like they were shot on a professional gimbal.
When using manual mode, the customizable focus, aperture, and shutter speed settings unlocked a new level of creative freedom for me. It felt like I was holding a professional-grade camera but without the intimidating learning curve.
Dual SD card slots are nice to have and ensure there is enough capacity or redundancy available when working with large video files that you can not afford to lose. The built-in Wi-Fi and FTP transfer options were a bonus but not useful due to slow transfer speeds.
My only complaint about this camcorder from Canon is its short battery life. You will need to buy spare batteries if you plan to use the camcorder for more than a few hours.
In conclusion, the Canon VIXIA HF G70 camcorder has completely won me over. It is compact, has a user-friendly design, and delivers stunning video.
5. Sony FDRAX53/B 4K HD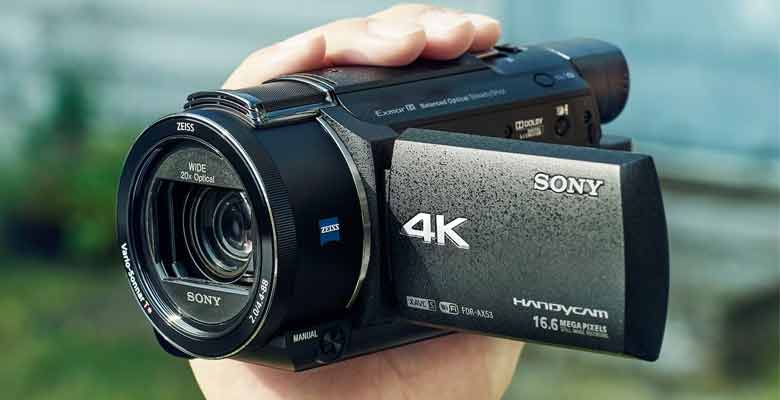 First off, the camcorder's design is a delight. It's sleek, compact, and has a modern feel that screams "Pro". The ergonomic grip makes it comfortable to hold, and the buttons are conveniently placed, ensuring easy reach and quick muscle memory build-up. The camcorder is also lightweight, making it perfect for comfortable one-hand shooting.
During my testing, I found that Sony FDRAX53/B 4K HD delivers stunning, true-to-life footage that is nothing short of amazing, in all lighting conditions except low light. I found my nighttime videos to be a bit softer than usual. Thankfully, there is not a lot of noise or grain that I have seen on most sub-$1000 camcorders.
The 4K resolution provides jaw-dropping detail and vibrant colors, making every shot look like a work of art. The Balanced Optical SteadyShot (BOSS) technology is a game-changer. I've been able to capture smooth and steady footage, even when I'm walking, which has made a world of difference in my videos.
One of my favorite features is the 20x optical zoom. It's powerful enough to get up close and personal with my subjects without losing any detail, and it's perfect for capturing those far-off shots during nature hikes or sporting events. Additionally, the built-in ND filters are a lifesaver for shooting in a bright environment or in the direct sun where you do not have any control over lighting.
I think the 5.1-channel surround sound microphone is more of a gimmick. It's like having an echoey filter applied to dialogue, and background noise is amplified. Although In stereo mode, it is perfect for interviews, capturing ambient noise, or even filming live performances.
My only gripe is with the touchscreen menu system. Sony calls it very intuitive and easy to use, but I find it to be a bit finicky at times, and accidentally press the wrong buttons. It's not a deal-breaker, but it can be frustrating when it happens during recordings.
Another minor gripe I have is with the battery life. While it's decent, I do wish it lasted a bit longer, especially during long shooting sessions. It's worth investing in an extra battery or two. This set of two batteries can be had for as low as $40 on Amazon.
In short, this camcorder from Sony is user-friendly, produces outstanding video and audio quality, and has a bunch of features that will take your videos to the next level. If you're looking for a camcorder that's easy to use and delivers stunning results.
Final thoughts:
When choosing a camera, it's crucial to assess your specific needs and priorities, such as image quality, features, budget, and purpose. The Panasonic X2000 ranks at the top due to its professional features, versatility, and excellent 4K image quality, but it is also a little pricey.
Sony FDRAX53/B offers crisp and vivid 4K video with better stabilization while staying under $1000. Keep in mind you would need to spend an extra $40 for a pair of spare batteries and chargers. If your budget is really tight, then you can not go wrong with ORDRO AX65. It offers the best 4K video for $350 while offering optical zoom and image stabilization, and comes with a lot of accessories to get you started.
I would suggest you avoid purchasing the latest or most expensive model, as you may not utilize all its features. But, it's also important to future-proof your purchase by considering potential uses, like investing in a high-resolution camcorder with lossless video formats if you plan to explore filmmaking later on.