I have already written a post about Magnetic USB charging cables but today I'm specifically going to share my top pick for Magnetic USB C cable that has transformed my phone charging game.
I've tried a lot of Magnetic Cables but UGREEN's Magnetic USB C cable is the best Magnetic charging and data transfer cable on the market and it is my absolute favorite.
This isn't just another cable; it's kind of a life-changing accessory combining innovation, durability, and a sleek design. Trust me, once you experience this unparalleled magnetic USB-C cable, you'll never want to go back to those cumbersome, non-magnetic cables again.
Why is the UGREEN Magnetic USB-C cable the best on the market?
First of all, the reputation, I don't know a single person who owns a smartphone who hasn't heard about UGREEN at this point and that's for a good reason, UGREEN makes sturdy and reliable charging accessories for smartphones, be it their power-bricks or their charging cables, among other things.
There's something truly special about UGREEN's magnetic USB-C cable that makes it stand out from the rest, and it's undeniably my favorite (this post is not sponsored by UGREEN btw). To me, it feels like the perfect blend of form and function because, unlike other magnetic charging cables, UGREEN's connector is slim and flat instead of being thick, round, and bulky like other cables.
The connection strength of UGREEN's magnetic USB-C cable makes sure It snaps into place with a satisfying click, while the magnets maintain a strong, secure grip. The convenience of attaching and detaching the cable without fumbling has been a game changer for me.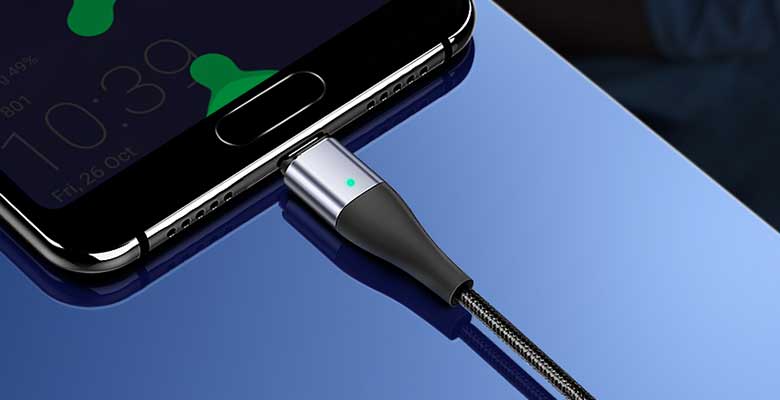 I also appreciate the LED indicator that's integrated into the cable. It's such a subtle, yet helpful feature that lets me know when my device is charging at a glance. No more second-guessing if I've connected it properly or not!
The braided nylon exterior not only adds a touch of sophistication but also ensures the cable remains tangle-free and withstands daily wear and tear. I've used mine for months without any signs of fraying or damage, which is remarkable given how often I charge my devices.
The Fast charging Magnetic connection
The fact that the connector is magnetic doesn't take anything away from the rapid charging speeds it provides. It supports fast charging, making sure my devices are charged quickly and efficiently. I no longer have to worry about long waiting times to get my devices up and running.
But what really steals my heart is the universal compatibility of this cable. I have multiple devices with USB-C ports, and UGREEN's magnetic USB-C cable works flawlessly with all of them. It's a relief not to juggle multiple cables or worry about compatibility issues.
Data Transfer over a magnetic USB C connection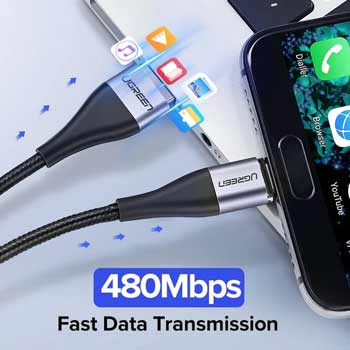 The most common frustration I've had with most of the other magnetic charging cables is the data transfer, while those magnetic cables were alright for the charging, data transfer either wasn't an option or was finicky at best.
But that isn't the case with UGREEN as it supports a 480Mbps data transfer rate and succeeds in keeping a stable connection while doing data transfer which isn't the case with other USB C magnetic charge and sync cables.
The 'Other' Connectors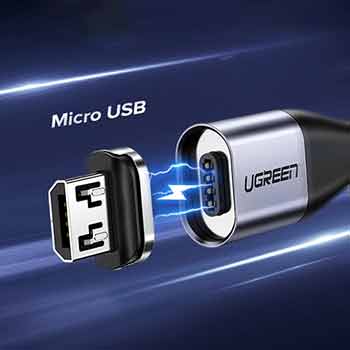 What's great about it is that you can get a Micro-USB connector for the same cable and use it on an older device that doesn't support USB C like a couple of Bluetooth speakers I have from the medieval ages.
Some common Questions regarding Magnetic USB C Charging Cable
Now let me answer some of the common misconceptions and questions regarding USB C Magnetic charging cables that you might have.
How Does Magnetic Charging Cable Work?
Magnetic charging cables consist of a connector tip and a cable with a magnetic end. Just plug the tip into your device, and when the magnetic end comes close, they snap together because of the strong magnets and create an electrical connection for charging.
Are Magnetic Charging Cables Safe?
Magnetic charging cables, in my opinion, are safe and super convenient. They reduce wear on your device's port and prolong its lifespan. Just make sure you choose a quality cable from a trusted brand for safety against overcharging and overheating.
Are Magnetic Charging Cables Bad for My Phone?
No, In my opinion, magnetic charging cables are not bad for your phone. They offer convenience and protect the charging port from wear so in a way they are better for your phone. Just choose a quality cable from a trusted brand for worry-free use.
Conclusion
Magnetic USB C cables are a life-saver in my opinion and personal experience as they improve your quality of life and help you get rid of another small annoyance in your life. After switching to magnetic USB C cables for charging exclusively, it feels kinda weird when I want to charge my phone and don't have access to my magnetic charging cable.
And after having used various magnetic USB-C charging cables, the UGREEN cable emerges as the clear winner for me. Its outstanding features include exceptional connection strength, superior build quality, and impressive charging speed. The cable's LED indicator and braided nylon exterior are what make it stand apart from the rest of the competition.
My personal experience with the UGREEN Magnetic charging cable has been nothing short of amazing, making charging my devices a hassle-free process. The cable's convenience, durability, and performance have undoubtedly won me over, and I'm confident it's the best choice for anyone looking to upgrade their charging experience.