There are some people who like to keep their PC compact and then there are people who want the smallest PC possible, Mini-ITX PC cases ensure the needs of the latter are met.
Now there could be a plethora of reasons why someone would want their PC to be that Small and compact. It could be that you want to keep things minimal OR don't want a huge PC laying on your desk.
Either way, we have prepared a list of the best of the best Mini-ITX Computer cases for 2023, from high-end to ones you could afford on a really tight budget, here, have a look.
NZXT H200i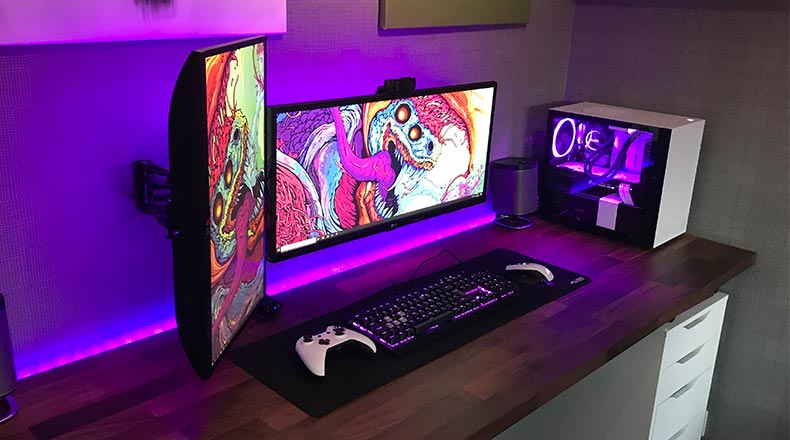 NZXT is one of the favorite companies I had to try at this and I am glad to say that I'm not disappointed with what they made in the form of H200i. All the things I love about NZXT, are the build quality, the color options (especially the red and black one), the front-top I/O options, the size of it, the shape, I just love it all.
Up top, it has an exhaust perforation for a 120mm fan with a dust filter. Now accessing it is not that easy (it's a mini-ITX case, so that was already obvious I think) but since it is pre-installed, it's not that big of a deal. On the power supply side, the space of the power supply supports a standard ITX unit, with a dust filter at the bottom of the power supply.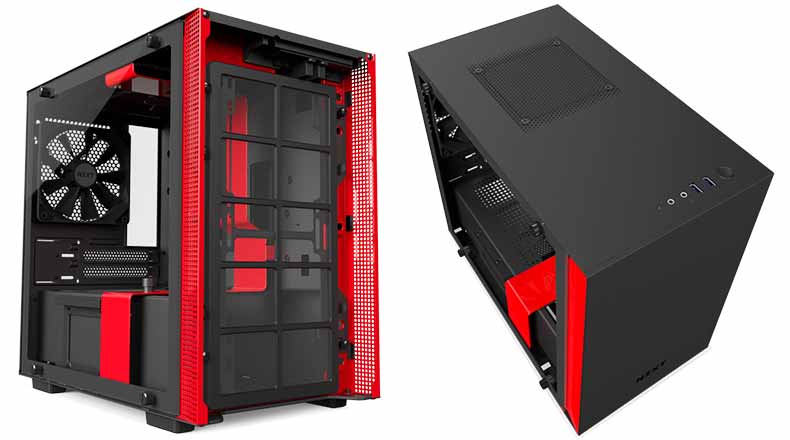 Talking about cooling, you can remove the front panel exposing a dust filter and space for 2*240mm fans or a dual 240mm radiator, with a two-height position for the radiator. There are also perforation holes between the motherboard chamber and power supply chamber for better airflow.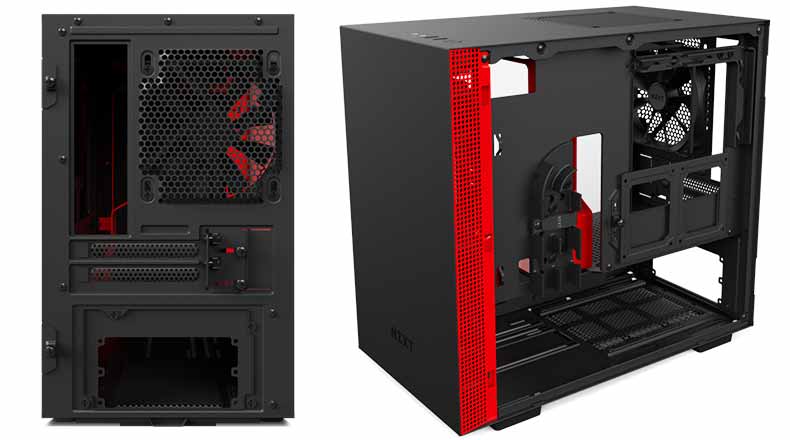 Opening the back panel the power chamber is totally open and there are pretty great cable-routing options for some good cable management. There is a dual SSD cady tucked away at the back of the case and one SSD holder in the front of the motherboard panel. At the back, we also have a little smart hub (to control lights and fans and such) with everything already pre-routed to make things easy.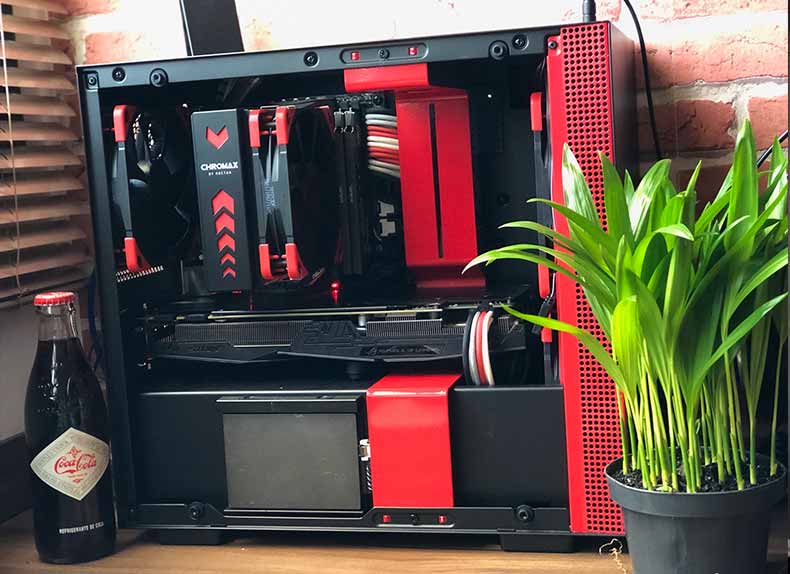 The built-in LED strip up top is more neatly designed in H200i. Some compromises had to be made because of the small size of the case but overall, highly recommended.
Phanteks Evolv shift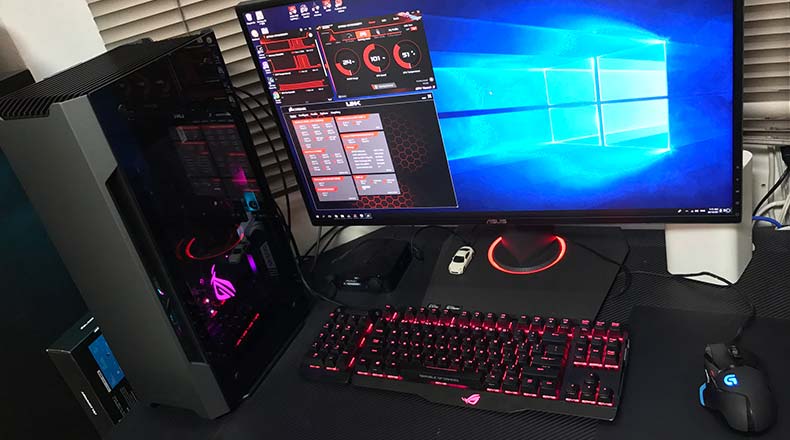 Here we have probably one of the most symmetrical PC cases I've seen. With super-high quality anodized aluminum front and back panels and tempered glass side panels (which have a slight tint to them) on both sides, this is a pretty exciting case to work with. Perfect to show off a mini-ITX PC build.
This case supports SFX-L-sized power supplies, not enough clearance for a big CPU liquid cooler so I'd recommend going with a good air cooler for processor cooling or a very small water-block water cooler. The I/O options are limited as there are only two USB 3.0 ports on the side of the back and no Audio jack ports. Sure that gives it a much cleaner and nicer look but limits the accessibility of the ports.
The top is a nice, sleek-looking grill, that looks more like a giant heat sink TBH but it looks nice as heck. on the side of the top, there is a power button with an RGB button as well.
With a push mechanism, the top panel opens up and depending on how you set up the internal layout, you could access all the motherboard ports from the top if whatever you are plugging in doesn't require that high clearance. With the top panel popped up, it gives you access to the thumbscrews to take off all 4 side panels.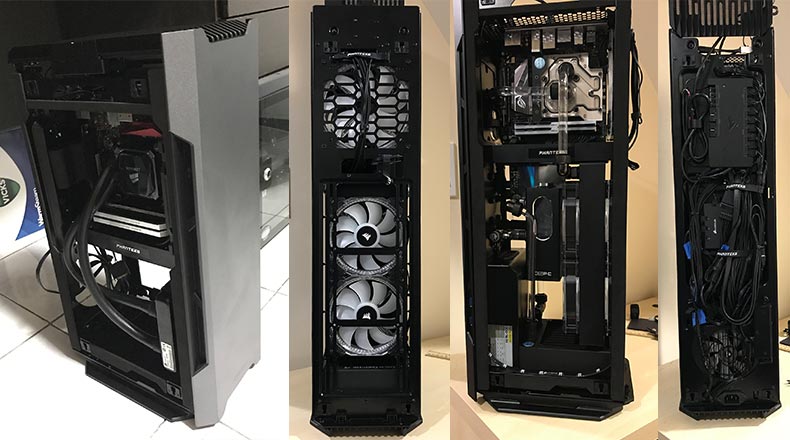 On the back, it's almost the same panel as the front but with one hole at the upper part (for running the mouse and keyboard cables) and at the bottom, for the AC power cable. You can also route the mouse and keyboard cables from the bottom space for a cleaner look if you want.
This case supports 2*120mm radiators, one at the bottom front and one on the bottom panel. It has 2 SSD mounting plates on the back to hold SSDs, easily accessible and removable. There is a ribbon-styled PCIe extension to mount the GPU at the backside of the motherboard.
The cable management is a bit hard to do, as you might imagine in a case this small. And that's about it, Highly recommended to take a look at it if you are going for a mini-ITX PC build.
Cooler Master Elite 110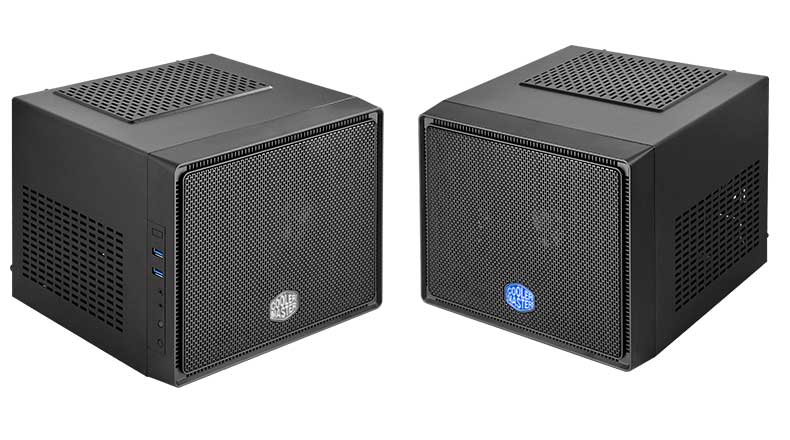 Elite 110 is the most basic box-shaped Mini-ITX PC case, more like a conservative and more "out-of-the-way" take on a small form-factor PC case design that works damn well for airflow and internal component structure as well.
In my opinion, this case will be best for people who are looking for a PC case to build a home theater PC or a home server or a steam box but maybe also wanna fit some powerful components in it.
All the Port options include audio in and out and two high-speed USB 3.0 ports and a reset button, which I think are fairly good and standard options. There is a bracket on the top-right of the back of the case for a power supply, just so there is more clearance for internal components just by pushing the power supply about an inch out.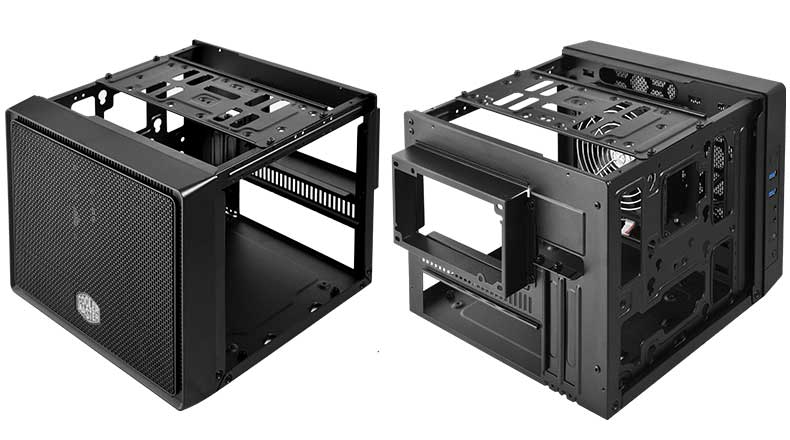 Talking about the power supply, you can fit a standard ATX power supply in this case according to Coolermaster, but I will recommend a smaller PSU if you want more clearance for other internal components like radiators or fans.
The whole front is an air cooling vent/grill, you can fit dual 120mm fans there or a 120mm radiator. The motherboard can be pretty much mounted at the bottom of the case, we recommend going with a mini-ITX motherboard. You can mount the HDD drives on the left side of the case, or you can mount 80mm fans if you want instead and on the top mounting plate, you can mount two SSD drives.
Oh, and the logo on the front of the case is the power button. Highly recommended compact case for a TV lounge media station PC.
Fractal Design Node 202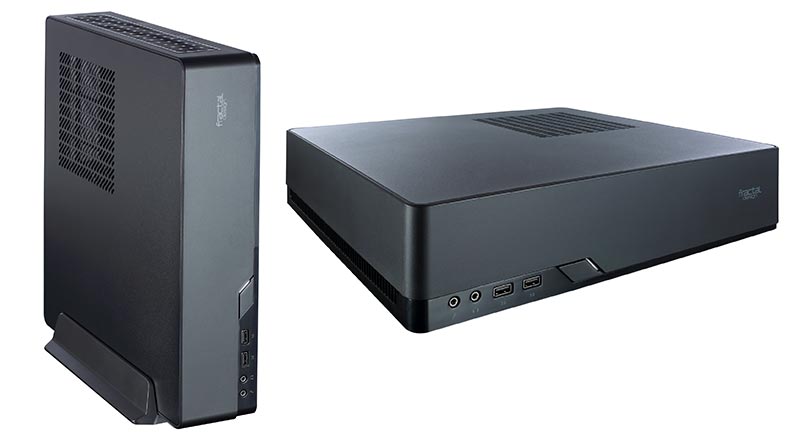 This is a case designed for ITX motherboards and SFX power supplies but seems almost the same size as a gaming console. So it won't be wrong to call it compact, to say the least. Outside is a Solidly built case, a matte finish, with a front I/O consisting of 2 USB 3.0 ports, audio in and out, and a power button.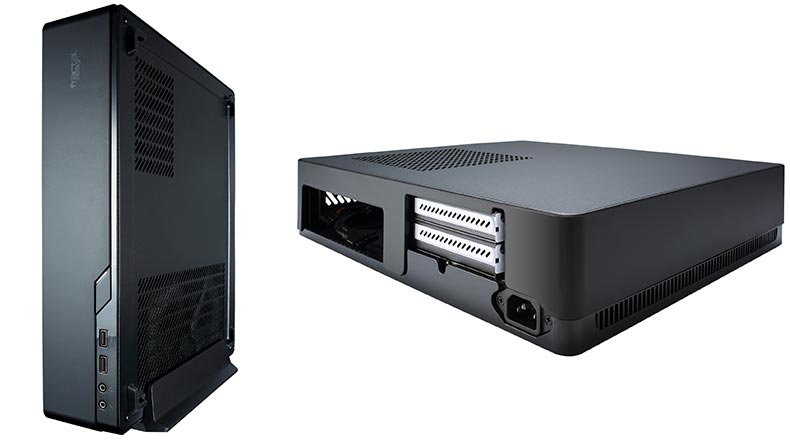 The inside is neatly organized, with separate compartments for an ITX motherboard, full-sized GPU, and SFX-sized power supply with a little bit of space for cable management behind the power supply. There is also some room under the Graphics cards for 120mm fans.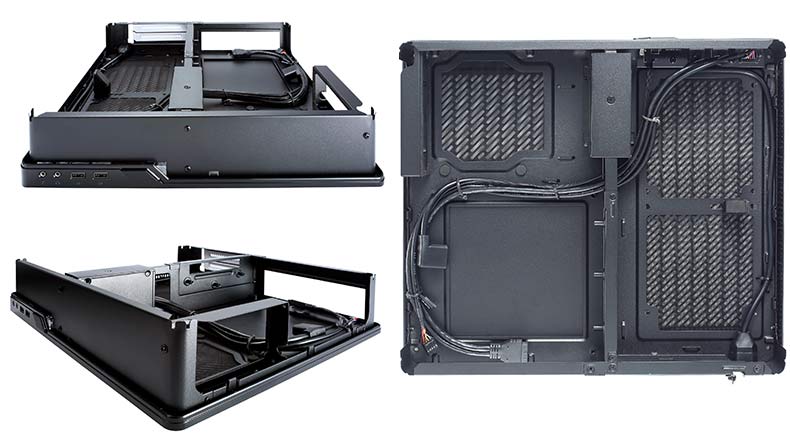 In the middle, support-bar/section separator is a cage to tuck away two SSDs. Plenty of room for cooling and yet dense and compact enough for us to recommend it in our list of mini-ITX PC cases. You can stand it up using the included solid plastic stand or lie it down in the landscape position. However, we recommend standing it up for better airflow.
Overall? Highly recommended for people looking to build a sleek-looking media station or steam PC for their TV lounge.
Corsair Crystal 280X RGB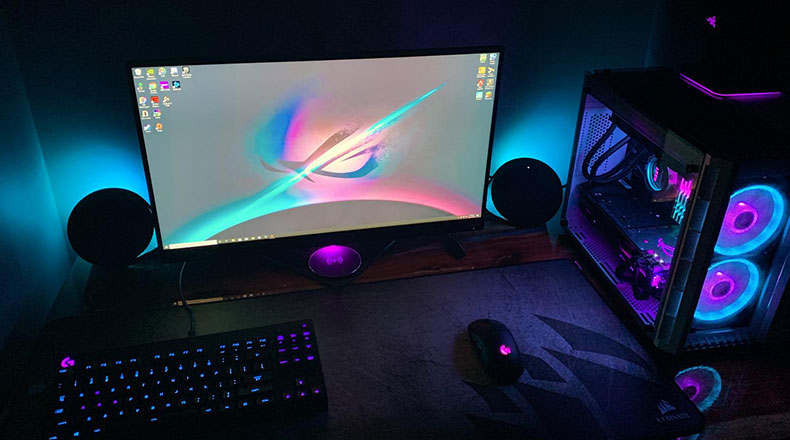 Now I know this is an mATX case but due to its compact design, I recommend it to anyone who is looking toward building a fairly bigger mini-ITX-based PC and still wants to keep it compact. This case is based on the dual-chamber design for better space management and does a good job at it.
Now being part of corsair's crystal series, the left chamber is jammed with tempered-glass panels all around. The I/O is on top of the front right corner including fairly basic two USB 3.0 ports, audio in and out jacks, and power and reset buttons.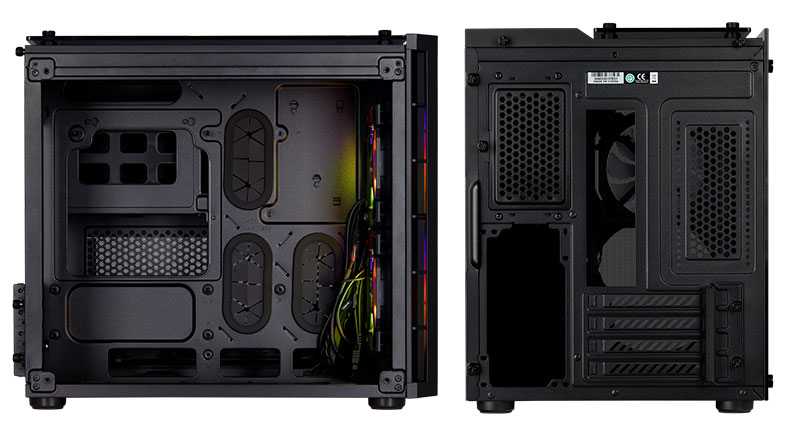 Let's talk about cooling, on the front you can install two, 140 or 120mm fans on the front and one on the bottom. OR, you can install 240mm radiators at the front, top, or bottom as well. So it's safe to say that cooling options are plenty.
The front glass is attached to the front plastic panel so can be removed along with that, the top glass can be removed with thumbscrews to access the dust filter. The side glass panel can be removed by removing 4 thumb screws, however, it's tricky getting it back on because of no holder to place it on before putting in the screws.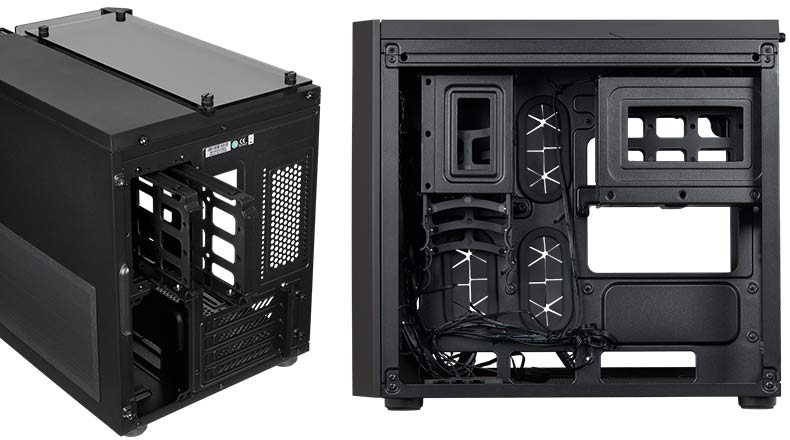 The glass compartment stays clean as all the storage and power supply components go into the right compartment, where there are two cages, one to house SSDs and the other for full HDD drives. They are designed to be removed from the case to install SSDs and HDDs comfortably and then mount the cages back in.
Which Mini-ITX case is best for Your Build?
Well, the use-case scenarios can't be ignored while deciding which one of these you wanna go with for your mini-ITX PC build. Moreover, where you wanna use the PC can and should be the deciding factor of the case you wanna go with for the specific build.
For example, you don't want to go with a fancy-looking PC case if you are gonna tuck it away in the server room for a NAS setup and you don't want a box-looking, boring case for a PC you want to place on your desk and show off.