While most of us love the powerful bass and the robust feel of over-the-ear headphones, there are some situations in which having these bulky headphones can be troublesome, despite how good they sound. Some of us like listening to music on the go or even while working out.
In these situations, the headphones you're so proud of will only weigh you down and there's always the risk of them getting damaged as well.
At times like these, you're better off using something that's lightweight, compact, and less prone to falling off. In other words, having a nice pair of in-ear headphones or earbuds can fit your bill.
There are many Top-Notch Earbuds out there, each of which offers the user something different. While most consumers pick out their earbuds based on h1w cool they look and how much they cost, we're going to walk you through our list of best in-ear headphones you can possibly buy in 2022, in detail, based on how well they fit your needs.
Best Earbuds You can buy in 2022
Let's take a look at the list of these Earbuds:
RHA T20i HiFi In-Ear Headphones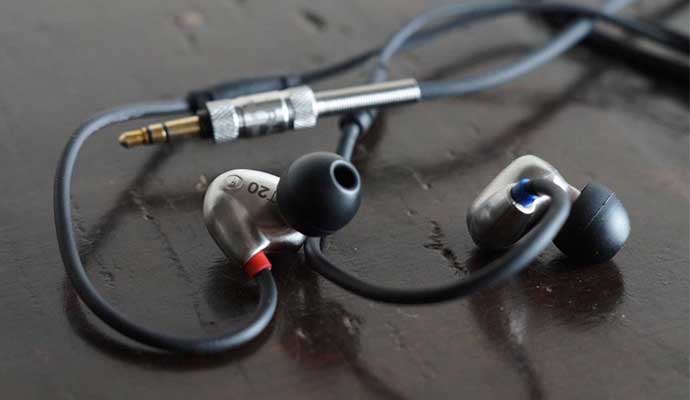 In the past, RHA was infamous for its quality budget headphones. The T20i however, is proof of the company's ability to deliver much higher-end gear. The T20i boasts Dual Coil drivers are housed in their attractive stainless steel buds.
One thing about the way these earbuds are designed that really stood out to us was the fact that the nozzle under the silicone earpiece is in fact a tuning filter that can be unscrewed and swapped out with additional filters, allowing you to adjust the level of bass and treble you want to hear. The T20i comes with three of these tuning filters as well as a plethora of accessories you'd expect from high-end earbuds including eight silicone and a pair of soft foam ear-tips.
The earbuds themselves sit very nice and firm in your ears and the thicker rubber cable attached to the earbuds can be secured over your ears for additional grip, making the T20i earbuds just the perfect gym partner for those of us who want to be able to work out while enjoying their music. The sound itself is very clear with an accurate bass response and amazing clarity in highs.
However, at the price at which these high-end earbuds are listed, we'd have certainly liked to see a detachable cable so the drivers in the earpieces don't go to waste in case the cable malfunctions. Asides from that little detail, the T20i are impressive high-end earbuds that are perfectly capable of catering to the needs of audiophiles.
Beyerdynamic iDX 160 iE – Premium In-Ear Headphones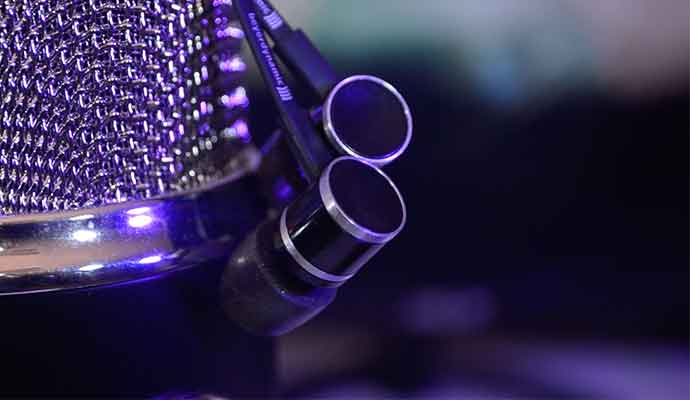 The iDX 160 iE from Beyerdynamic boasts a sophisticated yet minimalist design. The earbuds feature a compact cylindrical speaker housing which is made all the better to look at with the glossy black finish with chrome rings and a concave backside.
Visually, the most distinguishing feature of the iDX 160 iE has to be the three-sleeve silicone ear tips that they come with. Looks aside, there are useful features such as the flat cables that prevent the earbuds from tangling up in your pockets, and to our delight, there's even an in-line control panel to adjust the volume and play/pause your music with a microphone located beneath.
Performance-wise, these earbuds are pretty much all-rounders. The iconic Beyerdynamic silicone ear tips sit very comfortably and securely into your ears and offer remarkable sound isolation, which is great news for those of us who want to listen to music in noisy places with minimum interruption. We really liked how the sound is well balanced across lows, mids, and highs at even high volumes.
One more thing that we really appreciated about the iDX 160 iE is the fact that they come with an array of accessories including silicone ear tips of different sizes, a clamp shell casing, and an adapter cable that allows you to connect your earbuds to your PC while keeping the microphone function, all at a very affordable price.
However, the fact that the inline volume control only works with iOS devices is a huge deal-breaker for those of us who use Android. Android users can still use the play/pause features.
Shure SE215 Sound Isolating Earphones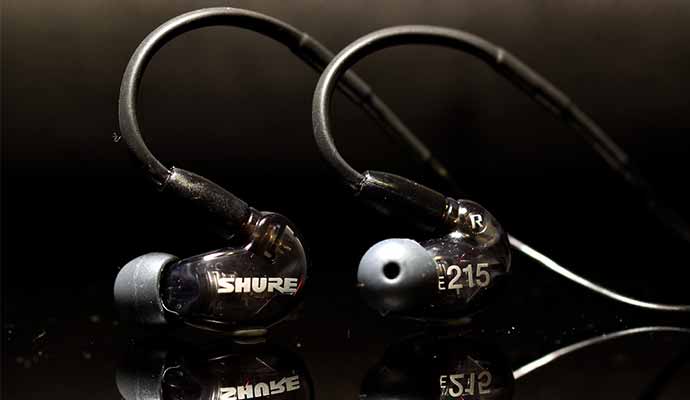 Getting right down to it, the SE215 are Shure's latest Budget in-ear headphones. However, despite their remarkably low and affordable price, we found these earphones to be nothing short of impressive in terms of design and audio performance. The SE215 offers its audience a great low-end sound that's ideal for bass-boosted beats, however, if you're looking for heavy, over-boosted bass, then these earbuds might not entirely fit your bill. Overall, we're quite satisfied with the way these things sound, considering the fact that they're budget earphones.
Great sound aside, you'll be glad to know that the SE215 has a number of useful features that are rare in the affordable earbuds category. For starters, one thing we absolutely loved about these earbuds is the fact that they come with a replaceable cable, which allows you to enjoy your earbuds for longer since the drivers typically have a much greater lifespan than the cable does. Though, one thing that we didn't like about the SE215 is the fact that we experienced a bit of trouble in getting the earbuds to sit firmly in the ear.
To get a secure fit, you'll have to tuck the rigid cable behind your ear very securely, which is troublesome with a new pair but gradually improves over time. Asides from that, these are great-sounding budget headphones that will please most avid music listeners, however, if you classify as an audiophile, you may want to invest more and get something high-end like the RHA T20i mentioned earlier.
FiiO EX1 Nanotech Titanium Diaphragm In-Ear Monitors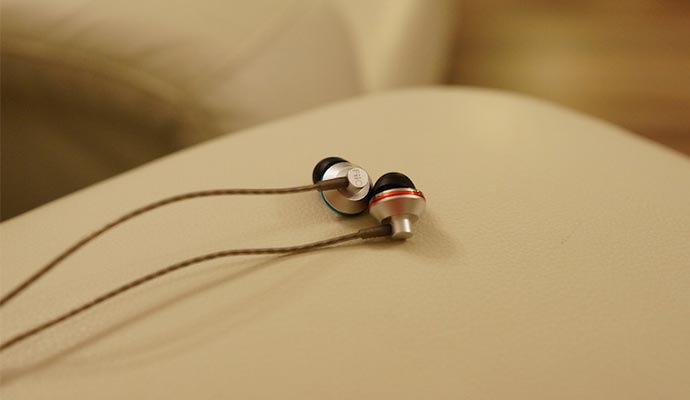 The next in-ear headphones on our list are again a budget item. The FiiO EX1 is nothing way too fancy to look at, with a rounded housing for the titanium nanotech drivers and an offset ear canal nozzle. The earbuds themselves are made of stainless steel and aluminum with a Kevlar-coated cable, which is useful in protecting the cable from getting bent and damaged.
As far as audio performance is concerned, we were overall pleased with the EX1's ability to handle bass with clarity. The mid-range doesn't sound muddy either and the highs are considerably crisp. For the price at which these FiiO are listed, they have quite the impact sound-wise and are on par with some mid-range buds from Bose.
The diaphragm driver delivers a very expansive sound that is a delight for those of us who like listening to old-school rock and classics.
However, if you're looking for something that's more inclined towards the bass, then the EX1 might not be the best option for you. The FiiO EX1 are affordable and reliable earbuds, however, one thing worth mentioning is that despite the robust cable and driver housing, we noticed that the cuff that connects the two is a bit poorly fit and may slide off, exposing the wires.
Shure SE425-V Sound Isolating Earphones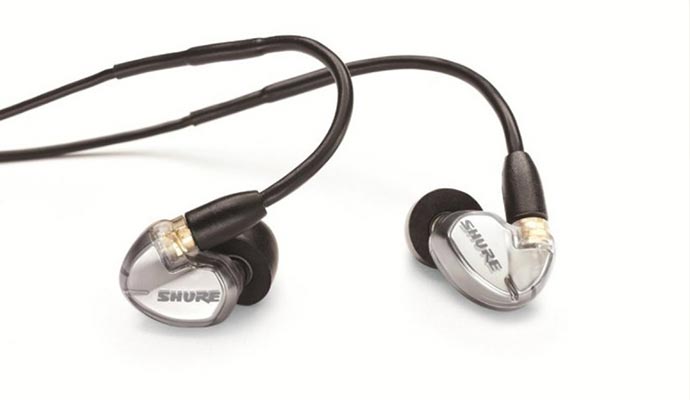 Next up, we have the Shure SE425. These earbuds venture into the higher-end side of the Shure SE series and are available at a rather high asking price of around $300. The SE425 is visually similar to the SE215 mentioned earlier and also features a detachable cable, the absence of which would've been outrage at this price.
The SE425 is equipped with dual high-definition drivers that deliver a very accurate and balanced sound; the highs and mids are both astoundingly clear and you can hear every little detail in your music that you may not have heard before with budget headphones.
Another thing worth mentioning is the fact that the expandable foam ear tips that come with the SE425 are very comfortable and secure themselves very nicely in your ear canal, giving you a great degree of sound isolation that allows you to really focus on your music, which is obviously good news for the audiophiles and gym freaks amongst us. The bendable over-the-ear cable is very comfortable to tuck over your ears and gave us no trouble, unlike the SE215 we mentioned earlier.
However, at an asking price this high, we would've liked to hear a richer bass. But then again, with dual drivers that cater to balance and accuracy, we can't really complain. Overall, the SE425 are great higher mid-range earbuds that will please almost any audience and last a long time.
Sennheiser Momentum In-Ear Headphones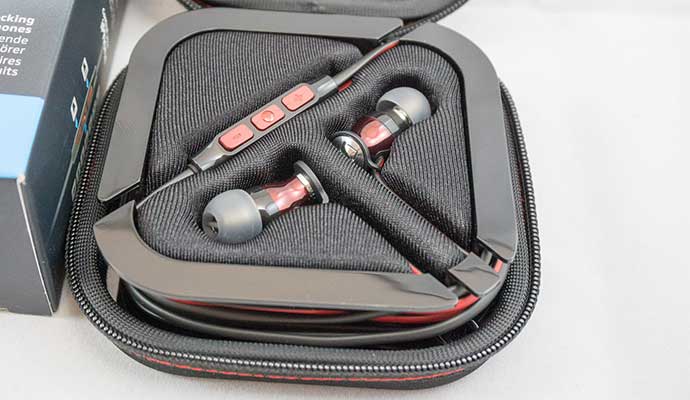 No roundup review of headphones can be complete without Sennheiser. The momentum in-ear headphones are some of the best we've seen in the sub-$100 category. The first thing anyone would notice about these earbuds is their flashy, sporty design boasting a red and black color scheme along with the rounded driver housing that extends into a stainless steel nozzle. For those of us who hate having to untangle our headphones every time we yank them out of our pockets, there's good news; the flat cables on the momentum earbuds are very effective against nasty tangles.
Another feature on the momentums that we really appreciated was the fact that there's an inline control panel present on the right earbud cable, complete with a microphone. However, one thing that we didn't like as much about the inline remote is the fact that it won't work with your smartphone unless you have a model of the earbuds that says that it's compatible with your brand of smartphone on the box. As far as the sound is concerned, you'll be glad to know that the momentum in-ears are capable of delivering a very punchy bass that complements music from just about any genre.
The highs are also very clear and crisp however, we weren't as pleased with the meager presence of the mids. However, for around $70 dollars, the Momentum in-ears are a great upgrade from the stock hands-free headphones that you get with your smartphone. You just have to be careful that you pick out a set that's compatible with the brand of smartphone you're using.
Xiaomi Iron Ring Hybrid In-Ear Headphones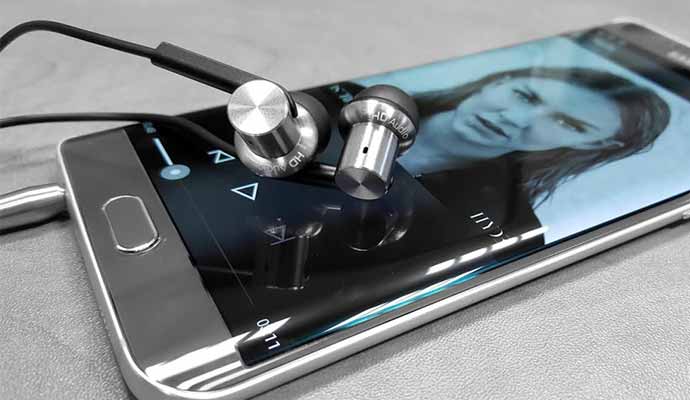 Over the last few years, Xiaomi has released four generations of headphones, each generation getting progressively better than their predecessors. What makes Xiaomi so popular is the fact that these earbuds are as cheap as it gets yet they still deliver great sound (for the price, we might add). The Iron Rings are from the Hybrid series of Xiaomi.
Overall, we were happy to see some improvements in terms of built quality from the outgoing Piston series; the cable on the Iron Ring earbuds is coated with Kevlar up to the Y-splitter and the earbuds themselves, feature a disc-shaped design that houses a hybrid dual driver that consists of an armature driver that handles the highs and the mids and a dynamic driver that handles the lows.
Moving on to sound, we were pleased with how well the Iron Rings handle the bass-heavy notes and the highs are crisp as well. However, we found the mids to be a bit too blunt so if you listen to music with a lot of mids, you might not be too pleased with these earbuds. Asides from that we should mention that Xiaomi made these earbuds exclusive for Android users apparently since the inline controls don't offer full functionality with iOS devices.
Keeping that in mind, we can conclude that the Xiaomi Iron Rings are a great set of headphones for the price, definitely worth upgrading from your smartphone's stock headphones. But if you want a more complete sound that covers the mids section, you can save up a bit more and go for the Sennheisers we just mentioned.
Bose QuietComfort 20 Acoustic Noise Cancelling Headphones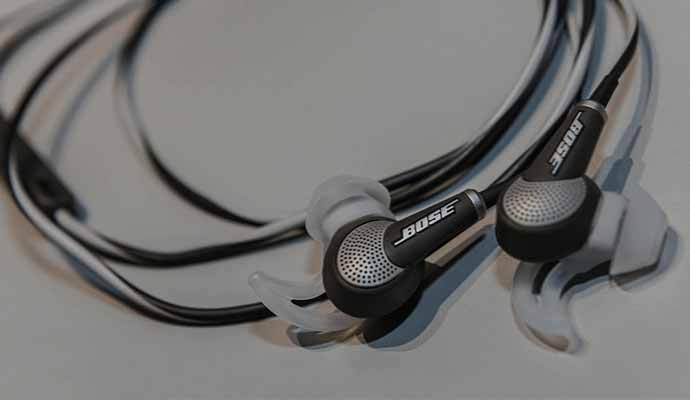 When it comes to high-end sound gear, Bose is amongst the most popular choices. The QuietComfort 20 (QC20s) have high-end written all over them, from the design to the sound as well as the high asking price of around $300. Getting right down to it, the QC20s are pretty similar to the Bose MIE2I in design and are just as comfortable in the ears; very lightweight (1.5 ounces) plus they go in easy and they stay in pretty nice and secure, great for long term use on the move.
Moving on, the QC20s has one of the best noise cancellations we've seen in earbuds. The noise cancellation is powered by a rechargeable battery that's located in the control pod near the 3mm headphone jack. We were happy with the 16 hours of battery life we got per a single charge, however, one thing we didn't like is the fact that the battery is built into the pod and cannot be replaced.
The sound itself is pretty good and handles the highs and lows pretty well and the mids come through pretty nice and solid as well. However, we should mention that at an asking price this high, we've heard better, such as the Shure SE425 we talked about earlier. The key feature of the QC20s is its noise cancelation.
Sony XBA-H1 In-Ear Headphones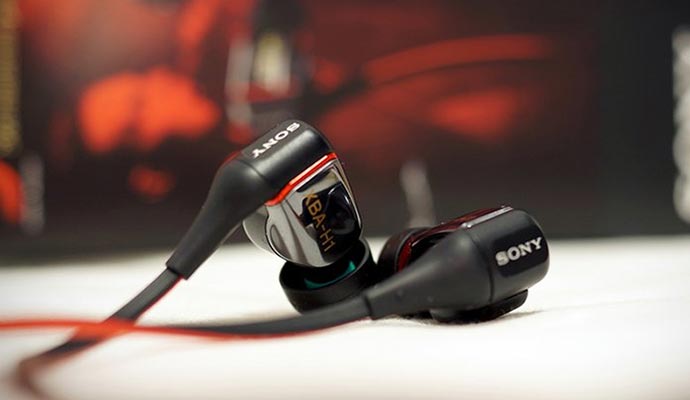 The XBA-H1 from Sony is designed to appeal to those of us who like sporty designs as well as those who prefer more simple-looking earbuds. Not only do they look good, but they've got great ergonomics too. We were pleased with how these buds sit in the ear nicely and away from the ear cartilage and once inside, you basically have a very nice fit.
The flat cables are another thing that we liked about the design of the XBA-H1s, however, one thing that we wish that the XBA-H1s had is the inline controls. At the price you'll find these, it makes sense to have inline controls.
Moving on to the important bit, the sound, the hybrid drivers from Sony combine the best of both armature and dynamic designs and deliver a stellar sound performance; The bass is powerful and punchy, the mids are very much present and the highs are crisp, just how we like them. The sound stage of these earbuds is pretty expansive as well so we are very pleased with the sound of the XBA-H1s.
We also noticed that the sound isolation improves drastically with the foam ear tips. Considering the performance, it's unfair to say that the asking price is too high, however, we still wish that the XBA-H1s had inline controls. But if you're okay with reaching for your phone to control your music, that shouldn't be too much of an issue.
Sony MDR-EX650 Earphones in Brass Housing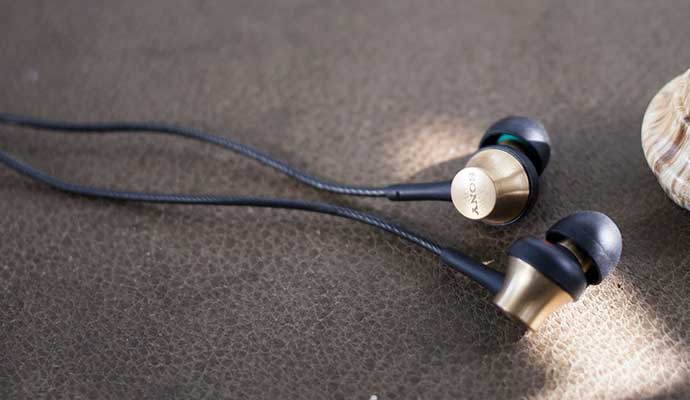 The last pair of earbuds on our list is again from Sony. The MDR-EX650 is compact and lightweight, making it easy to manage as well as comfortable to wear. We were very pleased with Sony's choice of using brass for the driver housing; it not only looks good but also offers quite a bit of vibration control, giving you a clean and clear sound even at high volumes. For those of you who're looking for earphones to use for your smartphone, you'll be happy to know that these have a built-in mic as well.
Moreover, the ear tips that come with the MDR-EX650 sit nicely into the ear canals and provide good sound isolation as well. Since the earbuds themselves are lightweight, it's very unlikely that the earbuds come loose in your ears due to excessive tugging when you're out running or working out. The powerful neodymium drivers and air vents are particularly useful in creating a heavy bass-driven sound.
The brass housing contains any sound distortion so everything sounds neat and precise. Overall, we're very happy with how well the MDR-EX650 handles lows, mids, and highs. With the compact design and premium sound, it's hard to find anything to complain about with these earbuds.
Which ones should you pick?
Now that we've been over the reviews of the Best In-ear headphones of 2022 and their details, such as drivers and how well a pair of earbuds sounds at highs, lows, and mids, you should have a clearer picture of what would suit your listening needs. However, while it's important that your earphones sound good, it's equally important to pick something that suits you in terms of design as well.
Think about where and when you'll be using them and for how long. Is your environment noisy?
Do you move around a lot while listening to music? See which one of these buds fits your needs the most and gives you the best value for your money. Keep that in mind and you'll have a pair that you'll be happy with for a long time to come.