Kik Messenger is shutting down, and this time it doesn't seem like a rumor or a hoax spread by a bunch of kids on the internet. The company's founder and CEO Ted Livingston published a blog post on Medium himself explaining the situation.
We will shut down the Kik app.
–

Ted livingston
We all know that Kin (a crypto-currency), the lesser knows part of Kik has been under investigation by SEC in the US and the company has been under investigation. Ted explains in his blog post that they are going to take a few steps to address that and one of the things he mentions is that they are going to shut Kik down.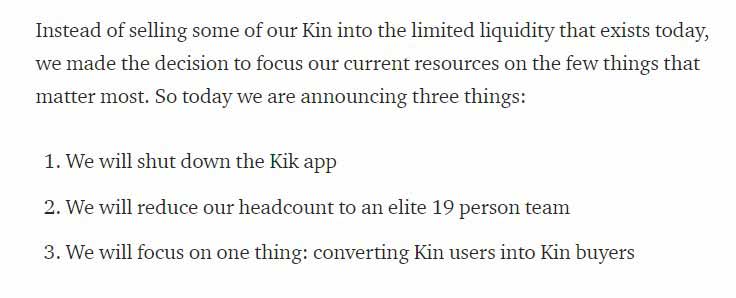 No specific shut down date has been given at the time of writing this post. Almost all Kik users are pissed, no surprises there. But what they are doing is looking for good, working alternatives to Kik.
I've got good news and bad news for all Kik users looking for a viable alternative to Kik; There is NONE. At least nothing that offers the EXACT features that Kik messenger offers.
There are some apps we have here which offer almost the same functionality, albeit with a few compromises on each one and we'll mention them one by one with each app down below.
Best Kik Messenger Alternatives
| | | | |
| --- | --- | --- | --- |
| App Name | Rating | Registration Method | Desktop version |
| Whatsapp | 9 | Phone Number | Web Version |
| Instagram | 8 | Email Address | Not available |
| Facebook Messenger | 8.5 | Email Address | Web version |
| Snapchat | 8.5 | Email Address | Not available |
| Wire | 9 | Email Address | Desktop app |
| Telegram | 9 | Phone Number | Not available |
| Google Hangouts | 9 | Email Address | Web Version |
| Signal | 9 | Phone Number | Not available |
| Line | 8 | Phone Number | Not available |
WhatsApp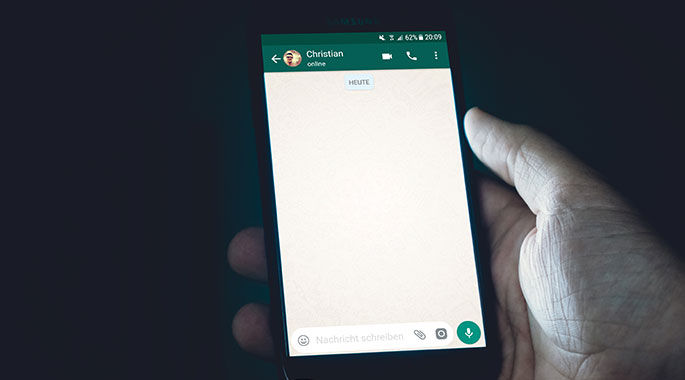 We have all known WhatsApp, everybody's favorite IM app for a long time now. And it sure has come a long way since Facebook acquired it. Here are some of its features:
Instant messaging based on your phone number.
Video and Audio calling.
Group Chats.
Now, it's primarily a messaging app which is the reason why we are recommending it, let's discuss the pros and cons of WhatsApp as a replacement for Kik messenger.
Now, it's primarily a messaging app which is the reason why we are recommending it, let's discuss the pros and cons of WhatsApp as a replacement for Kik messenger.
Whatsapp offers excellent 8/10 call quality, far better than what kik offers.
Groups with unlimited member count, another feature that kik didn't offer.
Lightweight and Reliable app that doesn't hog up much space on phone like other IM apps.
Whatsapp web to use it on your PC browser – convenience.
First and foremost, if you are considering this as a Kik replacement, anonymity factor goes away because it uses your phone number for verification as well as sole unique identifier instead of email or a username.
No owner and admin hierarchy in groups, there are only admins and admins can remove admin status from other admins which makes the moderation of group a pain sometimes.
Instagram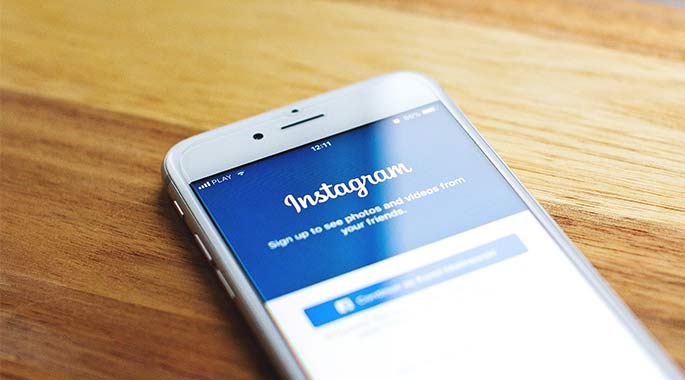 Instagram is another social media platform we all love for being able to share that juicy shwarma picture with our friends or pictures of that trip to Dubai. But it most certainly has to offer more and some of the overlooked features are:
Instant messaging
Calling
Group chats
We know we are here just for group chats and calling because that's what is being taken away from us in form of Kik messenger, let's weigh the pros and cons of this Instagram as a messaging app.
No need for a phone number to sign up for an Instagram account.
Everybody knows kik has a worst call quality overall and in group calls it is even worse, but it is way better on Instagram, way way better.
Making groups for group chatting or group calls.
It is server based application so all your texts and media in chats is saved on Instagram servers. That means you dont have to worry about losing all of your chats and media while reinstalling Instagram for some reason (like we used to on kik)
Doesn't hoard gigabytes of local storage on your phone.
Now comes up with a Dark Mode.
Doesn't Allow group moderation features exactly like kik, There isnt an owner of the group and admins can demote admins and kick people out. Overall the group management hierarchy isn't refined yet.
You can only make private group chats, so no Public group chats like Kik offered. That ultimately means that making new friends is almost impossible.
Doesn't give a web interface to use messaging, but in all fairness neither did the kik messaging app.
Facebook Messenger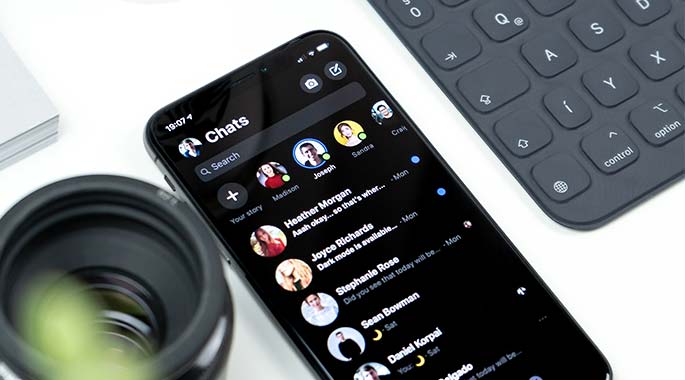 I don't think I need to say anything about Facebook messenger, it's pretty self-explanatory. In fact, I'd be surprised if you didn't have a Facebook account yet, lets's weigh the pros and cons as compared to Kik.
Don't need to make a new account if you already have a Facebook account.
Chat heads.
Can delete messages from both sides.
Chat is backed up on Facebook servers.
Make group chats and invite people to them.
Make video and audio calls.
Intuitive interface, inline many others.
Dark mode.
You can use it on your PC, pretty much any device that supports a browser.
Facebook owns your data, which isn't such a great thing.
No owner and admin/moderator hierarchy for help moderation, only admins and admins can demote other admins.
Hogs a bit of space on your phone as time goes by.
Now, I mentioned in cons that Facebook owns your data and you might say: "every app owns our data, why to worry?"
Well, you should worry because Facebook owns WhatsApp and Instagram as well and if you use those as well, that's a lot of personal data you are giving into the hands of Facebook. I would want to be careful with my data, especially after the recent Facebook data leakage scandals.
Snapchat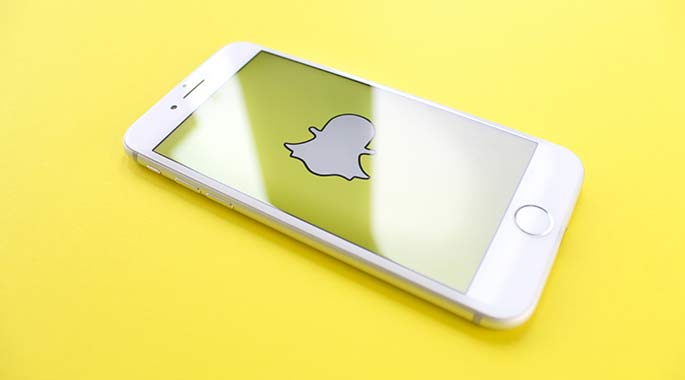 Gotta be honest, when Snapchat was first announced and became available, I thought to myself: "No way an app where messages are auto erased and stories is its biggest feature, is gonna be successful".
A pleasant surprise, I was wrong. People liked it and millions loved it and today use it as the sole social app. It provides features like video and audio calling and group chats and group calls, let's go over its pros and cons.
Can Sign up using email address, dont need to provide phone number, username is how your friends add you.
Excellent 8/10 Audio and video call quality.
In a group you have a visual animation to see who is online in a group and who is typing etc.
Group calls are great.
Disappearing messages are great for privacy if you care about your privacy that deeply.
If someone takes a screenshot of the conversation or saves an image or video from conversation to his/her gallery, snap chat will notify you that what person did that. Another feature that's great for privacy.
Unfortunately Snapchat has lot more downsides than upsides.
There is no discovery option to find friends and family, you can only add people you have a username of.
In chats or group chats, snapchat's interface is boring white space, nothing interesting here tbh.
No public groups, so only can be added to a group by a friend or you can add your friends to a group, that's it. If we compare to other apps, they all have this problem as well so not much of a downside but we'd still like to mention it.
Wire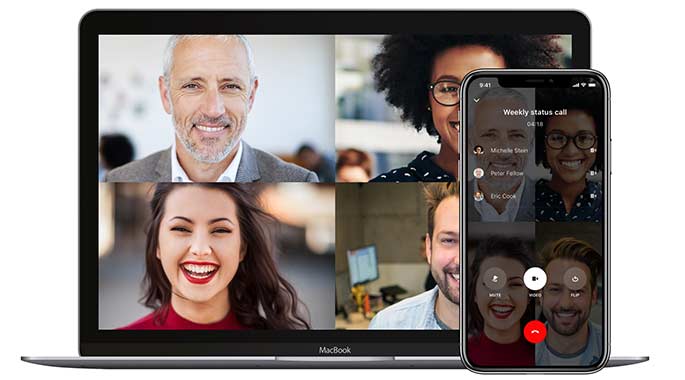 Wire is another good Messaging app with a clean interface that I found out about when a friend told me. It offers features like calls, group calls, and group chats. It provides quite a lot of privacy features and end-to-end encryption.
Clean UI.
Sign-up with email address and username based accounts.
Group Calling (audio/video) with good quality.
Provides features like doodling/drawing and voice notes which are very convenient.
A good desktop app for Mac and Windows PC which comes in handy more times than you can imagine.
Built-in auto locking of app, to keep your chats private.
Dark theme.
No public groups, you can only make private groups and add friends or invite friends yourself.
Interface needs getting used to, but at this point which app's interface doesn't take time to get used to.
in my opinion there are few bugs here and there that need fixing, nothing huge, but things that definitely annoy users here and there.
Telegram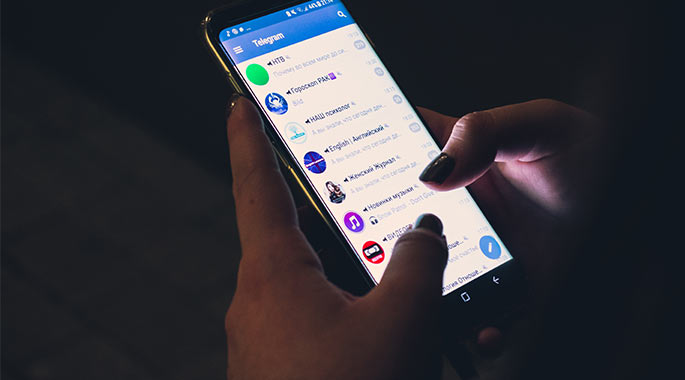 It's an app that I love and hates at the same time, the reason why I hate it is because it requires your phone number to even sign-up, a BIG no-no for privacy-conscious people.
Except that, sure you can hide your Phone number from anyone and everyone you want to hide it from. Username-based communication is great and call quality and public groups are good.
Good call quality.
Public groups even if the Telegram search for groups and channels suck, there is at least that discovery option.
Voice notes are there which are great.
Uses end-to-end encryption.
Pretty much bug-free experience.
Different themes and customization options to make it look how you want it to look like.
Besides Them asking for my number while sign-up, I cant see any downsides to using Telegram.
Google Hangouts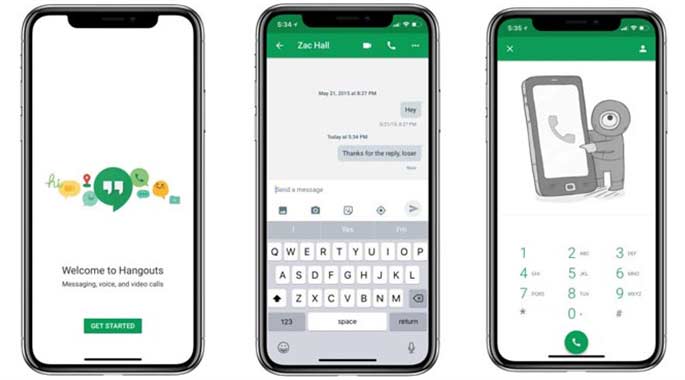 Google hangouts is an IM and VoIP calling app by the search engine giant; Google. Now Google has integrated it with Gmail so you won't need another email address for using this app, just use your existing one to log in and chat around with your friends and family.
It works in chrome so you won't need a desktop app to chat or calls with your friends which is great. But TBH we here are discussing Kik messenger alternatives so I am going to talk about the smartphone version of google hangouts.
You can add other people from their phone numbers or email addresses and everything is in sync with your Gmail account so you won't need to set it up, it provides the users with a neat interface to chat and call, as expected from a huge company like google.
You can also make private groups for chatting and if it wants obvious enough, start group calls.
A very polished experience if I'm being honest, one of the best you can get anywhere.
Group calls and chats with Excellent audio and video quality to collaborate even with work-colleagues if you want to.
No set-up required, therefore a pretty good out-of-the-box experience.
Lightweight and doesn't hog up too much of space on your phone or computer.
Another way for Google to have your data.
No option to send voice notes, which I feel is pretty much the requirement for any modern communications app, especially in an app coming from Google.
No public groups, nothing surprising tbh.
No dark mode yet or any other UI customization options.
Signal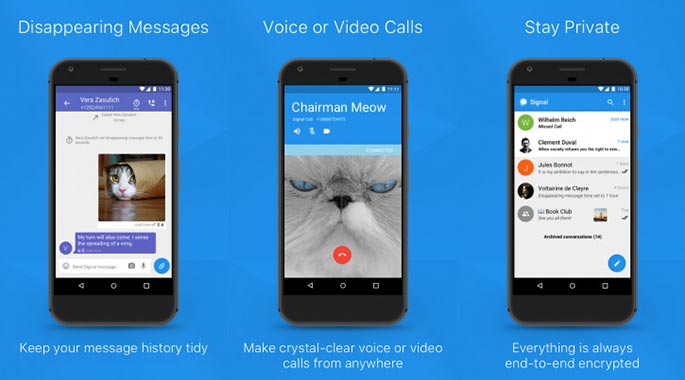 Signal is another privacy-focused IM and VoIP app in the market recommended by Edward Snowden and lots of other researchers and privacy advocates themselves.
I don't like that it asks you for your phone number for sign-up, except that it is pretty much great for one-on-one calling, group calling and chatting, and texting in general as everything is encrypted.
Most importantly Signal provides End-to-end Encryption.
No ads.
Pretty good quality group calls and group chats.
Dark mode.
Nothing to complain except the mandatory condition that you have to provide your phone number to sign up.
Nothing exciting in terms of user interface.
Line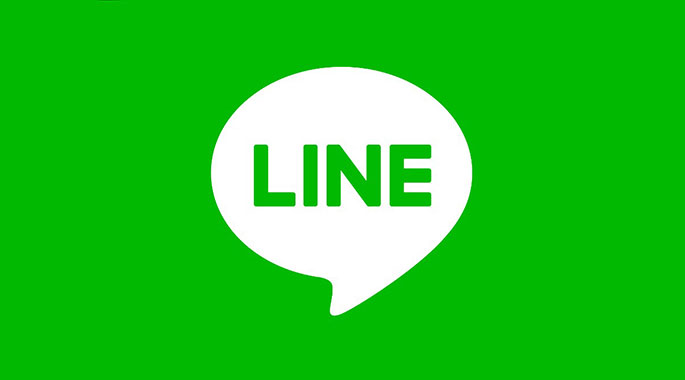 Line Messenger is another Social/IM and calling app. Just like WhatsApp or signal, you have to use your phone number to sign up and it provides some social media features as well. You can make calls via VoIP as well as calls to phone numbers using a low price tariff if you are running low on your network's balance. Let's take a look at the Pros and cons of the Line messaging app.
Good Video and Audio Quality.
Private groups and group chats.
End-to-end encryption for all the communications.
Calls to normal networks with low charges.
Sign-up using your phone number.
Some unnecessary features and interface feels a bit cluttered at times.
Confusion between line and line lite app.
Now we sure have mentioned a lot of apps that can prove to be good alternatives for Kik messenger but nothing can exactly replace Kik as it is. These apps sure are great and provide some features even better than Kik messenger itself, like videos and audio calling quality.
Some of these apps provide features that even Kik doesn't like server-stored chats and Voice Notes. But there are trade-offs with each of these apps and you'll have to pick and choose and decide for yourself which one fits your situation and use the case the best as a perfect Kik replacement.