As a MacBook Pro user, I've been on a journey to find that perfect backpack to keep my laptop safe over the years. This search has taken me through many backpack types, features, and brands and as a result, I've purchased and tested more than two dozen backpacks.
In this blog post, I'll share my personal thoughts and experiences with other MacBook Pro users who understand how important it is to find the right backpack for your MacBook. Our MacBooks are more than just computers; they are what we rely on professionally as workstations to get things done. From design and durability to functionality and personal preferences, I'll take you through the top contenders I've discovered so far.
1. EVERKI Studio Slim Business Professional Backpack
As a MacBook Pro user who constantly carries a ton of accessories, I can't help but rave about EVERKI Studio Slim Business Backpack because, In my experience, it truly stands out as the best backpack for our needs. Its slim and sleek design doesn't scream "tech bag", yet it offers outstanding organization and ample space for all our gadgets and essentials.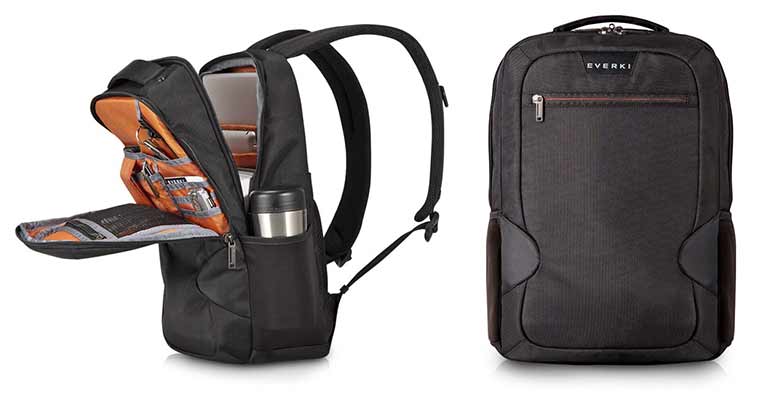 Its dedicated laptop compartment fits my MacBook Pro like a glove, while the additional pockets and sleeves easily accommodate the charger, cables, headphones, and more (basically all of my MacBook accessories). The build quality and materials of this backpack are very high quality and premium, ensuring the protection of my MacBook and accessories.
EVERKI Studio Slim Business Professional Backpack is designed to fit laptops up to 14.1 inches or 15-inch MacBook Pro models. It has a dedicated laptop compartment that provides a snug and secures fit for my 14-inch M2 MacBook Pro, ensuring its safety during travel. So even if you have an older 15-inch MacBook Pro or smaller, this backpack would be an excellent choice for you.
The ergonomic design and padded straps make it a comfortable choice for long days on the go. I also appreciate the discreet, professional look that blends seamlessly into any environment, be it a coffee shop or the local library. This backpack is my personal recommendation as it is my backpack of choice to carry my MacBook Pro and my Top pick for the Best Backpack of this year.
2. Thule Crossover TCBP-417 32L Backpack
I used and tested the Thule crossover backpack (32L version) for about 5-7 months before trying the above-mentioned Everki studio backpack. After using it, I can say that it did live up to all the praise I had heard about it prior to trying it. This backpack offers the perfect blend of style, functionality, and protection that I've been longing for in a MacBook Pro bag.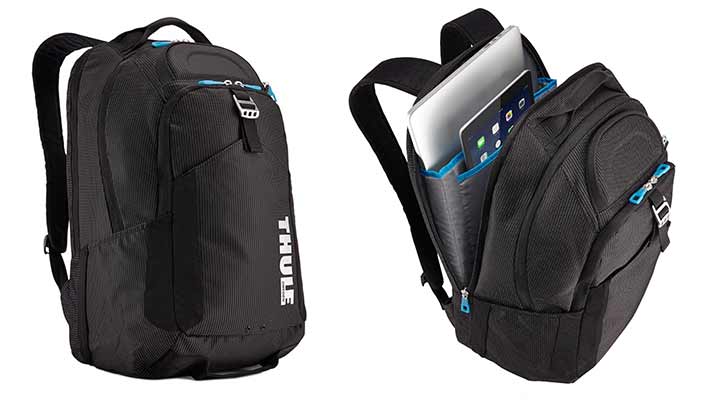 Two features that instantly won me over are the laptop compartment, which securely accommodates my MacBook Pro, and the crush-proof compartment which comes in handy to throw in my sunglasses and it'll protect them from damage.
The Thule Crossover 32L is also excellent when it comes to organization because of its numerous pockets and compartments. It eliminated complications from carrying and accessing my tech accessories, journals, and other items. The padded shoulder straps and ventilated back panel further elevated my carrying experience, providing comfort throughout the day.
That being said, the backpack can feel a bit bulky at times, and the price might not suit everyone's budget. However, in my opinion, the Thule Crossover 32L Backpack is worth the investment if you are someone who carries a lot of stuff around and you have the bigger 15 or 16-inch Macbook Pro because it can fit a 16-inch MacBook Pro easily.
It's a reliable, well-built, and stylish option that can significantly enhance your experience of carrying your MacBook around. I highly recommend it to anyone looking for a durable and functional backpack for their MacBook Pro and daily essentials.
3. Incase Icon backpack
Right off the bat, I was impressed by its minimalist design and build quality. The dedicated laptop compartment, with its faux fur lining, cradles my 14-inch MacBook Pro, providing both protection and a snug fit but I should also tell you it is not going to fit a 16-inch Macbook Pro because of the backpack's smaller size.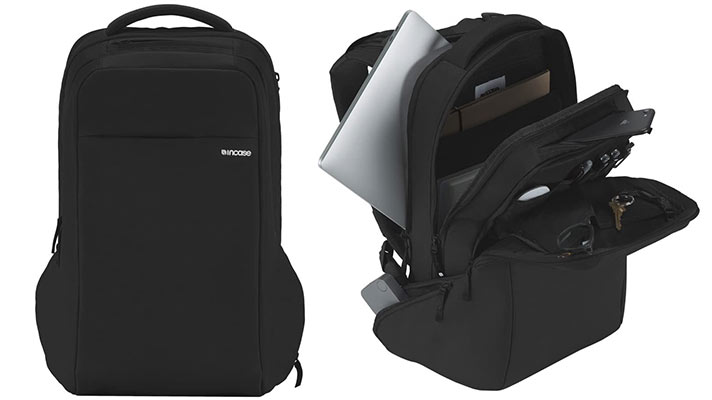 The Incase ICON truly shines when it comes to organization. The multiple pockets and compartments make carrying and organizing my tech accessories, notebooks, and other essentials a hassle-free experience. The ergonomic design, coupled with the padded shoulder straps, ensures optimal comfort even during long days on the go.
However, no backpack is perfect, and the Incase ICON has its share of downsides. The premium quality and design come with a hefty price tag, which might not fit everyone's budget. I honestly personally believe the overall quality and functionality make it a worthy investment for MacBook Pro users seeking a reliable and minimal backpack.
While I understand some people might feel that it is bulky when it is fully packed, I don't think it's bulky at all if you compare it to the likes of the Thule Crossover or Ogio Renegade backpack.
4. Timbuk2 Authority Laptop Backpack Deluxe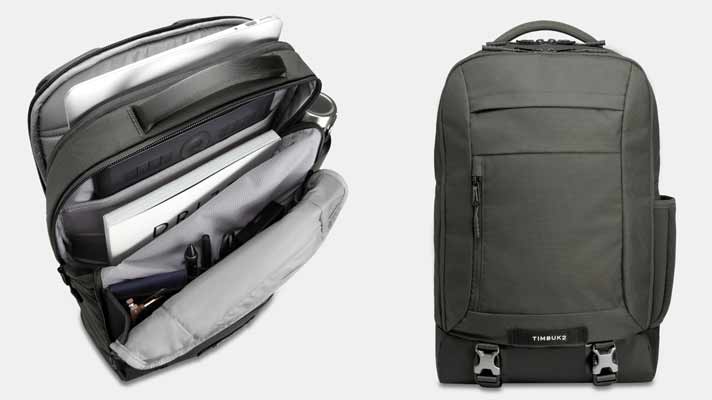 I must say Timbuk2 Authority laptop backpack is a reliable companion. The padded laptop compartment is a standout feature, it fits my MacBook snugly and provides much-needed protection against bumps and scrapes. The Backpack's sleek and minimal style complements the MacBook's aesthetic which I like as I am a fan of minimalist style.
While looking cool it also has lots of pockets for all your MacBook bits and pieces. It's great if you like to keep your stuff organized. However, it's not all roses. The shoulder straps, while aesthetically pleasing, could be more forgiving – extended use makes their lack of cushioning noticeable.
The bag can keep your stuff dry in light rain, but not in a heavy rainstorm, so you might need an umbrella. Despite these points, it's a sturdy backpack with good features for MacBook users. I'd give it 8 out of 10, losing points for the shoulder straps and not being fully waterproof. In simple words, it's a nice-looking and useful bag that can fit any Macbook, up to the biggest sized 17-Inch MacBook Pro, so if you are looking for a backpack to carry your 17-Inch MacBook Pro or any other laptop, this backpack is it.
5. Thule Subterra 30L Backpack
I have to mention from the get-go that the size of the Subterra backpack I used and tested was a 30L version because the design of 25L didn't particularly appeal to me and the 20L was too small to carry my laptop so I am exclusively going to talk about 30L sized Thule Subterra backpack.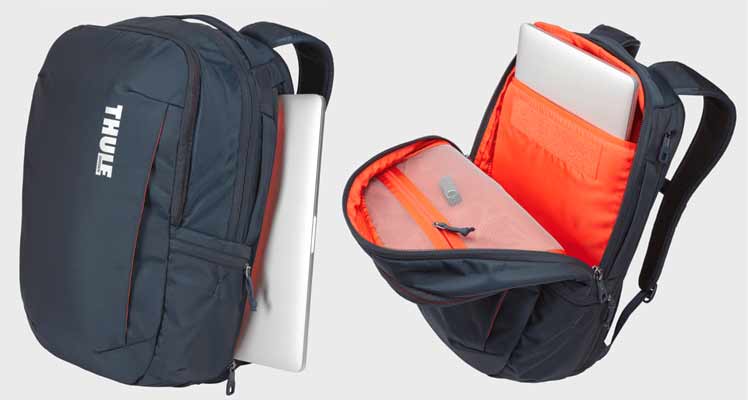 The first thing that struck me was its sleek and stylish design, which manages to look professional while also being versatile enough for various settings. I am not ashamed to admit that the design and the look of the backpack were one of the major reasons for considering buying this backpack. The dedicated laptop compartment delivers more than adequate protection for my MacBook Pro, ensuring a secure and padded fit.
The Thule Subterra 30L Backpack excels in the organization department, boasting an array of compartments and pockets to accommodate all my tech accessories and essentials and a small zippered quick-access water bottle pocket on the side. The build quality is commendable, giving me confidence in its durability and ability to withstand daily wear and tear, which is quite frankly expected of any laptop backpack at this price point.
One of the features I love about the Subterra 30L backpack is the quick side access zipper for the laptop compartment, it's a feature I didn't think I needed till I used it, it is truly a lifesaver.
However, the Thule Subterra 30L Backpack has a couple of drawbacks. The padding on the shoulder straps and the back panel could be more generous, as it might feel inadequate during extended periods of wear. One other feature I think would be great for people who travel a lot is the capability to dock it on top of your luggage handle, minimizing the things you have to worry about while traveling.
So To Conclude,
Personally, I have grown fond of backpacks that offer a sleek design, ample storage, and top-notch protection for my MacBook Pro, without compromising on comfort. And I'm sure it's clear to you now that there's no one-size-fits-all solution when it comes to the best backpack for your MacBook Pro.
We all have different preferences and priorities, whether that be style, functionality, or durability and I'm confident that the selections I've shared in this blog post cater to a wide range of needs and preferences you might have, and I hope it helps you in finding an ideal backpack for your Macbook. Remember, investing in a high-quality backpack is not just a matter of convenience, but also an essential step in extending the life of your precious MacBook Pro.