Pairing the Nvidia RTX 4090 with the right monitor is crucial. The Nvidia RTX 4090 is such a powerful GPU that its high performance can only be fully utilized with a monitor that can translate its potential into fluid, vibrant visuals.
Any monitor that cannot display the high framerates and the resolution or the level of detail produced by the RTX 4090 would cause an output bottleneck, meaning you'd be wasting all that power. That's why I've tested a lot of monitors to share my recommendations and their reviews in this post.
HP Omen 27k 27″ 4K/144Hz Monitor – Budget Pick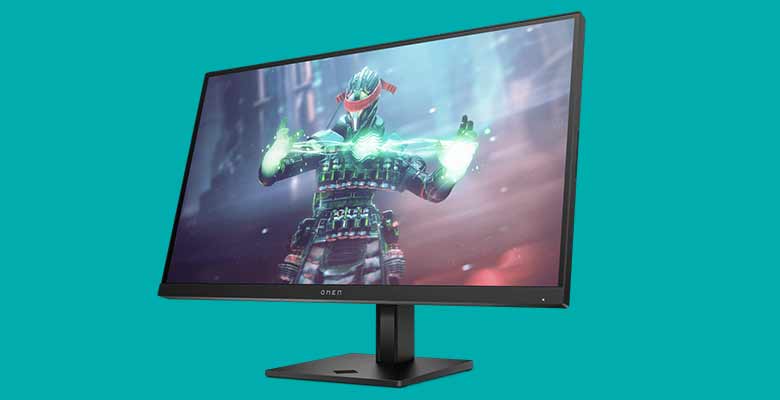 The HP Omen 27k is a solid pick for anyone wanting to get the most out of the Nvidia RTX 4090. With its 27-inch screen and 4K UHD resolution (3840 x 2160), it delivers clear and sharp images, letting the RTX 4090 show what it's got. The colors are spot on too with 99% sRGB and 95% DCI-P3 coverage, making everything look real and detailed, whether you're gaming or working on graphics.
The 144Hz refresh rate is a big deal, offering smooth gameplay, which is what you'd want with the high frame rate of the RTX 4090. I admit it is not a 160 hz or 240 hz display but with an IPS panel (and the viewing angles that brings) and that level of color accuracy, especially at around $580, it's a good deal for what you're getting, making it a smart choice for those on a budget.
This monitor keeps up with the demands of a top-notch GPU without breaking the bank. The HP Omen 27k is a great match for your RTX 4090, if you are looking for a Good monitor for your 4090-based build on a tight budget, it makes sure you enjoy top-level visuals without paying upwards of $1000.
Cooler Master Tempest GP27U – 4K/160Hz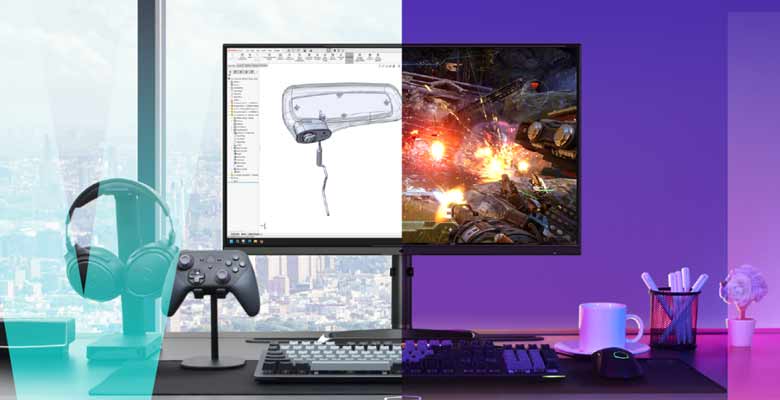 The Cooler Master Tempest GP27U is a monitor that doesn't shy away from delivering quality. With a resolution of 4K UHD (3840 x 2160) on a 27-inch screen, it promises sharp and vibrant visuals, a perfect canvas for the Nvidia RTX 4090's graphics to play on. The color reproduction of the display panel is also a strong point, providing 98% DCI-P3 coverage, making every scene look true to life.
Its 160Hz refresh rate is a step up from the standard 144Hz, providing that extra smoothness in motion which could be a game-changer in fast-paced gaming scenarios especially paired with an RTX 4090. This monitor features a mini LED IPS panel with 576 local dimming zones, enhancing contrast and making images pop.
The Cooler Master Tempest GP27U, with a higher price tag of $800, steps up the game with a 160Hz refresh rate compared to the HP Omen 27k, providing an even smoother experience for those willing to stretch their budget a bit more.
Samsung Odyssey Neo G8 S32BG85 4K/240Hz – Premium Pick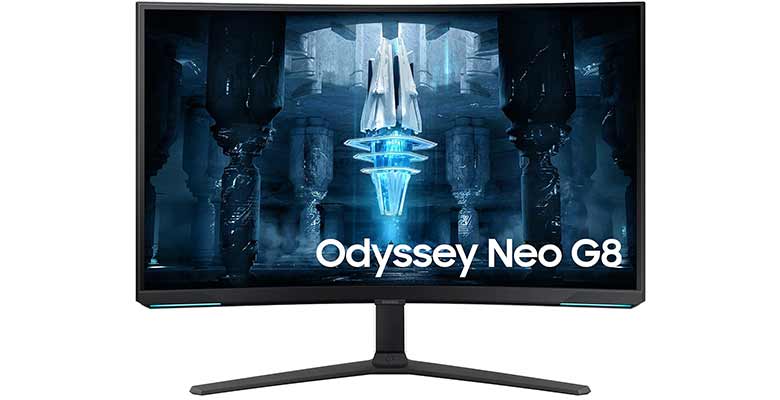 The Samsung Odyssey Neo G8 S32BG85 stands out with its stunning 32-inch 4K UHD (3840 x 2160) display, This monitor is bigger than the previous two we have talked about, giving the user more real-estate for details, ensuring the graphics rendered are captivating. The fast 240Hz refresh rate is a huge step up as compared to HP Omen 27k or even the Cooler Master Tempest, providing an ultra-smooth and responsive experience, whether you're navigating through fast-paced gaming sequences or working on editing a high-resolution video.
HDR2000 support takes color representation a notch higher, portraying a broad spectrum of colors with a depth and realism that's hard to overlook. The VA panel provides good contrast and deep blacks because of local dimming. I have to say that this is one of the best VA panels I've seen in a gaming monitor because of the fantastic viewing angles and the Adobe RGB and DCI-P3 color gamut coverage.
The curved design of the monitor is immersive, pulling you into the center of action. Priced upwards of 1200 dollars (and sometimes for 999 on Amazon), positions it as a high-end choice for those seeking superior visual performance and have the budget to invest in it. The IO isn't all that bad with one Display port, two HDMI 2.1 ports, and a 3.5mm audio out but there is a feeling that it isn't the best IO selection out there in a monitor.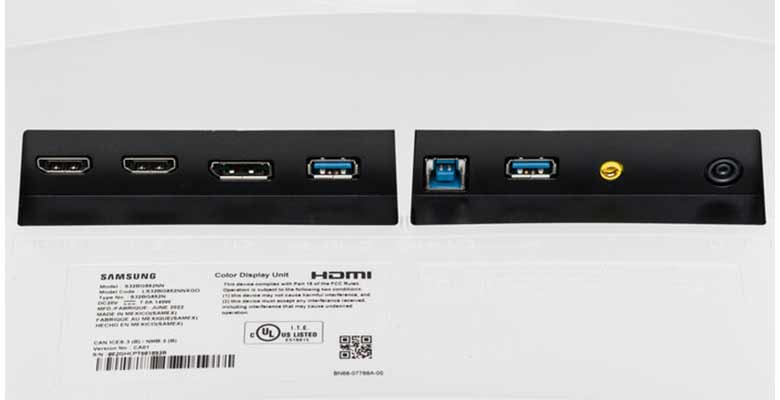 The Samsung Odyssey Neo G8 S32BG85 is an upgrade making it a worthy consideration for those aiming to get the most out of their Nvidia RTX 4090-based Gaming setup. The high refresh rate and HDR support are features that not only match but potentially elevate the capabilities of high-end GPUs like the 4090.
Gigabyte M32U 32″ 4K/144Hz Gaming Monitor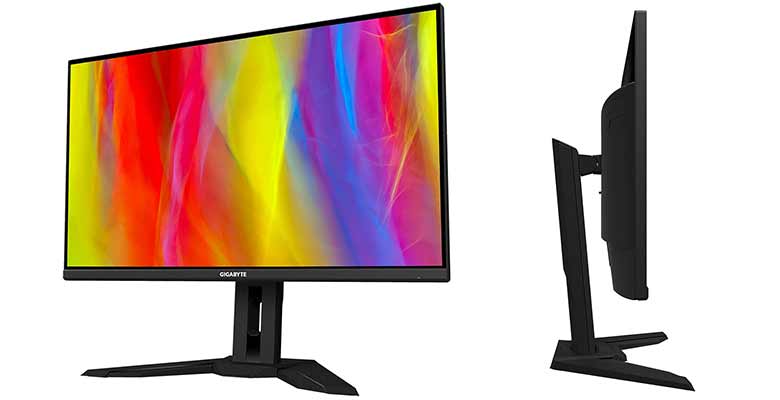 The Gigabyte M32U is a blend of performance and value. Its 32-inch 4K UHD (3840 x 2160) display delivers crisp and detailed visuals, making it a reliable choice for both gaming and a bit of professional work. The 144Hz refresh rate provides smooth motion, whether in intense gaming sessions or while working on demanding graphic projects.
Boasting a 90% DCI-P3 color gamut coverage, this monitor does a good job in color reproduction, making visuals pop with true-to-life, vibrant colors. It's not just the visuals, but the price point of around 650 dollars also makes it an attractive option for those wanting high performance without a hefty price tag.
The Gigabyte M32U 144Hz features a larger 32-inch screen compared to the 27-inch screen of the HP Omen 27k, offering more screen real estate for a more immersive experience at a similar budget. While both monitors provide a 144Hz refresh rate and similar color accuracy, the Gigabyte M32U loses by a slightly lower 90% DCI-P3 color gamut compared to the HP Omen 27k's 95% DCI-P3. So Despite the similar price point, the choice between the two may come down to personal preference for screen size and slight variations in color accuracy.
Best Framerate x Resolution Combinations for a Monitor for RTX 4090
The Nvidia RTX 4090 is a high-end GPU designed to handle demanding graphics tasks. The ideal resolution and frame rate combinations would largely depend on the specific use-case scenario, whether it's for gaming, content creation, or professional work. Along with Nvidia G-Sync compatibility, here are 2-3 combinations that could be considered optimal for pairing with the RTX 4090:
Gaming Focused:
Resolution: 4K UHD (3840 x 2160)
Frame Rate: 144Hz or higher
Professional Work/Content Creation:
Resolution: 4K UHD (3840 x 2160) or 8K UHD (7680 x 4320) for more detail and workspace
Frame Rate: 120Hz or higher, as higher frame rates may not be as crucial in non-gaming scenarios
Color Gamut Coverage: A Panel with at least 95% Adobe RGB or 90% DCI-P3 coverage.
Mixed Use (Gaming + Light Creative Work):
Resolution: 4K UHD (3840 x 2160)
Frame Rate: 120Hz or higher, to ensure smooth gaming while still being suitable for work tasks
These combinations aim to balance the high graphical output capability of the RTX 4090 with the clarity, smoothness, and workspace advantages provided by different monitor specifications.
Conclusion
Nvidia RTX 4090 is a powerhouse GPU that needs a worthy monitor to show what it is capable of. Whether it's for gaming or professional work, choosing the right monitor is key. Each of these options brings something good to the table, catering to different preferences and budgets.
I hope the pointers and the recommendations I have shared in this blog post help you pick the best Monitor for your RTX 4090 build according to your needs and budget requirements. Also if you think I have missed a good monitor that should be on this list, comment down below, I'd love to consider some other good options I might've missed.