In early the 2000s, Bluetooth Headsets became popular as business-class call-attending accessories that came with higher-end cell phones. Most of these headsets were mono and were great tools for wireless call handling. These days Bluetooth headsets are more affordable and used by millions of people to not just handle calls but also listen to music, thanks to stereo sound technology.
In this list, we'll be looking at Bluetooth headsets that are designed for comfort, call handling as well as listening to music (but mostly for Call purposes). Given the variety of headsets available in the markets, figuring out which one works best for you is a tough call; headsets are personal accessories and there are a number of things that you have to consider before you can make a purchase that you'll be happy with.
Bluetooth Headset Buying Guide for 2023
One of the things that make a headset or even headphones good is how well and comfortably they fit your ear. You'll be wearing your headset for long hours during your walks and drives so it follows that you pick out something that doesn't fatigue your ears after a while.
Other factors that you should consider while getting yourself a nice Bluetooth headset include:
Battery Timing: Since your headset is wireless, it is only going to go so far on a single charge, it's important that that charge is enough to last you throughout the day.
Sound Quality: You want to be able to hear your caller and be heard clearly yourself, therefore, it pays to have a headset that can deliver a crisp and clear sound both ways. A number of Bluetooth headsets on our lists are designed so you can enjoy your music on them so it follows that they should sound as good as in-ear monitors do.
Noise Cancellation: Unlike the case with headphones, it is important that your Bluetooth headset eliminates as much outbound noise from your surroundings so that the other person can hear you well.
Style and Goodies: Since you want to get the most out of the money you spend, you're going to want something that doesn't look ugly in your ears when you go out in public. The accessories that come with your headset also have a lot to do with the value for money you get with your purchase.
Now that we've shed some light on what makes a good Bluetooth headset 'good', let's start going through the models we tested for you this year.
Jabra Evolve 2 75 – Best Bluetooth Headset of This Year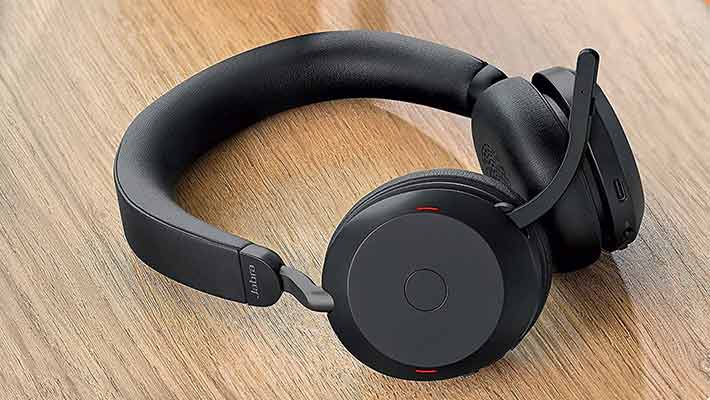 Inside the box, you get a carrying pouch, BlueTooth dongle, USB-C charging cable, and a magnetic charging puck along the headset itself. It has BlueTooth 5.2 with multi-connect, so you can simultaneously connect to two different devices and intelligently switch between both for a much simpler and seamless experience. The included BlueTooth dongle is already paired with the headset and works with IP phones, computers, and tablets, making it an intuitive solution when working in a shared environment.
I like the weight distribution and clamping of this headset over my head. Weight just under 200 grams, this on-ear BlueTooth headset is the most comfortable I have ever tried, even with glasses on. In my testing, I found this BlueTooth headset to perform excellently for music and phone calls. I have found that It has a V-shape EQ for music with a heavy emphasis on bass, but still, the phone calls sound crystal clear. I found the active noise canceling to work great and doesn't put pressure on ears even after longer use. I did not have to shout or talk louder to make myself sound clear on the phone calls when using this BlueTooth headset.
I really like the functionality and design of the microphone on this headset. To answer calls you can pull out the microphone from the right earcup. And to end, just put the microphone back. It has a busy lead on the headset, which turns red when you are on a phone call.
The companion app is available for every OS and has many features and customization. You can change almost everything about the headset to make it work the way you want. On the other hand, software updates are quite tedious since they take a long time and multiple tries to finish successfully. But it is something you would need to do only once or twice and should not affect your purchase decision.
Jabra Evolve 2 75 costs $385, but it does not underdeliver the promise of a robust and comfortable BlueTooth headset. It has long battery life, clear audio quality, and decent noise-canceling for a BlueTooth headset. It is so good that Microsoft recommends this headset for its employees over other options.
Apple AirPods Pro 2nd Gen.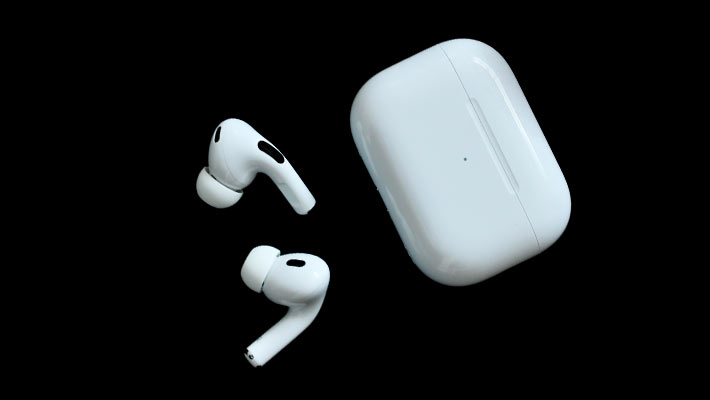 In the box, you get the Airpods Pro 2 with a wireless charging case, 3 sizes of ear tips, and a USB-C to lightning cable. The design has mostly remained unchanged from the first-generation Airpods Pro, and most people would not notice the differences at first glance.
The case now features a U1 chip and a speaker to enable Find My capabilities. Now you can use your iPhone to find the precise location of your Airpods and play a sound if you still can not find them. This functionality is also carried on the earbuds, and you can individually track each earbud using the Find My app.
There is also a lanyard hook on the case, so you can attach it to your backpack or keychain to make them more "loose-proof".
When talking about sound quality, the Airpods Pro 2 has improved everything from the last generation. This new model has larger drivers, better microphones, powerful amplifiers, advanced audio processing, and improved active noise canceling. In short, everything on the inside has changed.
Comfort on Airpods Pro is second to none when it comes to portable, in-ear style earbuds. I never had any issue regarding fit and comfort, and with the inclusion of new extra small-size ear tips, more people would enjoy them.
Controls are basic and straightforward. There is no physical button on the earbuds themselves. You can swipe on either earbud to adjust the volume, or squeeze to pause, play, accept or end phone calls. You can summon Siri by voice to help you with your work life. Other features, including noise canceling, can be adjusted through your iPhone. The noise canceling works exceptionally at blocking unwanted noises when you are on the go or working in a busy place.
Phone calls sound excellent, and Airpods Pro reproduces, both female and male voices naturally without making them sound harsh or unnatural in any way. Active noise canceling blocks ambient noises when you are on a phone call without making your voice sound artificial. In my testing, my voice sounded clear on the other end, and no one could tell if I was talking on Airpods instead of my phone.
Considering the tiny size, Airpods provide better battery life than any other BlueTooth headset. With the charging case, you can expect to get about 30 hours of music and talk time from them. And if you prefer to use one earbud at a time, you can make them last twice as long.
Airpods work great if you have an iPhone and Mac. But I have seen people with android phones use them because of their superior audio and call quality, long battery life, and active noise cancelation. In my opinion, Airpods Pro 2 makes a great wireless (earbuds style) headset for all-day work calls.
Poly Voyager 5200 Bluetooth headset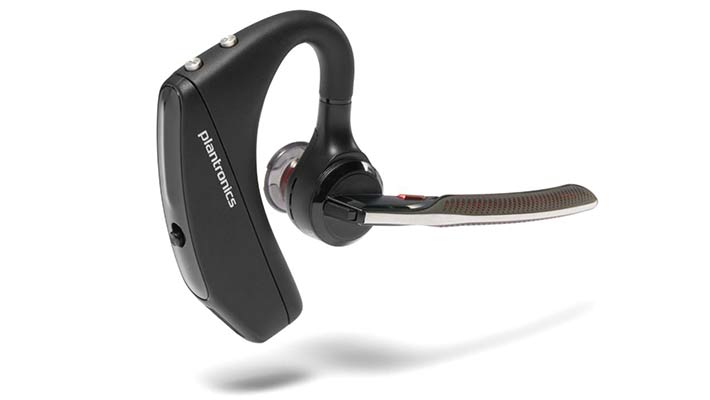 This headset uses BlueTooth 5.0 and provides a similar wireless range to Jabra Evolve 2. However, it can not connect to multiple devices simultaneously. The UC version of this headset comes with a BlueTooth dongle (BT600) that is already paired, so you can use it with IP phones and computers in a shared workspace.
This wireless headset features a hybrid in-ear and over-ear design and weighs under 20 grams. This headset is not designed for people who wear glasses. In my testing, I found this headset interfering with my glasses and not providing a comfortable fit. Without the glasses, it is very comfortable, and you can easily wear them for 8-hour long work shifts.
It has 4 microphones that provide good active noise canceling and does an above-average job of removing background noise when taking calls in a busy environment or outdoors. I found the noise canceling does a good job of eliminating unwanted background noises from my voice but not doing much for the headset speaker itself.
It uses a switch to turn the headset on/off. There are 4 easy-to-press buttons on the headset that allow you to control volume, receive or end phone calls, and activate Siri or Google Assistant on your mobile device. There is a learning curve to memorizing which button on the headset does what.
I found this wireless headset lasted me a single 8-hour work day and needed recharging at the end. Unfortunately, it charges through micro-USB, and none of my devices use this connector anymore. It was a pain, but considering the $100 I paid for this BlueTooth headset, I can't complain much.
In short, this BlueTooth headset could be a great choice for someone on a budget.
Orosound Tilde Pro Professional Bluetooth headset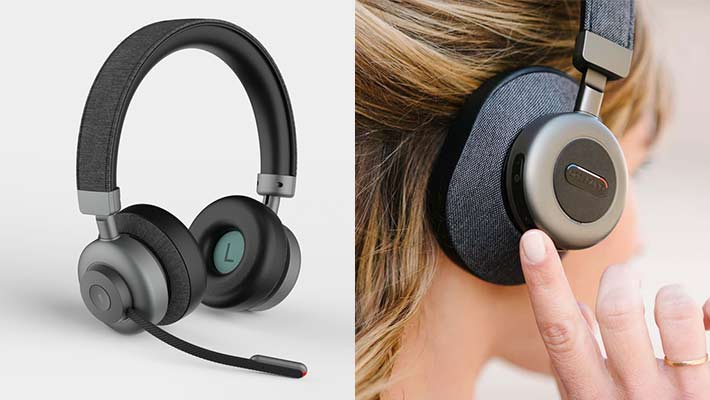 If you want to work at a coffee shop but do not want to look too serious, Orosound Tilde Pro, with its removable microphone, is for you.
In the box, you get a soft carrying pouch, USB-C charging cable, modular microphone, and the headset itself. The headset uses BlueTooth 5.0 and can simultaneously connect and switch between two different devices at the same time.
The controls on this BlueTooth headset are super simple. On the right earcup is a mute button attached to the microphone arm, a power button, and a rocker switch to toggle between different levels of noise canceling. On the left earcup are your media controls and the aware button, which turns off noise canceling and plays ambient sound through the headphones. Straightforward to use.
It does a good job of canceling-out unwanted noise from the headset and the microphone when taking calls. The audio quality is decent with enjoyable music and natural-sounding voice calls. I tested this headset in a busy coffee shop and I did not realize how loud the coffee shop was after listening to some music on it for a while. I can put it this way: it compares head-to-head with Skullcandy and JBL but is not as good as Airpods, Jabra, or Bose.
Making this BlueTooth headset stand out from the competition is its magnetically attached microphone arm. In my opinion, it is a practical feature for times when you are not taking work calls and just want to listen to music. The microphone also has a busy indicator led which turns red when you are on the call in an office environment.
In my testing, I found this headset to be very comfortable even for long work hours with glasses on. With an over-the-ear design covering your whole ears, I found them a little uncomfortable in coffee shops but just fine in air-conditioned home/office spaces.
This headset provides about 3-days of battery life on a single charge and can be recharged through USB-C. You can also use the USB-C to A cable to connect it to your computer and use it as a wired headset. The companion app (at the time of writing this review) is only available for Windows, so I can not tell you much about its experience.
At $350, you are paying a premium for the looks. It has decent battery life, good noise canceling, and acceptable call quality.
Plantronics Voyager Edge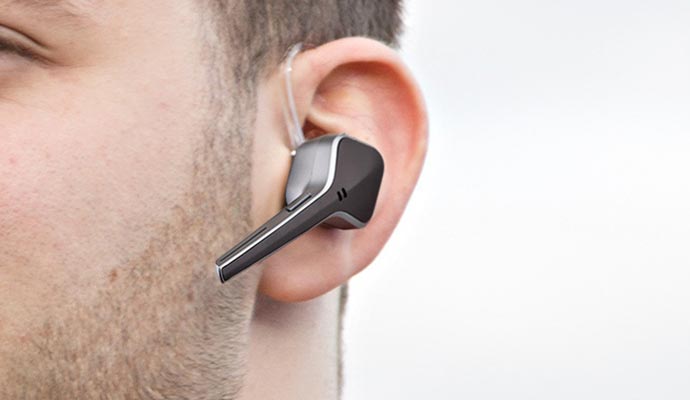 The first Bluetooth headset we have for you is from the telecommunications giant, Plantronics. One of the main concerns shared by most users is how their Bluetooth headset looks to onlookers. At a glance, the Voyager Edge is nothing short of stunning; in addition to the sleek design, we were pleased with how lightweight and well-crafted the earpiece was.
The Voyager Edge Packs two main components: the earpiece and a charging station that acts as a travel charger with 10 hours of backup on a single charge. The earpiece itself is simple to use and comes with a number of goodies that we were really pleased with.
You have the option of an ear hook that allows you to secure the earpiece to your ear very comfortably. We tried wearing the headset for 2 whole hours and experienced no fatigue in the ear. If you're out and about a lot, you'll be glad to know that we got about 6-8 hours of talk time on a single charge. This may not be the best battery timing you can get from a Bluetooth headset but considering that the Voyager Edge comes with its own power bank, we can hardly complain.
Overall, we found the sound quality on the Voyager Edge to be optimum, and during our test, the other person didn't experience too much outbound noise even when called from crowded public places. Additionally, you get a number of goodies such as being able to connect the headset to your phone through NFC and being able to automatically receive calls as soon as you pick up your earpiece and insert it in your ear.
If there's something about the Voyager Edge that we have to complain about then it's the fact that it costs around $130, which is way over what you'd expect to pay for a good Bluetooth headset but then again considering the extravagance you get with the Voyager Edge, it's hardly a surprise that they'd be on the pricey side.
Bose Bluetooth Headset Series 2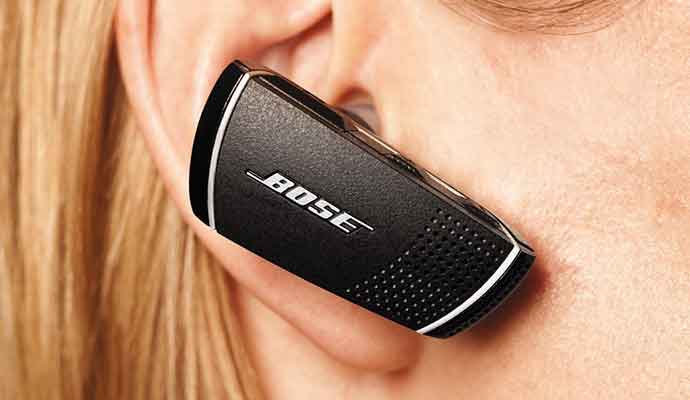 Every Bose product we've ever tested has its way of making us behold its design in awe and the Bose Bluetooth Headset Series 2 is no exception to that rule. The Series 2 is perhaps the most compact and neatly designed headset we've seen so far; just a little longer than your thumb, well-crafted with a matte black front boasting the Bose logo and a glossy back with Bluetooth connectivity and battery indicators.
Another thing that we were really pleased with was the ear tip, which is by far the most comfortable and secure one we've used on a Bluetooth headset. You could wear this thing all day even when you aren't using it and experience no discomfort of any sort. However, it's worth mentioning that you won't get any ear tips with the Series 2 that allow you to switch ears, you have to make that choice while buying your headset.
Moving on, the in-call experience is pretty good thanks to the sound-eliminating mic onboard the earpiece. The overall sound quality is good enough for listening to music and using it while gaming. Though, to our dismay, we did realize that if you crank up the volume to listen to music, your battery life is going to reduce drastically.
The Series 2 do not have the most impressive battery timing which is a deal-breaker considering the high asking price of about $150. One thing we did appreciate is the fact that the Series 2 headset charges through a micro USB cable which is easily accessible but then again, for a price this high we'd expect at least 8 hours of talk time if not 10.
Jabra Stealth – Smallest Bluetooth headset of 2023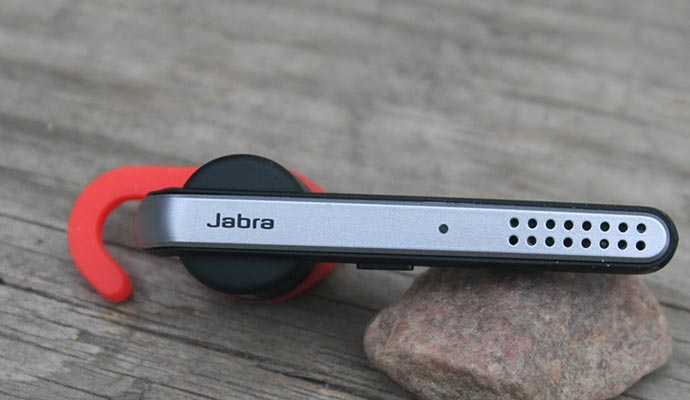 What we found the most unique about the Jabra Stealth is the fact that it packs a whopping 6-8 hours of talk time and 240 hours of standby on a single charge in a very lightweight, sleekly designed form. The Stealth is perhaps the most lightweight headset on our list and with its soft ear tips, it is also one of the most comfortable Bluetooth headsets that we've used.
In terms of performance, the sound is very clear and thanks to the outbound noise elimination, our caller couldn't even tell that they were being called using a hands-free. The Stealth has a separate button that allows you to interact with your phone's voice recognition features and a dedicated button that allows you to answer, reject and redial your calls.
If you have an Android phone, you'll be pleased to know that Stealth also features fast NFC connectivity. All in all, perhaps what we liked most about the Jabra Stealth was its value for money; for about $100 it's on par with (if not outperforming) a few pricier alternatives that we've talked about.
The Stealth does not come with a dedicated on-the-go charging station but since it's charged via micro USB, you'll hardly have trouble charging it wherever you are.
Blueant Q3 Premium Smartphone Bluetooth Headset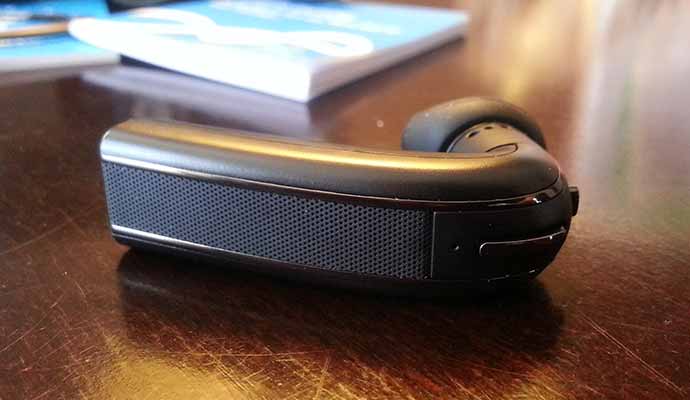 In terms of design, The Blueant Q3 has pretty much the same lackluster look as its predecessor, the Q3. The design isn't particularly ugly to look at but it does come across as a bit dated for the 'premium' Bluetooth headset it claims to be. Moving on, the earpiece itself is pretty lightweight and thanks to the uniquely designed funneled ear tip, the headset sits in your ear very snugly and doesn't get uncomfortable from staying there for a while. The ear tip may feel a little loose if you remove the ear hook though.
In terms of performance, the Q3 gets the job done fairly well, however, we might add that the audio is rather flat so it may not be the best-sounding device for listening to music but we faced no issues with the call quality, which is the primary feature of the headset but that still doesn't change the fact that one would expect more punchy audio from a premium device.
Perhaps what we liked most about the Q3 was the impressive battery life of 6 hours which is made even better by the fact that this thing charges very fast; in just 30 minutes, we managed to charge the battery to 50% which has to be the fastest charging we've seen on a Bluetooth headset yet.
The Q3 also has its own built-in voice features that you can access using the multi-function button on the earpiece though we might add that the voice features of the Q3 are a bit elementary. Overall, the Blueant Q3 is a decent headset with only a few improvements from its predecessor but still priced above what's reasonable (about $100).
Jabra SUPREME Bluetooth Headset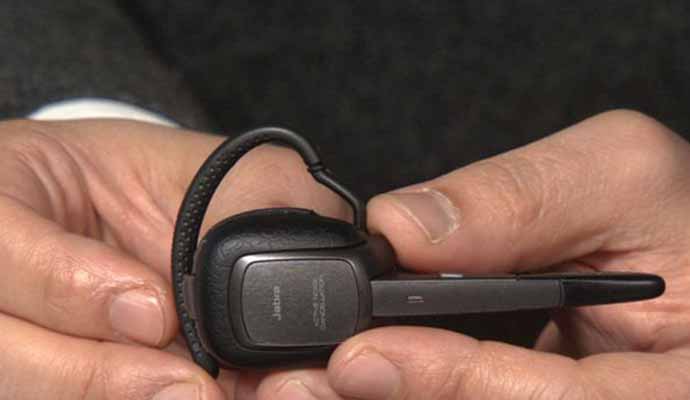 Up till this point, every headset we've talked about is either designed for only one ear or just doesn't feel comfortable when your switch buds and attempt to use it in your other ear. The Jabra Supreme breaks that trend with its over-ear earpiece that you can latch on either of your ears using the ear hook. The earpiece is comfortable but doesn't feel all that secure and if you move around too much, it may even come off so we've knocked off a few points for that.
Bluetooth Headset which offers Enterprise Grade Build and Functionality
In terms of looks, the body of the headset looks bulky but is actually pretty lightweight. Another thing we liked about the Jabra Supreme's design is the fact that the microphone shaft is collapsible and that doing so powers the device on and off. The sound quality is nothing to complain about and it gets the job done well.
In fact, the Supreme even comes with a USB Bluetooth adapter that allows you to connect the headset to your PC for Skype calls or gaming sessions. The multi-function button on the front is easy to use however, the volume buttons sit awkwardly at the back of the headset and are rather difficult to use while the device is still latched on your ears, and it fell off a lot while we were trying to adjust the volume.
The Jabra Supreme is quite the performer but falls behind on the comfort front, which is a deal-breaker for anyone who isn't going to sit in one place while using them.
Jawbone Icon HD Bluetooth Headset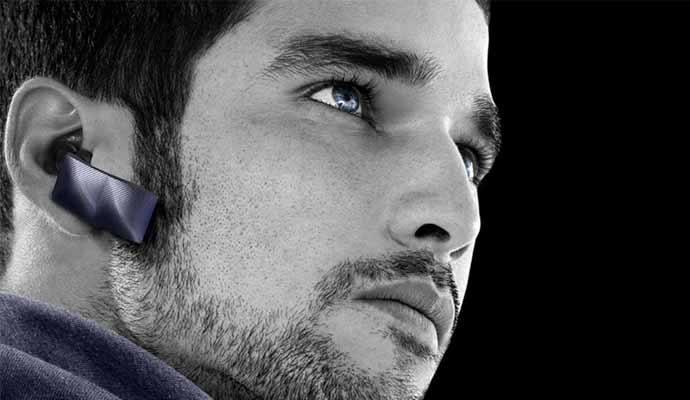 The first thing we noticed about the Jawbone Icon HD is its neat packaging including the miniature headset itself and a number of earbuds together with an ear hook to choose from. The Jawbone Icon HD is very stylishly designed and just like the Era we talked about earlier, it is compact and discreet.
We might also add that the Icon HD outshines the Era in terms of performance and battery life. The sound quality on this headset is superb and its 'noise assassin' microphone is capable of transmitting your voice with such clarity that your caller will not know that you're speaking to them through a Bluetooth headset.
The Icon HD is very lightweight and comfortable to use for long periods of time and it stays pretty nice and secure in your ear, though we did notice that the ear hook configuration gives you the most secure fit. Another neat feature on the Icon HD that we found useful was how it has a voice interface that lets you know how much battery you have remaining along with other functions it's performing.
The Jawbone Icon HD retails for about $100 which is a bit expensive but considering what it offers against some of the pricier alternatives, we believe that you get your money's worth. You also have the option of buying the Icon HD in a variety of interesting colors and textures.
Final Words
And with that, we are at the end of our list. Ultimately, when it comes to choosing a Bluetooth Headset, you really need to think over when and where you'll be using it and for how long.
Most of the headsets we've talked about here perform their primary function pretty well, some go a bit beyond that as well with better sound quality while others stay true to their main purpose and have other useful features such as on-the-go charging and better battery life.
If you're looking for something that lets you listen to music as well as answer calls occasionally, we would recommend going for a pair of Bluetooth headphones with a mic instead.