As a MacBook user, I have spent countless hours and hundreds of dollars exploring the world of accessories for my M2 MacBook Pro to optimize and enhance my workflow. I've been meaning to share my favorite MacBook Pro accessories with you guys for some time and today I am finally going to share my ultimate list of the best MacBook accessories that have been a game-changer for my M2 MacBook Pro.
Whether you're a seasoned Apple pro or just getting started with your shiny new M2 MacBook, there's something on this list to elevate your MacBook experience. From Thunderbolt Docks to headphones and nifty little adapters and external SSDs, these extras have transformed my daily routine, making my MacBook experience feel even more special and customized. Let's jump in and I'll share my favorite accessories in no particular order.
Caldigit Thunderbolt Station 4 TS4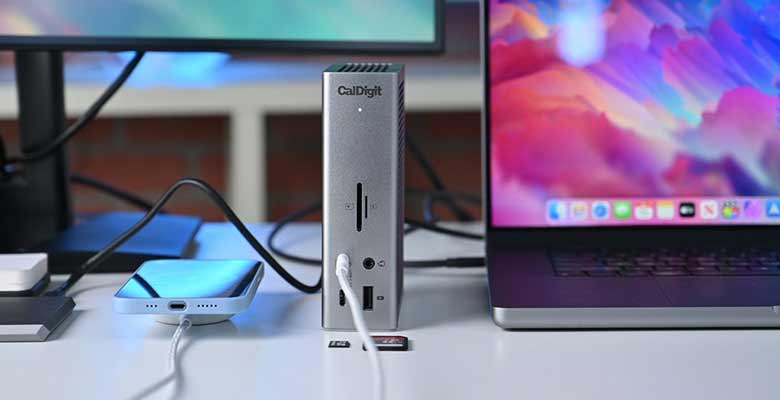 As someone who edits videos on daily basis, I can't emphasize enough the value of the CalDigit TS4 Thunderbolt 4 Dock in my MacBook Pro workflow. This powerful dock is a game-changer for streamlining and enhancing the editing process, allowing you to focus on your creativity. I use it for my desk setup, to transform my MacBook Pro into a full-fledged Desktop Mac by connecting quite a lot of accessories including two 4K monitors.
The dock simplifies connectivity by providing a single cable solution to connect multiple peripherals, including high-resolution displays, external hard drives (of which I connect many because of the nature of my work), and other essential devices like a keyboard and a mouse. This declutters your workspace and minimizes cable chaos, which is always a welcome change because I only need to connect my dock to my MacBook Pro, and boom, there is my full-fledged desk setup.
Thunderbolt 4 connectivity offers blazing-fast data transfer speeds, which is crucial when working with large video files or RAW photographs. You'll spend less time waiting for file transfers or rendering and more time focusing on your edits.
Another HUGE advantage of CalDigit TS4 is all the extra USB ports, SD card readers, Ethernet connectivity, and keeping my MacBook charged at the same time. This expands my MacBook's capabilities and simplifies working with various media formats, accessing the internet, and collaborating with my team.
I also completely understand that the CalDigit TS4 Thunderbolt 4 Dock might seem a bit expensive at first glance. However, when you consider the benefits it brings to your video editing workflow, it's truly a worthwhile investment. Ultimately, the decision comes down to your priorities and budget. In my personal experience, the CalDigit TS4 has proven to be a valuable asset in my video editing workflow, and I believe it's worth every penny.
Anker 341 USB-C Hub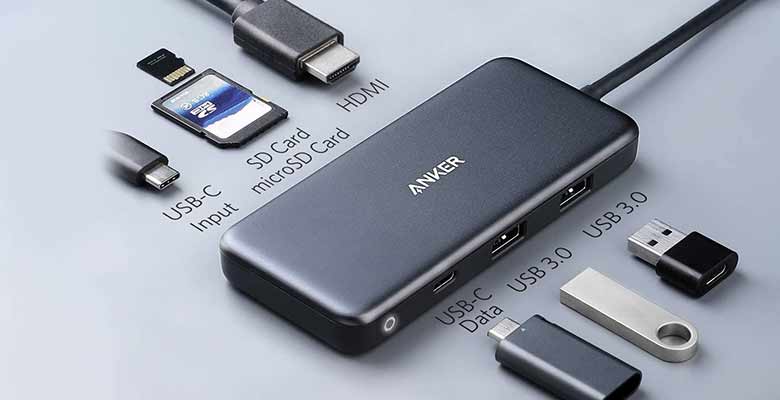 While Apple has added the SD card reader and an HDMI port in their M2 MacBook Pro lineup, it still doesn't have any USB-A ports which can still be problematic sometimes. I already have the Caldigit TS4 at home for my M2 Macbook Pro desk setup to expand my Ports and peripheral connectivity options but more often than not I'm on the move because of the nature of my work and I need something compact to get the job done and Anker's 341 USB c Hub comes in handy for that purpose.
It provides a comprehensive expansion of your laptop's connectivity options, including multiple USB-A ports for connecting peripherals like mice, keyboards, or external storage devices to my Macbook (USB-C still isn't the anything-and-everything port yet). Speeds are limited to 5 Gbps but it does more than required in a pinch.
It also offers an HDMI port to offer 4K display output as well, while I myself don't need to connect external displays with my MacBook Pro on the go and even if I did, there is an HDMI port already on M2 Macbook Pro. The point is if you have any older MacBooks like the M1 MacBook Air or older like I used to, it does come in handy. Along with all those ports, it also has an SD and micro-SD card port which I tend to need sometimes for various reasons.
This nifty little USB-C hub is compact, feature-packed, and crucial to me while I'm traveling and I highly recommend it as a travel companion. If you don't have a budget for buying an expensive Thunderbolt station like Caldigit TS4 and don't use multiple displays with your MacBook, it's affordable and incredibly convenient.
Twelve South BookArc – Vertical MacBook Stand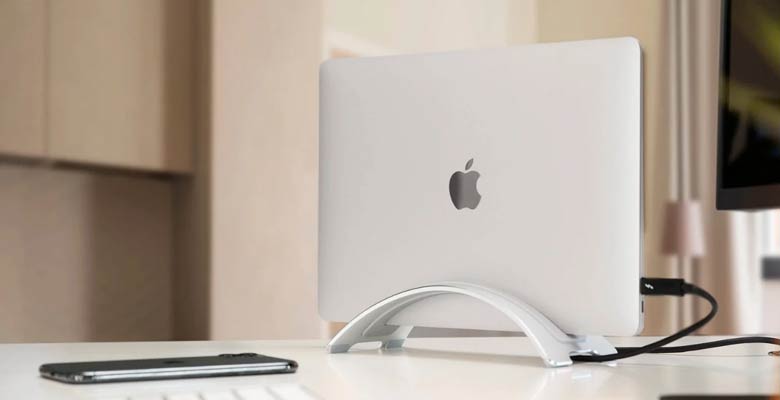 As I just mentioned above, I often use my MacBook Pro as a desktop Mac by connecting it with Two displays, ethernet and external SSDs, and external storage devices via Caldigit TS4 none of that would be possible if I didn't have an elegant solution to cradle my MacBook while using it in my desktop setup.
In my personal experience, I've found the Twelve South BookArc to be an invaluable addition to my desktop setup. It's not only a space-saver that keeps my desk clutter-free but also looks incredibly sleek, perfectly complementing my workspace aesthetics.
The vertical design ensures better airflow for optimal performance, and when paired with an external display, a keyboard, and a mouse has transformed my setup into a comfortable, ergonomic space for work or play.
Now BookArc, just like TS4, isn't cheap and there are a lot more other affordable options out there to do the same job. I recommend you buy one of those more wallet-friendly options if you are a bit tight on budget but the quality and value BookArc provides to my setup and workflow is unmatched so if you can only afford to buy this, I highly recommend you buy this or the Anker's 555 USB-C hub, which offers double transfer speeds at 10Gbps and adds a gigabit ethernet port as well.
Samsung T7 External SSD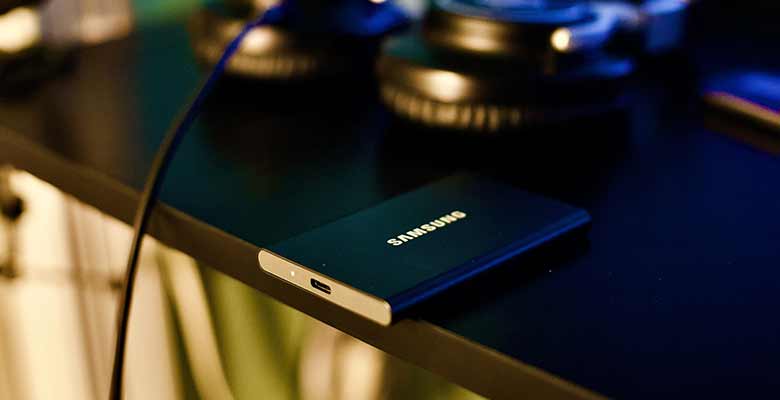 I love how I have already listed most of the accessories I use in conjunction with my M2 Macbook Pro when I talked about the TS4 dock and you might've noticed I mentioned fast external storage as well. Let's talk about that now.
Trust me, having a bunch of Samsung T7 SSDs has made my workflow so much easier and less stressful, and I can't recommend them enough. Buying a MacBook Pro with upgraded storage is so ridiculously expensive that I don't buy anything above the 500GB storage model, only getting the upgraded RAM version.
But that creates a problem in that I don't have enough storage on my PC to save projects and work on them and the better alternative to getting an astronomically expensive MacBook Pro is getting external SSDs and I've found none other faster and more reliable than Samsung's T7 till now and they are so affordable it's not even funny.
First of all, the lightning-fast data transfer speeds of the T7 SSDs make working with large video files a hassle-free experience. I spend less time waiting for file transfers and more time focusing on my work.
Secondly, the compact and lightweight design of the T7 SSDs is perfect for on-the-go editing. They're easy to carry around, ensuring that you always have your projects and footage at hand, whether you're on location or in the studio.
Owning multiple T7 SSDs allows me to efficiently organize and manage my ongoing projects. I can dedicate one 500GB T7 SSD for each ongoing project or client, making it simple to keep track of my work and avoid any mix-ups. After finishing up and delivering the project, I simply store the final project as a backup onto my NAS and am done with it.
I'd be lying if I said it wasn't the first thing I would recommend you buy after buying a MacBook, especially the Apple silicone Macbooks, whether it's a Macbook Air or a Pro. You could also go with the rugged version of Samsung T7 called T7 Shield, which is water resistant and has sort of drop protection going on if you are the kind of person who is a bit rough with their gadgets.
Logitech MX Master 3 – The Best Wireless Mouse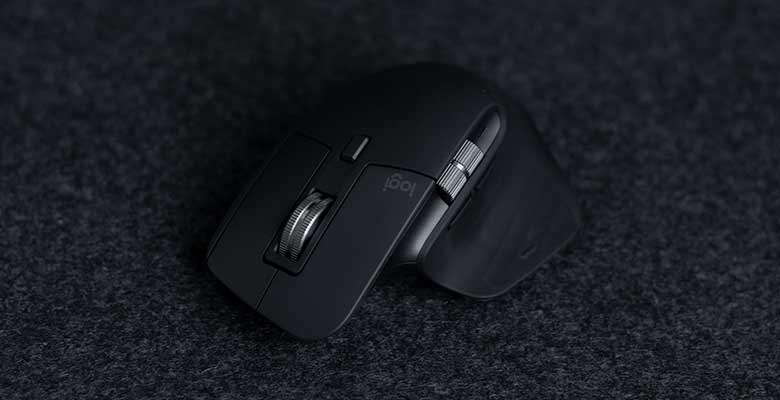 I take the ergonomics of the products I use and my health very seriously and the ergonomic design of the MX Master 3 feels great in my hand, even during long editing sessions. It's like it was made just for me, making those long hours of work so much more comfortable.
It comes with Logitech Options, which is the software that allows you to customize button functions, adjust scrolling and pointer speeds, and even set up app-specific settings, enabling a seamless user experience across various applications.
Now that has helped me customize the buttons on my mouse and tailored them to my editing preferences, assigning shortcuts for my most-used functions, and it's incredibly convenient. It's like having my editing assistant right at my fingertips.
And the precision of the MX Master 3 is spot-on. The accuracy and control it offers make fine-tuning my edits a breeze, plus, it's wireless, so no more tangled cords cluttering my desk or getting in the way. I use it with my Windows PC for gaming as well as when I'm in the mood for light entertainment and it's great for gaming too.
So, if you're considering a Wireless mouse or even a wired mouse for your setup, I wholeheartedly recommend giving MX Master 3 a try. It's been such a fantastic addition to my workflow, and I believe it'll be a great asset for you as well.
Anker PowerCore III Elite 25600 PD for Laptops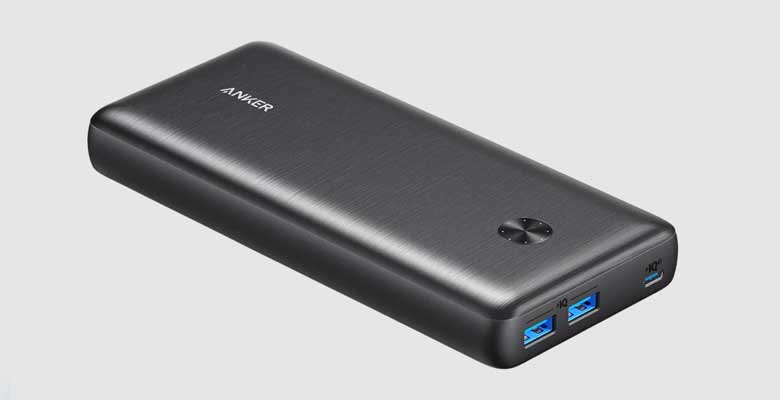 As someone who also uses an M2 MacBook Pro and iPhone, I can't tell you enough how much I appreciate having the PowerCore III Elite 26K power bank in my arsenal of accessories. It's been an absolute lifesaver in numerous situations while traveling.
The PowerCore III Elite 26K is a compact yet powerful power bank that keeps my MacBook Pro and iPhone charged when I'm on the go or away from an outlet which rarely happens but when I need it, it's at my service. With its high-capacity 25600 Mah battery and 65W Power Delivery, it charges my devices quickly making sure my devices are always powered and I'm able to work or stay in touch with my team and my family.
The convenience of having this power bank has made my life so much easier, especially during long commutes, flights, or those times when I've forgotten to charge my MacBook or iPhone overnight. It's compact enough to slip into my backpack without taking up too much space, and I can rely on it to keep my devices charged in a pinch.
The PowerCore III Elite 26K has been an invaluable addition to my accessories, and I wholeheartedly recommend it for any M2 MacBook Pro and iPhone user.
Apple AirPods Pro 2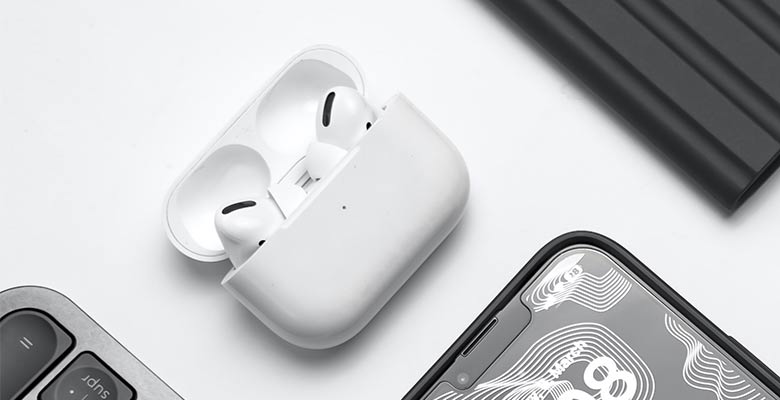 I'm the kind of guy who likes their audio gear wired to the source but while traveling and in some cases when I want the convenience of being wireless, Apple's AirPods Pro 2 is the best option for wireless earbuds with ANC in my opinion. The seamless integration with the Apple ecosystem makes pairing and switching between devices effortless.
The sound quality is impressive (granted it's not going to satisfy any audiophiles), providing an immersive audio experience for music, movies, and especially calls. Active noise cancellation and Transparency mode are such nice-to-haves, helping me stay focused or engaged with my surroundings as needed.
I especially love the comfortable, secure fit of AirPods Pro 2 because of the silicone tips which ensure they stay put during various activities, while their compact charging case makes them easy to carry around. All-in-all, this a top recommendation from me if you are going to buy wireless earbuds to use with your Macbook.
ATH M50xBT2 Wireless Headphones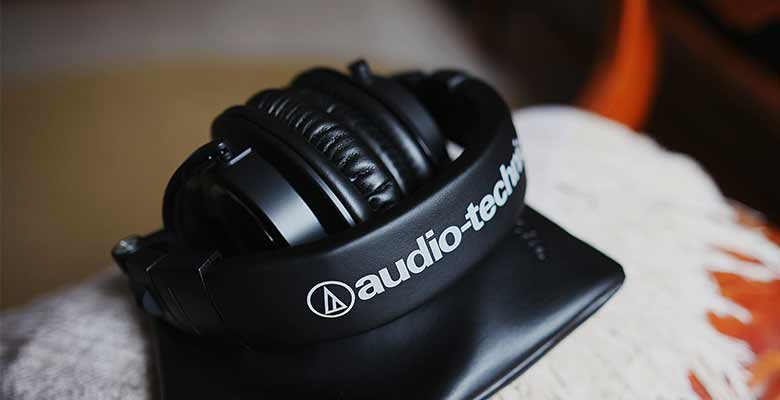 Wireless earbuds are fine for convenience while making phone calls or listening to music etc but when it comes to work, monitoring audio while editing videos and with a cable, even monitoring live audio while shooting a video, Audio Technica's ATH M50xBT2 come in handy all the time because of their sound signature and soundstage they offer.
They are basically the legendary ATH M50x which I love and have used for over 8 years but with the added convenience of going wireless because of them being Bluetooth headphones, they don't weigh much and they are comfortable as heck which makes them ideal for things I want to do when I want the soundstage of over-the-ear headphones.
They aren't only wireless, I can connect the 3.5mm audio cable when either they are out of juice (which rarely happens because their battery life is great but also when I just want a wired connection to my Desktop DAC and amp or my camera while monitoring audio of the project I'm working on. Couldn't recommend them highly enough.
EVERKI Studio Slim Business Professional Backpack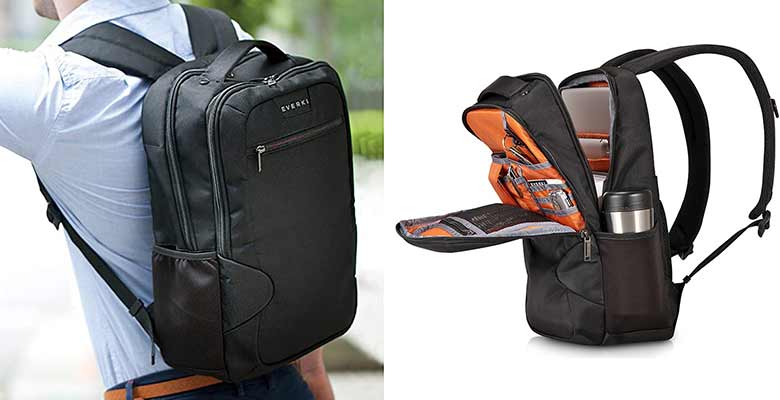 I have talked on and on about most of the accessories I use and how they enhance my M2 MacBook Pro experience but now it's time to talk about the backpack I use to carry my MacBook and the accessories with it while I'm traveling around. The EVERKI Studio Slim Business Professional Backpack has become my go-to bag for my M2 MacBook Pro and the accessories I use with it, among a plethora of other stuff.
The backpack's slim and stylish design appeals to my taste, and it fits my MacBook Pro like a dream. The well-padded laptop compartment ensures my MacBook stays safe and secure while I'm on the move. Meanwhile, the numerous pockets and compartments make organizing my accessories hassle-free, keeping everything neat and easily accessible.
In my personal use of the EVERKI Studio Slim Backpack, I use the dedicated laptop compartment for my M2 MacBook Pro, keeping it safe and snug. I put away my charger, USB-C hub, headphones, and Anker power bank in the zippered accessory pockets for easy access. The front compartment holds my smaller essentials like two A6 notebooks and a couple of pens.
For added convenience, I can slip my wallet into the quick-access side pockets, allowing for effortless retrieval when needed. What I also love about the EVERKI Studio Slim Backpack is its comfort. The padded shoulder straps and ventilated back panel make it a pleasure to wear, even during long commutes or travels. This backpack is something that has stood up to the test of time for the past two years for me and I can't recommend it highly enough.
Apple AirTags – For the Peace of Mind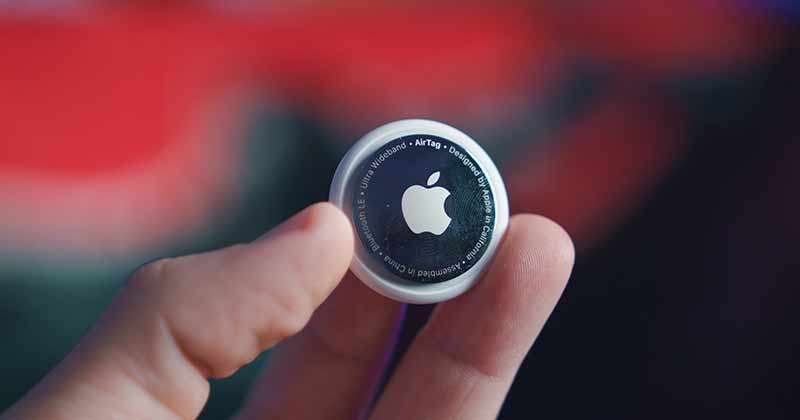 Last but not least, As a MacBook user, I've discovered that keeping an Apple AirTag inside my MacBook Pro backpack gives me a sense of control over my precious belongings. The AirTag helps me keep track of my valuable backpack and its contents, giving me peace of mind. I bought a 4-pack of Apple AirTags and one of the AirTags is always inside a small pocket of my backpack since buying it.
If I ever misplace my backpack or leave it behind, the Find My app on my iPhone allows me to quickly locate it using AirTag's precise location tracking. In crowded spaces or during travel, this added layer of security ensures I never lose sight of my precious MacBook Pro and the accessories I carry in my backpack.
To Wrap it up,
M2 MacBook Pro is one of the most powerful portable machines on the planet and I think by using accessories like a wireless mouse, a USB-C Hub, or a Desktop Thunderbolt 4 Dock like Caldigit TS4 one can enhance the user experience and use the Macbook Pro to its full potential. If you use an accessory that you think is essential for a MacBook, comment down below and share it with others.