Wireless routers are the most significant tech gadget in any home.
Our phones, laptops, and tablets are almost useless without an internet connection. These devices not only let us stream and watch movies, and TV shows and listen to our favorite music tracks. These gadgets also help us stay connected with our loved ones and get work done.
Choosing a wireless router might seem intimidating with all the options and scientific terms associated with them. You are not alone. I have experienced this before, and I am here to help you pick the right wireless router for your home or small office.
Of the wireless routers tested, the best overall performer was the Asus RT-AX86U for its excellent wireless throughput, performance, compatibility, and price. This wireless router represents the best balance of features and is a great value compared to the wireless routers on our list.
Wireless Routers Review Round-up of this 2023
If you're looking to buy a good wireless router, this round-up is written specifically to help you figure out what Wireless router best suits your needs from a list of the most popular routers this year. Whether it's from Netgear, D-Link, or Linksys, we're going to help you decide on a router that has the speed, range, and reliability that you are looking for.
Here's a detailed list of some of the best-performing wireless routers of this year, let's see which one works for you.
1. RT-AX86U WiFi 6 – Our Top Pick for the Wireless Router of 2023
When it comes to design, this router from ASUS offers an angular design which makes the router look more sleek and stylish. Unlike other routers, this router stands on your desk or media console. And no, you can not wall-mount it.
When it comes to ports and connectivity, this router has dual WAN ports (1 gigabit and 2.5 gigabits), 4 gigabit LAN ports, and two high-speed USB 2.0 ports for adding storage. You can configure and use the 2.5 gig WAN port to connect high-speed NAS storage to your router.
Powering this router is a 1.8 GHz quad-core processor paired with 1 GB RAM and 256 MB of flash storage. Three big antennas can provide maximum aggregate throughput of 5.7 gigabits.
In my testing of this wireless router, I got a constant speed of 940 megabits when connecting to the 5 GHz band. When connecting from far away (50 feet), I got speeds of 580 megabits which is very respectable considering the two concrete walls between my device and the router.
The wireless range of this router is excellent too. I had no trouble connecting to it from anywhere in a 2700 sq ft 2-story house. The wifi signal was strong, and the speeds were consistent.
Like all other modern routers from Asus, this router also supports AiMesh technology. This technology enables you to use an older Asus router to function as a mesh unit and provide wifi signals to dead spots in your area.
The wired network speeds are solid and perform neck to neck with the best competition. In my testing, I got consistent and stable 1-gigabit transfer rates when copying 100 gig files over the wired network.
However, this AiMesh technology is far superior to what the competition has to offer. In my testing, I constantly got around 1 ms of latency when hopping from the AiMesh access point back to my original router.
This router also has the usual QoS, parental controls, and other handy features. But I was more surprised to see alias renaming for connected clients. ASUS's AiProtection makes this router stand out from the competition. This feature provides security for all connected devices but at no additional cost or recurring subscription fees.
For about $350 or less, this wireless router from Asus blows away the competition. It offers excellent security, robust wifi signal and throughput, high-speed wired connectivity, and a speedy processor which runs through heavy traffic like butter.
And if your old router is from Asus, then RT-AX86U should be on the top of your options list, it is in ours.
2. Asus RT-AX55 – AX1800 WiFi 6 Router
This wifi router looks a lot like the NETGEAR Nighthawk from 2014. But with improved speeds, it comes with the latest Wifi 6 standard rather than Wifi 5 (or 802.11 ac) like my previous pick.
This router retails for around $130 on Amazon, but I have seen it for a much lower price. You can check the latest price here.
This Asus wireless router has the same port selection as my previously recommended router from TP-Link. Although this router has gigabit connectivity, there are no USB ports to be found on this unit. Not even a single one.
Powering this Wifi 6 router is a 1.5 GHz dual-core CPU paired with 256 MB RAM and 128 MB flash storage. When compared to TP-Link, this Asus router offers a significant hardware upgrade. This difference is noticeable when it comes to daily use and AI mesh networking.
With Wifi 6, this router offers combined wireless throughput of up to 1800 megabits. This throughput is very far ahead of what you are going to get in the real world.
In my testing, I was able to get around 630 megabits of throughput when using my iPhone 12 and connecting to the 5 GHz channel. When connecting through a wired connection, I was able to transfer files at full gigabit speeds without any latency or dropouts. The transfer speeds were consistent no matter what file size I tried to copy from one PC to another.
This wireless router from Asus supports AiMesh Wifi System, which means that you can repurpose any old compatible Asus router and create mesh wifi for cheap. This mesh wifi is different from wireless bridging because it uses MIMO technology to provide excellent throughput at 1 ms latency.
This wifi router also has a Dual WAN configuration. It means that you can simultaneously connect two internet service providers, and the router will automatically switch over to the other (or load balance) if one internet connection goes down.
It is an excellent feature to have (on a consumer router) for home offices since you do not want to lose connectivity when you are in the middle of the Q3 earning reports meeting.
This router includes the most used features, including QoS, parental controls, MAC filtering, and a wifi scheduler. There is VPN support, and you can also configure and manage this router through SSH.
This wireless router from Asus also includes an intrusion and threat detection and prevention system powered by Trend Micro. The service is free for a lifetime.
How well does this system work? I have no idea, as there is no exact way I can test this. I hope it works. When I talked to Asus customer support, they seemed very confident about the security features of this router.
For $130 or less, this Wifi 6 router from Asus is a solid upgrade over TP-Link A7. If you have portable devices that support Wifi 6, I strongly recommend you consider this over TP-Link A7.
3. NETGEAR Nighthawk RAX70 – Triband WiFi 6 Router
This Wifi 6 router from NETGEAR offers a modern design that looks like a sci-fi movie prop more than anything else. In my opinion, this router is going to be a conversation starter, at least.
This wifi router has 4 gigabit LAN ports, 1 gigabit WAN (internet) port, and a multi-gig LAN port which supports up to 5 gigabit connectivity. You can use this port to connect high-speed network storage to the router.
This wireless router also has 2 USB 3.0 ports for sharing your USB drives, printers, or other compatible devices. Powering this router is the quad-core 2.2 GHz processor paired with 512 MB RAM and 1 GB flash storage. The included power brick is enormous and rated for 70 watts of power.
There is a fan for the active cooling of hardware components. In my testing, the fan is noticeable but not loud at all. It only came on when transferring large files (more than 100 gigabytes) over the wired network. This wifi router has 8 antennas hidden in the wings. The build quality is good with high-quality matte black plastics. The wings feel flimsy when deployed.
The LED indicators do not have a light bleed. You can turn off the LED indicators with a dedicated switch on the back of the router. It is a 12-stream dual-band wifi router with 4-streams on the 2.4 GHz network and 8-streams on the 5 GHz wireless network.
Theoretically, it can achieve wireless network transfer speeds of up to 6 gigabits per second. This wireless router has MU-MIMO and directional beamforming technology. It helps a lot with dead zones and latency.
In my testing, this router performed excellently when testing its wireless network. When 20 feet away from the router, I was getting 800-900 Mbps on 5 GHz constantly.
This router also has VPN, QoS, parental controls, and other quality-of-life features. It also has antivirus and data-theft protection powered by Bitdefender. Unlike Asus, the service is free for 1-year but renews at around $50 for each year. 
When connected via ethernet, I was able to constantly get full gigabit speeds on all of my devices. even when transferring large files over 100 gigabytes.
Both the mobile app and web interface are easy to use. The menus and settings are straightforward, and there is no confusion even for the non-tech savvy. You are required to provide a NETGEAR account when setting this router using the mobile app. I did not find this to be the case when setting up the router through the web interface.
Either way, the setup process is straightforward. It only took around 10 minutes to configure everything and get the router up and running.
At $500, this router is expensive. But I have seen it for cheap at this amazon listing. For large homes or home offices, this router makes an excellent choice. It has robust wifi coverage and excellent router capabilities.
4. TP-Link AX90 Tri-band Gigabit Wi-Fi 6 Router
TP-Link Archer AX90 is a very powerful and fast Wifi 6 wireless router. It is a tri-band Wifi 6 router, where each band works on separate channels. So if you are living in a house with many wifi-enabled devices, you will get excellent throughput, network stability, and performance with this wireless router.
In addition to offering 6.6 gigabits per second of wifi speed, this router also has an extra 2.5 gigabit WAN (internet) port to support multi-gig internet service providers. This router only has 3 gigabit LAN ports. But, there are two USB ports, one of which is a faster USB 3.0 port for adding network storage.
Powering this wireless router is a quad-core 1.6 GHz CPU dressed with 1 GB of RAM and 512 MB of flash storage. Overall, this router has no trouble handling higher workloads and routing traffic loads.
It is a bulkier router and offers an edgier design that helps with ventilation. It also has eight thick antennas to provide wifi coverage and enables this router to have technologies like OFDMA, MU-MIMO, and beamforming. It ensures that you get full wifi coverage and more throughput at far distances.
I had no issues at all when testing this wifi router in a two-story 2700 sq ft house. On average, I constantly got around 700 to 900 megabits of throughput when connected to the 5 GHz wireless band. On 2.4 GHz wireless, this router delivered around 350 megabits of actual throughput on the far end of my house.
When testing the wired performance, I found this router performing neck-to-neck with NETGEAR AX12. It delivered full gigabit speeds when transferring files, and the file size did not seem to affect transfer rates.
Like most modern routers, you can configure it using your smartphone. You will need to download the free Tether app from Google PlayStore or Apple AppStore. You will need an account when using the App on your smartphone.
The basic settings of the wireless router are easy to find, and for a more advanced setup, you will need to use a web browser to access and configure the router. Overall, configuring the router for the first time using a mobile app takes only 10 minutes.
This router comes with HomeShield. It is a home network security system powered by Avira. Most importantly, this router also claims to protect smart home devices from intrusion and backdoor attacks. This router also sends alerts and advanced warnings when someone tries to breach your network or access smart home and IoT devices.
Overall, this router is an excellent choice for homes. It offers robust wireless connectivity, outstanding throughput and traffic handling capabilities, and home security. This wireless router is overkill if you have a small family with a limited number of devices. But a must-have for larger families or if you have a lot of devices.
For $300 or less, this is an excellent wireless router to consider when upgrading your home or small office network.
5. TP-Link Archer A7 Dual-band Gigabit Wi-Fi Router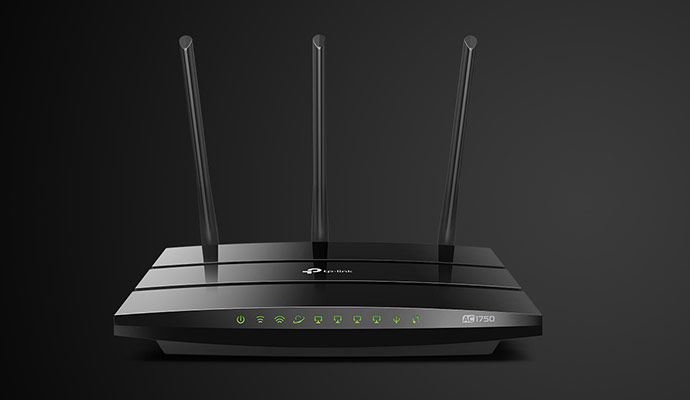 When it comes to networking and wifi, I am sure you know TP-Link already. They make some excellent wireless routers that are easy to use and often come at affordable prices. TP-Link A7 is a stealthy wireless router. It has a glossy black finish and three large antennas to provide excellent wifi coverage. It also has a single gigabit WAN and 4 gigabit LAN ports, along with a USB port for media and printer sharing.
It is an 802.11 AC or WIFI5 wireless router with a combined speed of 1750 Mbps. This router has a 750 Mhz Atheros process paired with 128 MB RAM and 16 MB flash storage.
I was surprised to see a VPN server feature available in this router. This VPN server is compatible with PPTP and OpenVPN protocols. In my testing, the VPN worked as expected, and the setup was straightforward. It also has QoS features built-in, which can prioritize internet traffic based on devices and parental controls to restrict web content for selected devices.
The USB-sharing features are robust but not super fast. This router only has a single USB 2.0 port which means you won't be getting superfast speeds over the network. For streaming 1080p videos and photos or sharing a printer, this USB port works great.
This router also has a file downloader. It means that instead of running your computer or laptop to download files, you can offload the downloading tasks to the router itself. The downloaded files get saved on the connected hard drive or USB flash drive.
Wireless performance is solid on this router. In my testing, I found this router to provide a decent wifi signal and throughput in a 2700 sq ft apartment. I did not have any dead or weak wifi zones with this wireless router. It managed to provide an average of 380 Mbps through wifi.
The user interface lacks some advanced features, but overall, it is easy to use for anyone. Everything is clearly labeled and nicely organized in relevant categories. TP-Link Archer A7 is compatible with third-party router firmware, including DD-WRT and OpenWRT. It allows you to tweak settings like wireless radio transmit power and better QoS and parental controls.
For $80 or less, TP-Link A7 is an excellent budget router for most homes. It has excellent wifi coverage and throughput at longer distances, helpful features including VPN server and QoS, and supports DD-WRT and Open-WRT. At this price, I can not find anything negative about the wireless router.
6. Netgear AC5300 Nighthawk X8 Tri-Band Wi-Fi Router (R8500)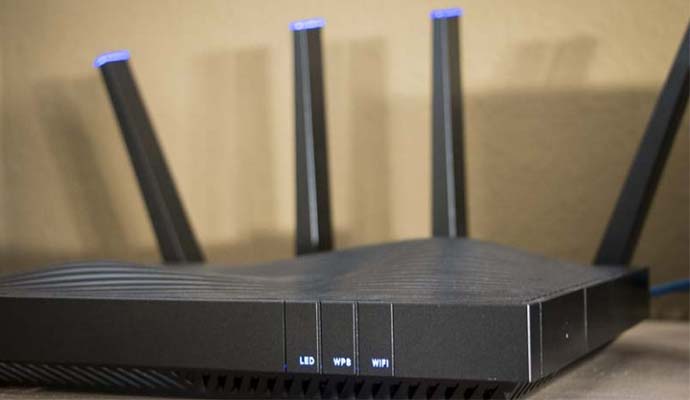 Now that we've looked at a few AC3200 Tri-band routers, let's up the game from there. AC3200 routers make wave 1 of tri-band routers and have an impressive ability to distribute a speed of up to 3.2 Gb over three bands, one 2.5GHz supporting up to 800mbps and the other two at 5GHz supporting 1300mbps tops, the likes of which we saw in our last three routers.
However the 6. Netgear AC5300 Nighthawk X8 Tri-Band Wi-Fi Router (R8500) is a wave 2 tri-band router and as such it distributes a staggering maximum of 5.3 GB of speed over its 2.5GHz and 5GHZ bands. Basically, this makes the R8500 a force to be reckoned with.
Another department in which the R8500 wins over the R8000 from Netgear is the 4 active antennas. These antennae have blue LED lights on their tips that not only make the router look really cool in the dark but also mean that the amplifiers for signals are located atop the antennae themselves. Without any doubt, the R8500 has already bridged the shortcomings of the R8000.
Now comes the question of whether or not you should buy it.
Let's just go ahead and establish that this router is indeed crazy expensive and is listed at a staggering $359. If you want to use insanely fast internet and need a router that is capable of fast speeds without compromising anywhere and you don't mind spending too much, then this is the one.
7. Ubiquiti Amplifi HD Gamer's Edition Mesh WiFi System
This mesh wireless router from Ubiquiti is an excellent choice for gamers. This cube-size router has excellent performance and an LCD that show essential stats about your home network.
This router is different from the original Amplifi mesh system from Ubiquiti. Both of the satellite units are redesigned internally to provide better throughput and lower latency.
The wireless router uses USB-C to receive power, and the power adapter comes in the box. There are 4 Gigabit LAN ports on the router and 1 gigabit WAN port. This wireless router supports 802.11 ac wireless which is not the latest wireless standard. The main reason behind this recommendation is the lower latency it offers.
It took me about 10 minutes to set up the wireless router and mesh points while using the Amplifi App.
The mesh points are easy to set up. You only need to plug them in the wall outlet and adopt them through the app.
This mesh router system offers two basic modes: lower latency and higher speed. In my testing, the lower latency mode worked flawlessly. I had no trouble playing games online. And the downloads did not affect the latency, and the router managed everything seamlessly.
File transfer speeds were also on par with the competition. This wifi router also has IDS and IPS to protect your home network from unauthorized access and hackers. The app is easy to use, and everything is clearly labeled and neatly organized in subcategories.
You will need to provide an Unifi ID to set up and configure this router. This router also has features like SSH, parental controls, QoS, VPN server integration, and the ability to create VLANs.
The LCD on the router shows essential stats like current network speed, total bandwidth usage, connected clients, and ethernet port status. It is a quick and easy way to interact with a router without opening a mobile app or logging into Unifi.
Of course, if you need to reconfigure or change settings, you will need to use the app or login into Unifi with your ID.
Overall, this router is an excellent choice if you are a gamer or have gamers in the family. It offers outstanding throughput and lower latency. And the default QoS does an excellent job of prioritizing time-sensitive requests.
At $490 or less, this mesh router system is expensive, but it is worth every penny for the performance it offers.
8. D-Link AC3200 Ultra Wi-Fi Router (DIR-890L/R)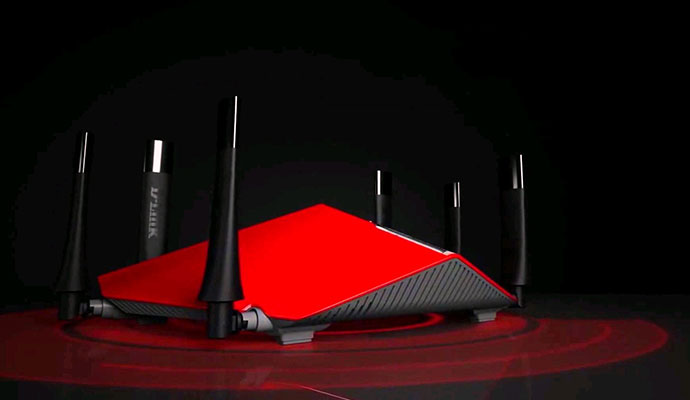 With 6 aerials, USB 2.0 and 3.0 Ports as well as four gigabit Ethernet ports and printer and USB storage sharing, the D-link AC3200 Ultra Wi-Fi Router DIR-890L is one monster of a machine, both in terms of performance and size too!
The DIR-890L is the flagship router from D-Link and as such, it demands a place on any Round-up of top-performing WiFi routers of the current year.
Sleek designs seem to be the new norm for routers these days and the DIR-890L does well to keep up with the trend, with a bright glossy red finish and an edge angular design, this router is one you definitely wouldn't mind being placed on your desk next to your PC, however, due to its massive size, you may want to install it elsewhere.
The DIR-890L has a footprint of 38cm by 23cm, and that's just the body without the height of the aerials. However, the DIR-890L isn't just big and attractive but is also capable of handling 600mbps to one band of 2.4GHz and 1300mbps to two bands on 5GHz. This router is great in providing a strong and stable Wi-Fi connection to a large area, making it ideal for use in public areas and offices as well as your home.
However, the downside to the DIR-890L is its hefty price tag of around 300 dollars. Making it even more expensive than the aforementioned Asus RT-AC88U and the file transfer performance isn't exactly the best out there either. But the range of this router is definitely something that gives its competitors a run for their money.
Final Words
Now that I've gone over some of the top-notch wireless routers of 2023 in a fair amount of detail, we can say for sure that there is a great lineup of routers available on the market right now. All of them feature remarkable state-of-the-art designs that make it hard for you to install them in places where you won't be able to see them as much, regardless, they offer Powerful specs for the processing power needed to handle your day-to-day wireless networking tasks.
However, by now I'm sure that you already know what the greatest drawback is in most routers, the pesky price tag! Maybe it's time we acknowledge that newer technology is just going to cost more and let's look for the best value for you. Some of these routers offer a lot of bang for their buck you know, the Asus AC88U for instance.
Again, as I said earlier, in the end, the router you choose has a lot to do with your usage and your needs.  Now that we've looked into the best options available to you this year, I most certainly hope that this list was helpful in assisting you in making a great buying decision!