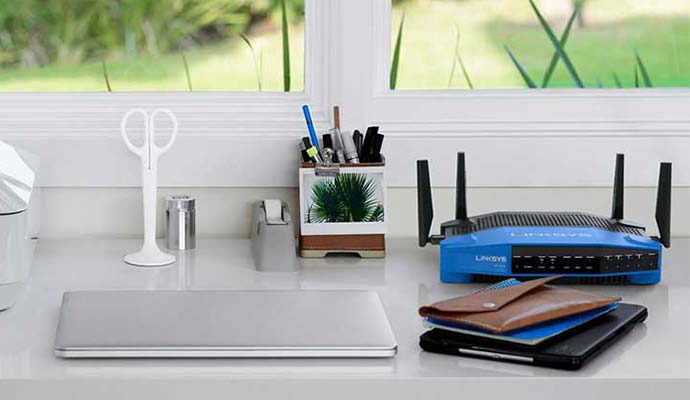 With every little gadget packing WiFi connectivity feature these days, it is no surprise that the sales of Wireless routers have gone through the roof this past handful of years. We have smart TVs that can connect to the internet and have the ability to stream videos online and even have a handful of useful social apps that you can use and then, of course, there's all the smartphones and tablets that require connection to a strong WiFi around the clock for most of what they're used for.
However, if you want to receive WiFi signals at every corner of your house, you'll have to make sure that your Wireless router, the very device that links your wireless devices to the internet, is good enough to deliver you the performance you expect of it.
Now if you ask any expert on the matter what the best wireless router in 2021 is; you're going to get a different answer for different use case scenarios.
That is because there are various factors that matter when you want to buy a new or Good wireless router for your home or office:
The area of the house or office space the router is going to cover.
The networking features you need/want.
How many devices you are going to connect to the wireless router at a time
Also, if you have special needs, like, linking up a NAS (Network Attached Storage) to the WiFi router for over-the-network storage access, etc.
Wireless Routers Review Round-up of this 2021
If you're looking to buy a good wireless router, this round-up is written specifically to help you figure out what Wireless router suits your needs the best from a list of the most popular routers this year. Whether it's from Netgear, D-Link, or Linksys, we're going to help you decide on a router that has the speed, range, and reliability that you are looking for.
Here's a detailed list of some of the best performing wireless routers of this year, let's see which one works for you.
1. Asus RT-AC88U – Top Rated Wireless Router for 2021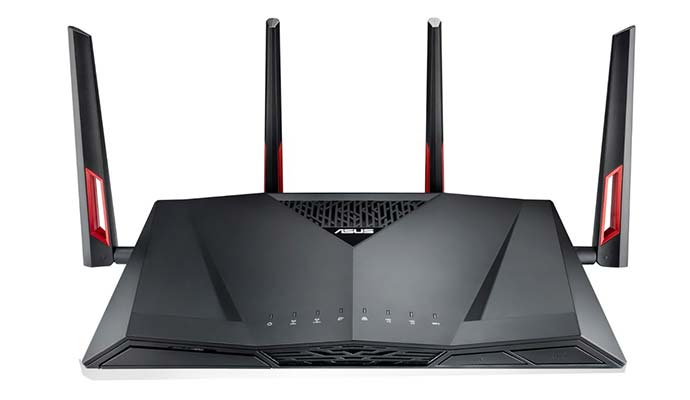 Brought to you by one of the world's premier names in the manufacturers of computers and perhaps the top three notebook vendors, ASUStek, or more commonly known as Asus; The Asus RT-AC88U Dual Band Router is designed to basically challenge their users to connect more and more devices. Thanks to its revolutionary MU-MIMO (Multiple User-Multiple Input Multiple Output) technologies, the RT-AC88U can connect to pretty much all your Smart TVs, Smartphones, Laptops, and basically whatever device you have at home that supports WI-FI connectivity.
Unlike Single User MIMO enabled routers that took the market by storm a few years back, MU-MIMO allows the RT-AC88U to communicate with each device using a separate stream. Making it as though the device in question were the only device connected to the router, you're certainly looking at a very strong signal for each device, and thanks to the RT-AC88U's dual-band throughput on both 2.5GHz and 5GHz frequencies, there won't be any radio interruption with other electronics present in your premises.
The Asus RT-AC88U is loaded with management options and has multiple LAN and USB ports onboard, all neatly brought together with a very user-friendly interface and a very dynamic black and red design too. However, the RT-AC88U's vast array of features comes with an equally expensive price tag of around 300 dollars. We definitely think that it's worth the price.
2. Netgear Nighthawk X4S Smart Wi-Fi Router (R7800)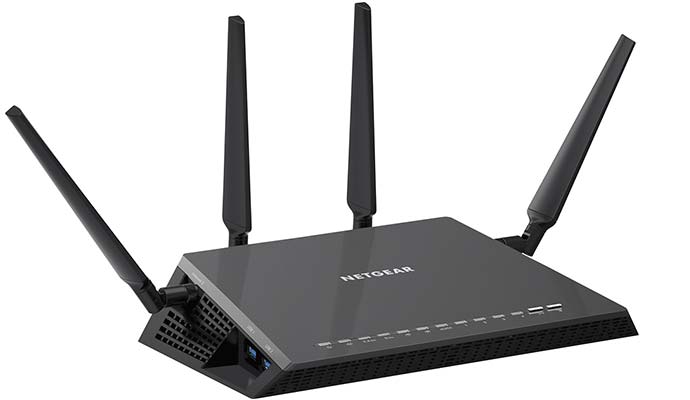 There are a few who aren't aware of the iconic title of Netgear. Netgear is definitely one of the leading router manufacturers out there however, is the Netgear Nighthawk X4S Smart Wi-Fi Router (R7800) really something that lives up to the Netgear legacy? Well, let's have a look and find out. The R7800 'Nighthawk' certainly does live up to its dubbed nickname due to its angular design and four removable antennae.
The R7800, like its predecessor, R7500 has somewhat of a resemblance to the kind of a space ship that you can expect to see in a Star Wars episode. However, the R7800 doesn't shoot lasers, what it does do is allow up to four data streams to every band, thereby maximizing performance at high speeds, thanks to the enabled MU-MIMO support.
The R7800 is a dual-band router that delivers bands of 2.5GHz and 5GHz, with the 5GHz bands supporting up to 1733mbps of speed. The R7800 is definitely a force to be reckoned with when it comes to deciding the best WiFi router of 2021. Though the R7800 makes the cut, it still is a bit on the pricey side with a price tag of around 250 Dollars.
However, the R7800 has proven itself worthy of the hefty price tag due to the fastest MU-MIMO throughput yet. However, the USB file transfer is still a bit on the average side of the performance scale. Whether this router is for you depends on the number of devices you're going to be using simultaneously. However, it is important to note that to take full advantage of the MU-MIMO technology, your client must support it.
3. D-Link AC3200 Ultra Wi-Fi Router (DIR-890L/R)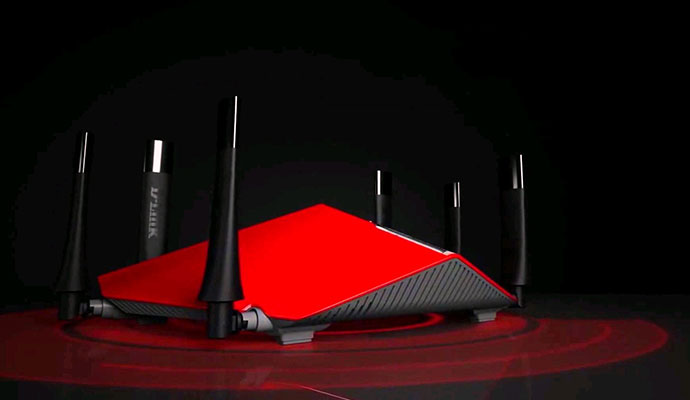 With 6 aerials, USB 2.0 and 3.0 Ports as well as four gigabit Ethernet ports and printer and USB storage sharing, the D-link AC3200 Ultra Wi-Fi Router DIR-890L is one monster of a machine, both in terms of performance and size too!
The DIR-890L is the flagship router from D-Link and as such, it demands a place on any Round-up of top performing WiFi routers of the current year.
Sleek designs seem to be the new norm for routers these days and the DIR-890L does well to keep up with the trend, with a bright glossy red finish and an edge angular design, this router is one you definitely wouldn't mind being placed on your desk next to your PC, however, due to its massive size, you may want to install it elsewhere.
The DIR-890L has a footprint of 38cm by 23cm, and that's just the body without the height of the aerials. However, the DIR-890L isn't just big and attractive but is also capable of handling 600mbps to one band of 2.4GHz and 1300mbps to two bands on 5GHz. This router is great in providing a strong and stable Wi-Fi connection to a large area, making it ideal for use in public areas and offices as well as your home.
However, the downside to the DIR-890L is its hefty price tag of around 300 dollars. Making it even more expensive than the aforementioned Asus RT-AC88U and the file transfer performance isn't exactly the best out there either. But the range of this router is definitely something that gives its competitors a run for their money.
4. Netgear Nighthawk X6 AC3200 Tri-band Gigabit Wi-Fi Router (R8000)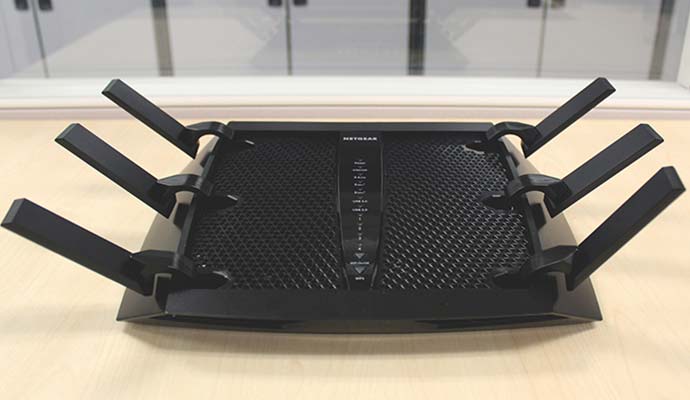 Netgear makes it into our list yet again with their flagship router, the Netgear Nighthawk X6 AC3200 Tri-band Gigabit Wi-Fi Router (R8000). With its unique futuristic design and tri-band capabilities, the R8000's debut is an open challenge to the D-Link DIR-890L we talked about earlier. However, despite the R8000 is a tri-band router it didn't prove to be as effective a performer on the 2.5GHz band as it does on the 5GHz bands, but its ability to handle speeds of over 1300mbps on its 5GHz bands are definitely its saving grace.
Though the buggy 2.4GHz band still comes across as somewhat of a disappointment, after all, it's a tri-band router and it even costs as much. The R8000 has about the same price as the Asus AC88U, but unlike the Asus, the Netgear Flagship has a little less to show for its hefty price tag this time, the signal range isn't as powerful as the DRI-890L either, however, it's not weak enough to cause connectivity issues inside your house unless you have an exceptionally large house.
Perhaps at a slightly lower price, this router would have been a more recommendable device. You most certainly can accept this router as a gift and be happy as it is still a very high-end powerful router but if you're going to pay some of your hard-earned cash to get a router, we would recommend reading into the alternatives a little more.
5. Linksys AC3200 Tri-Band Gigabit Smart Wi-Fi Router (EA9200)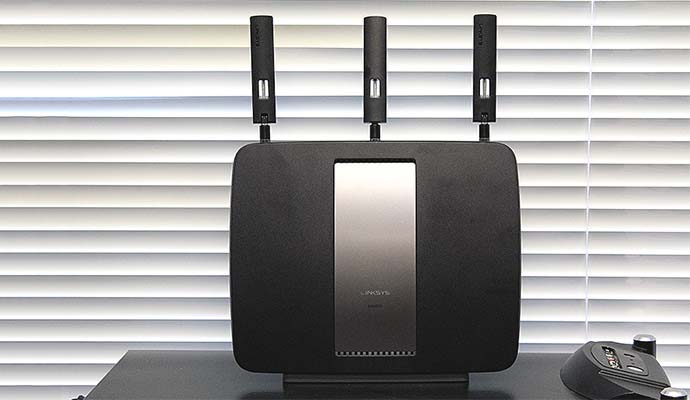 Adding the term 'smart' to every kind of electronic device seems to be the new fad these days. But let's see exactly how smart this smart Wi-Fi router is and if it's smart enough to be the one for you. Linksys has made a name for themselves in the internet router industry and has made quality internet devices for a good number of years now and they didn't stop with their latest flagship, the Linksys AC3200 Tri-Band Gigabit Smart Wi-Fi Router (EA9200).
As a tri-band router, the Linksys EA9200 has two 5GHz bands and one 2.5GHz band, making it suitable for both high-end and low-end clients. So if you were to change our client anytime in the foreseeable future, with a router like this, you can confidently tell them that you won't be needed a router from them because your own router supports low-end and high-end clients alike without compromising the data rates.
The EA9200 router features a sleek design and has a great user-friendly interface backed with remote management features. The only reason to not buy this router would be the price tag. Yes, the hefty price tag strikes yet again! Like the case with the Netgear R8000, if it was priced a bit lower, we'd recommend it more. And like the R8000 the signal range could have been a bit better, considering the price. The EA9200 is indeed smart, just expensive is all.
6. Netgear AC5300 Nighthawk X8 Tri-Band Wi-Fi Router (R8500)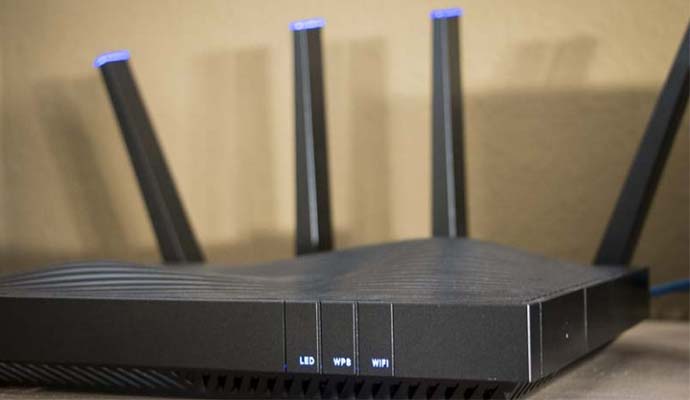 Now that we've looked at a few AC3200 Tri-band routers, let's up the game from there. AC3200 routers make wave 1 of tri-band routers and have an impressive ability to distribute a speed of up to 3.2 Gb over three bands, one 2.5GHz supporting up to 800mbps and the other two at 5GHz supporting 1300mbps tops, the likes of which we saw in our last three routers.
However the 6. Netgear AC5300 Nighthawk X8 Tri-Band Wi-Fi Router (R8500) is a wave 2 tri-band router and as such it distributes a staggering maximum of 5.3 GB of speed over its 2.5GHz and 5GHZ bands. Basically, this makes the R8500 a force to be reckoned with.
Another department in which the R8500 wins over the R8000 from Netgear is the 4 active antennas. These antennae have blue LED lights on their tips that not only make the router look really cool in the dark but also mean that the amplifiers for signals are located atop the antennae themselves. Without any doubt, the R8500 has already bridged the short-comings of the R8000.
Now comes the question of whether or not you should buy it?
Let's just go ahead and establish that this router is indeed crazy expensive and is listed at a staggering $359. If you want to use insanely fast internet and need a router that is capable of fast speeds without compromising anywhere and you don't mind spending too much, then this is the one.
7. Linksys Max-Stream MU-MIMO Tri-Band AC5400 Wi-Fi Router (EA9500)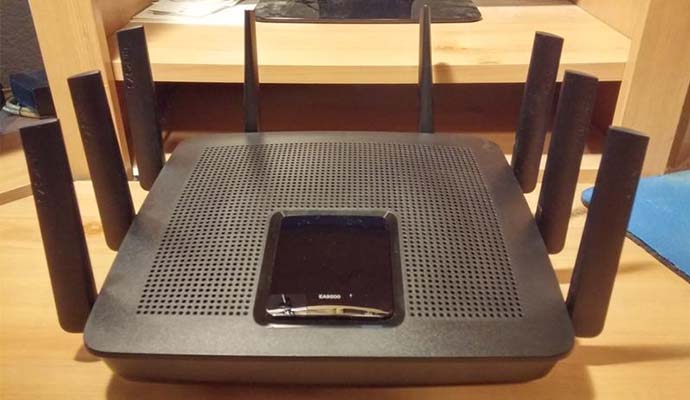 It would seem that Linksys isn't quite done with bringing high-end routers to the table yet. If you found the AC5300 R8500 from Netgear impressive, here is an AC 5400 from Linksys.
Let's go ahead and acknowledge the fact that is router is an extremely powerful device and costs around $400. However, the wide area of signal coverage and an absolutely astounding WiFi performance make the EA9500 well worth the money. It even comes with parental control features and allows you to block certain sites, a very useful inbuilt home WiFi feature indeed. However, the EA9500 is still a bit overkill when it comes to home Wi-Fi use.
It requires a very fast broadband connection and is a very large and bulky device, despite the fact that it follows the trend and has a very dynamic design. If you need a very fast internet connection and can afford it, you could buy this router. However, for most home internet use, a more modest router from the list would do just fine and also save you a lot of money.
8. Asus RT-AC3200 Tri-Band AC3200 Wireless Gigabit Router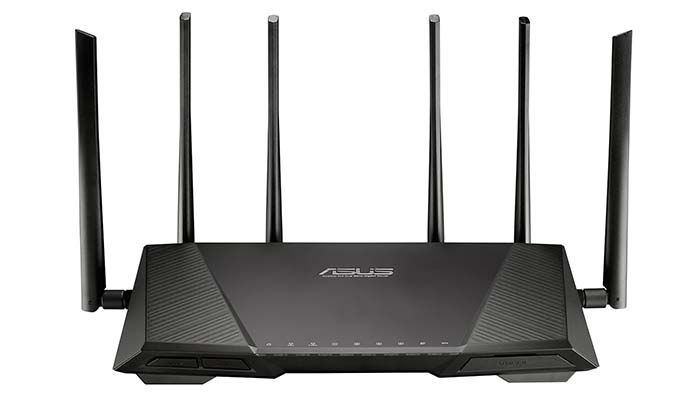 Speaking of modest devices more suitable for home use, let's get back to the wave 1 Tri-Band routers. The Asus RT-AC3200 Tri-Band AC3200 Wireless Gigabit Router is one of the latest tri-band routers available right now and is a more than worthy adversary for the Linksys EA3200 and the R8000 from Netgear.
The RT-AC3200 had an array of amazing and fun features such as a very user-friendly web user interface and a built-in ability to keep malware from ever reaching your devices. It's a bit on the bulkier side as far as design is concerned though and features removable antennae.
But then again, it's an expensive router and costs around $300. We can't exactly call it overpriced though, due to its rich features. If you do a lot of local intensive tasks using your Wi-Fi, you'll probably appreciate this Router.
9. Linksys WRT 1900ACS Dual-Band Gigabit Wi-Fi Router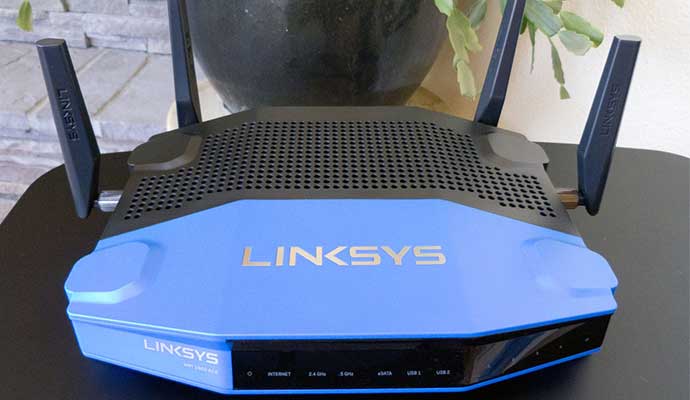 With all these, new and fast routers around it's easier to get carried away and forget that not everyone is an avid internet user who wants to connect 10 devices in a go and expect very fast internet speeds. This is why we've made sure that we mention great Dual-Band Routers such as the WRT 1900ACS from Linksys.
At a price tag of around 200 dollars, you can have every area of your house covered with fast internet thanks to the WRT1900ACS' incredible signal reach, which give it quite an advantage over some of the most high-end devices on our list. It's still considered a bit pricey according to the conventional prices of internet routers but a great router to buy for your home nonetheless.
10. Buffalo AirStation Extreme AC1750 Dual Band Wireless Router (WZR-1750DHP)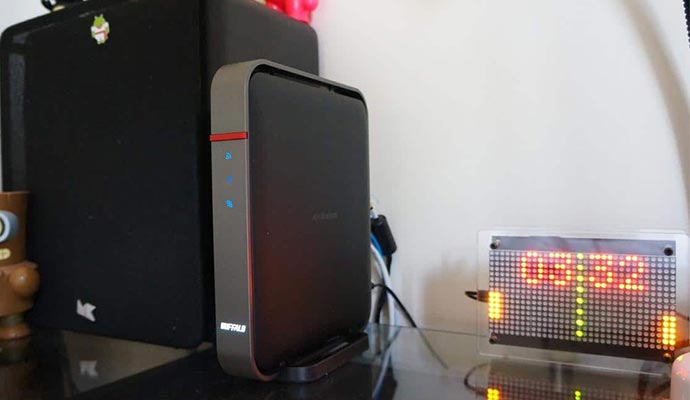 The Buffalo AirStation Extreme AC1750 Dual Band Wireless Router (WZR-1750DHP) is the first 802.11ac internet router that uses a third party DD-WRT firmware instead of Buffalo's stock firmware. This probably isn't going to mean much to most users, however, if you're a tech-savvy user, you're already pleased by the notion of you not having to go out of your way to tinker with the firmware to get the most out of your network connection. The Wi-Fi rate on the 5GHz band is just about excellent and the minimalistic design of the WZR-1750DHP is also very pleasant.
However, the coverage range is a bit disappointing as compared to similar dual-band routers. And it's pretty pricey too considering that it's a dual-band AC1750 router. There's definitely more you can buy in that price range. However, the stock DD-WRT firmware is a big plus if you're looking for deep level customization.
Final Words
Now that we've gone over some of the top-notch wireless routers of 2021 in a fair amount of detail, we can say for sure that there is a great line up of routers available on the market right now. All of them feature remarkable state of the art designs that make it hard for you to install them in places where you won't be able to see them as much, regardless, they offer Powerful specs for the processing power needed to handle your day-to-day wireless networking tasks.
However, by now we're sure that you already know what the greatest drawback is in most routers, the pesky price tag! Maybe it's time we acknowledge that newer technology is just going to cost more and let's look for the best value for you. Some of these routers offer a lot of bang for their buck you know, the Asus AC88U for instance.
Again, as we said earlier, in the end, that router you choose has a lot to do with your usage and your needs. Now that we've looked into the 10 best options available to you this year, we most certainly hope that this list was helpful in assisting you in making a great buying decision!