AMD's 5700 XT being the upper-middle tier graphics card provides raw performance at an affordable price but we are not here to talk about the value for money the RX 5700 (XT) provides. We are here to talk about the problem that follows if you have an older monitor in your setup or even simply a gaming monitor that's not the right one for the immense performance this powerful GPU is capable of pushing out.
Now if you don't have the right monitor which is sorta "compatible" with RX 5700 (XT) based gaming setup, the monitor can become a bandwidth bottleneck really fast.
Issues like screen tearing, out-of-sync gameplay, and ghosting are prevalent in mismatched GPU / monitor setups and I'm here to help you resolve any of the issues you might encounter in the future if you are going to purchase a monitor for a comparatively higher-end GPU like RX 5700 XT.
I've picked some of the most compatible and best Monitors to work smoothly with RX 5700 XT-based gaming and workstation setups. Naturally, I've picked a few for gaming with the combination of high refresh rate, Sync, and resolution. And I've also picked up a couple of them for Color accurate Workstation and Video Editing work with a combination of very high color accuracy, calibration, and resolution to yield the best experience.
ViewSonic XG2530 25 Inch 1080p, 240Hz Monitor for Gaming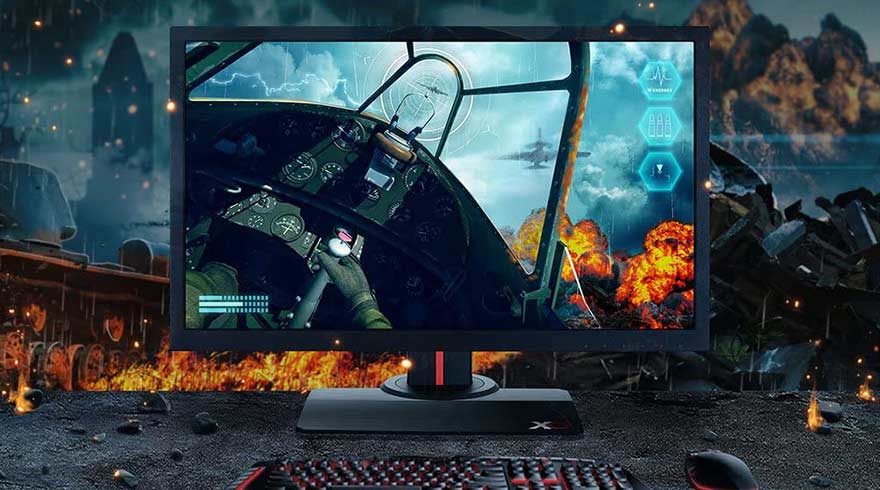 With the kind of power the RX 5700 XT pushes out, you can either go low on the refresh rate and really high on resolution or go really high on the framerate and a bit low on resolution and this monitor does the latter. This Monitor is also compatible with AMD graphics cards because it features free sync technology which makes everything on the screen smoother and helps with screen tear and ghosting issues.
This is a TN panel with a High refresh rate. It's a 1080p monitor in 25-inch size which is perfect, not too small, and not too large that the details get lost in pixel density. This panel provides an ultra-fast 1ms response time and a refresh rate of 240 Hz, considered the absolute fastest refresh rate on the market.
Now I'll admit that TN panels aren't known for their color accuracy but that's not why one would buy this monitor. This monitor is for those who want to improve their skill in multiplayer fps games like the CS: Go and don't mind going with a bit lower resolution, like 1080p to get the fps Gods in their favor.
This being a TN panel, the viewing angles are not that great, but they aren't terrible either. But that's alright because if you are buying this monitor, it's not because of its color accuracy or viewing angles. Also, the price is a bit high if you are looking at the resolution being the only metric but if you keep the whole "fast" thing in mind, then it's an absolutely great deal to grab.
Dell S2719DGF 27 Inch QHD FreeSync Monitor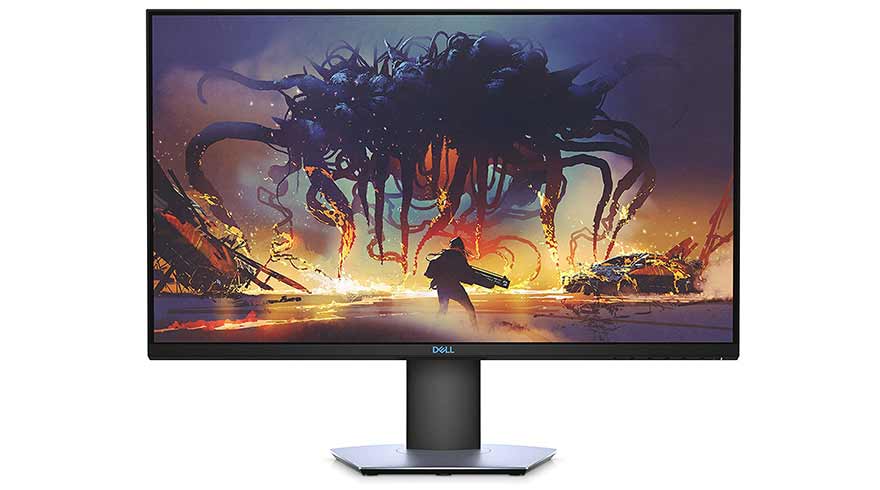 Now we are stepping up the resolution game as well as the overall size of the monitor with this 27-inch, 1440p TN monitor from Dell. Now I know that TN panel monitors are not great for color accuracy like we already discussed above, but hear me out, just hear me out.
Being a tech reviewer and enthusiast, I've used more than my share of monitors with TN panels but I'm telling you, Dell's TN panels are just on another level. This provides much, much better viewing angles and color accuracy and minimal image tear and screen ghosting issues than the other TN panel monitor in the market, which is all one could ask for.
This monitor provides a response time of 1 ms which is the fastest in the market and it also runs at a smooth 155hz refresh rate. Now, this refresh rate sounds comparatively low, but when you see it in the context of stepping up in the department of size and resolution, this refresh rate makes perfect sense.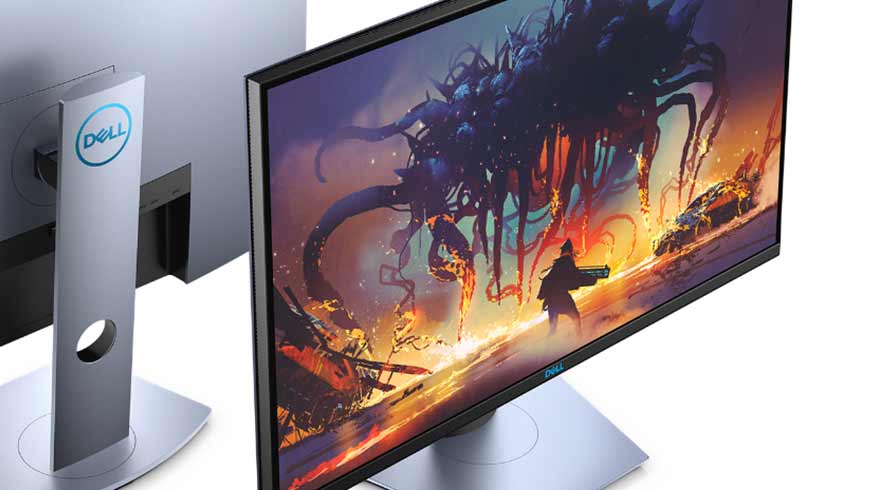 With FreeSync compatibility of this monitor, AMD's RX 5700 XT is gonna drive this combination of pixel density and refresh rate smoothly. So if you play competitive games and want a step up from your old 1080p monitor, this is perfect for you.
The only downside of this monitor that I could see is that one won't be able to do any kind of work on this monitor which requires color accuracy. So if you are the kind of person who needs a color-accurate screen for graphics or video editing work, this monitor isn't for you. But if you are a gamer, boy you are in luck.
Acer XF270HU Cbmiiprzx 27 Inch Widescreen QHD Monitor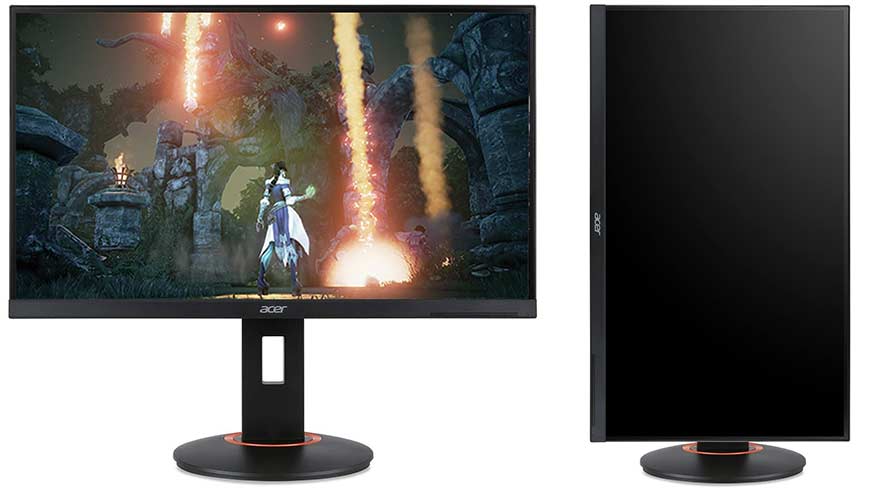 Here is another brilliant monitor in QHD but this time it's a widescreen monitor for gamers who want a more immersive experience while gaming. It features a great TN panel with damn good colors and viewing angles to go with it.
Not to mention the 1 ms response time and 144hz response rate configured with this resolution are great to game with an RX 5700 XT-based setup because it also supports AMD FreeSync technology for a smoother and tear-free gaming experience.
As I've already stated above that this refresh rate of 144hz might not look like much but paired with QHD resolution and especially with a 5700 XT graphics card, this monitor is not going to bottleneck your gaming experience. And this monitor presents itself as a value for money at this price range of 450+ dollars, especially with that resolution and refresh rate.
In this wide-screen form factor, this monitor comes highly recommended from me if you are looking for a widescreen gaming monitor and not looking to do any sort of color-accurate work with it.
And oh, did I fail to mention that it has two built-in speakers?
I gotta admit they aren't great, but they aren't terrible either, rather passable speakers if you need them.
LG 27UK850-W 27″ 4K (light gaming and heavy color accurate work like video editing)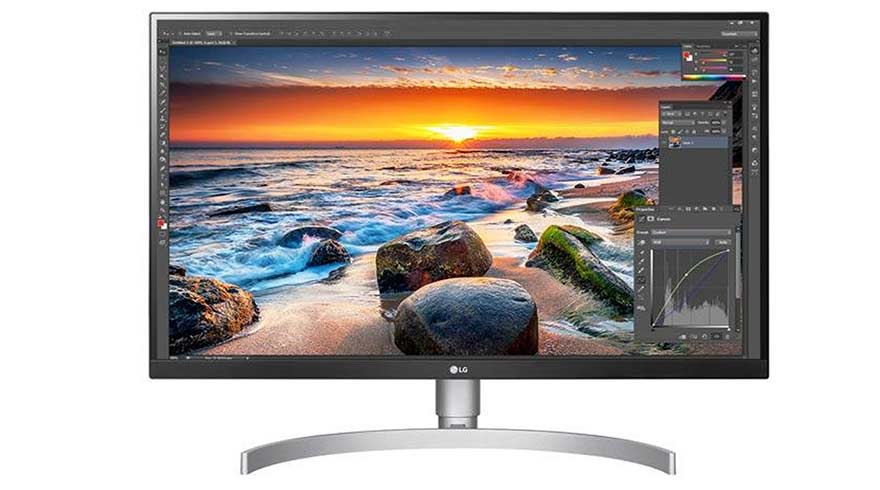 We've talked about all the monitors that fit the bill for people who are going to game using this graphics card. Now let's move on to the monitor(s) for people who are gonna use 5700 XT-based builds for their workstations to do some amount of work that requires a good amount of resolution and color accuracy.
This LG monitor is a 27-inch 4K(3840 X 2160) IPS panel and I don't have to mention how good LG's IPS panels are since they are the pioneers of LCD manufacturing in the world right now.
So the Contrast ratio of 1000:1 and the viewing angles are fantastic for video editing, animation, and photography work. Plus the wide-angle aspect ratio is much better for editing videos (trust me, I'd know).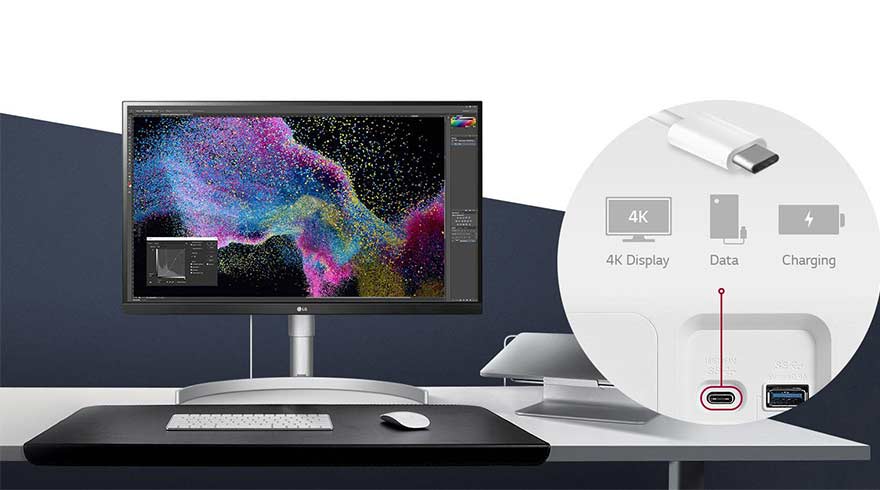 Talking about color accurate work, this panel comes factory calibrated to 99% sRGB gamut, which albeit is not that high as compared to AdobeRGB color-space, but at this price range, what is there to complain about?
As far as I'm concerned, a 27-inch 4K monitor with these good viewing angles and a 99% sRGB color gamut of around 450 Dollars is a literal steal.
Now, This Monitor isn't mainly for gaming but one could game on it keeping in view the pretty damn good 5ms response rate and 60hz refresh rate of the monitor.
If you are having doubts about gaming on it, even if nobody is going to buy this monitor for gaming, 60hz is a pretty good refresh rate for the resolution of 4K and it's not gonna choke on the powerful 5700 XT graphics card. And if I forgot to mention, this Monitor from LG is compatible with AMD's FreeSync technology to provide the user with a smooth experience.
Final Thoughts
We've mentioned a range of monitors for every kind of possible gaming setup which includes an AMD RX 5700 XT. If you choose from one of these, that's the best but if you don't like either of the monitors we mentioned in our list, you should be careful about a couple of things while choosing some other good monitor for this GPU-based build.
No doubt this graphics card is a beast and provides a lot of gaming processing power but you have to keep in mind that this GPU isn't as powerful to provide more than 60-70hz on a 4K resolution monitors but not too weak to choke 60hz on a 1080p resolution. So choose the refresh rate / Resolution combination wisely, lemme list the ideal ones below.
1080p at 240Hz monitor
1440p at 144Hz monitor
4K at 60Hz monitor
Choose any monitor within these specs and you'd be good to go.