If you're running a Ryzen 5 5600X, you know the importance of a top-notch CPU cooler to keep those temperatures down. I've experimented with numerous coolers to find the ideal match for this powerhouse CPU and today, I'm sharing my favorite picks with you.
Whether you're into overclocking or simply looking for the best bang for your buck, I've got you covered. Let's dive into why a good CPU cooler is important and look at some of the top CPU coolers I recommend as an industry professional.
Cooler Master Hyper 212 RGB Black Edition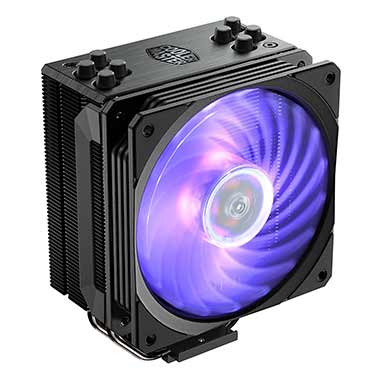 When it comes to the Cooler Master Hyper 212 RGB Black Edition, I've got to say, it's a real treat for those of us who are a bit more budget-conscious. Despite the affordable price tag, this cooler pulls no punches, delivering the kind of cooling performance that has kept my Ryzen 5 5600X running smooth and cool in all my projects.
What caught my eye right off the bat was the vibrant 120mm RGB fan. It's not just about the cool, customizable lighting that can add a pop of color to your rig (although that's a big plus for some people). This fan is a workhorse, providing a great balance between airflow and noise level, so your system stays quiet and cool.
For me, the Hyper 212 RGB Black Edition is a reminder that you don't have to break the bank to get a top-notch cooler. It's an excellent combination of performance, price, and a little bit of pizzazz. So, whether you're just dipping your toes into the PC building world, or you're an old hand working with a tighter budget, this Cooler Master cooler is a choice that I think you'll be more than happy with. Hence it is my top recommendation for Ryzen 5 5600X.
Noctua NH-D15 – Big Daddy of CPU Coolers
As a seasoned PC builder, I've always appreciated Noctua's commitment to quality, and the NH-D15 is a testament to that. This air cooler is a behemoth, designed for superior cooling performance. The dual-tower and dual-fan design ensures that my Ryzen 5 5600X stays cool even under heavy loads.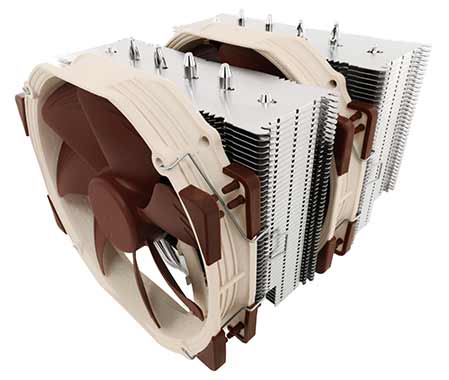 The NH-D15 is equipped with two 140mm sized NF-A15 fans, which produce significant airflow while maintaining whisper-quiet operation, thanks to the low-noise adapters and anti-vibration pads. The dual-tower heatsink, combined with six heat pipes, ensures optimal heat dissipation.
What makes this cooler even more impressive is its broad compatibility, courtesy of Noctua's SecuFirm2™ mounting system. The NH-D15 fits effortlessly on most mainstream and high-end platforms like AM4, making it a versatile choice for a wide array of builds.
I was particularly impressed by the build quality as the cooler has a solid feel to it, reflecting the use of high-quality materials. From the copper base and heat pipes to the aluminum cooling fins and the sturdy plastic fans, everything about this cooler exudes durability.
One area where the NH-D15 shines is noise level. Despite its powerful cooling capabilities, the cooler operates incredibly quietly, thanks to Noctua's aerodynamic design measures and its quiet fans. There is also a Stealth Black color available for 10 dollars more if you don't like the brown and beige aesthetics of this version of NH-D15.
However, the NH-D15 isn't the cheapest option out there. It's one of the pricier air coolers on the market, but given the performance, features, and build quality it offers, I believe it's worth every penny. If you're looking for a cooler that delivers top-notch cooling performance without the noise and is built to last, the Noctua NH-D15 is an excellent choice in my opinion.
Scythe FUMA 2 Rev. B CPU Cooler
In the world of CPU coolers, the Scythe FUMA 2 stands tall as a high-performance yet budget-friendly option. With its dual heatsink design, six heat pipes, and two fans in a push-pull configuration, this cooler effortlessly handles the heat output of the Ryzen 5 5600X.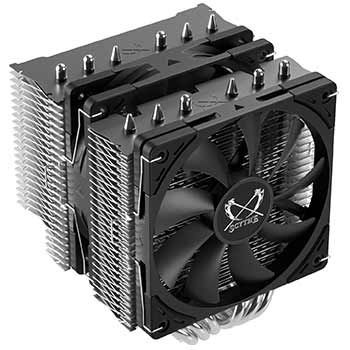 The FUMA 2 has been a revelation to me, a cooler that doesn't break the bank yet refuses to compromise on performance. The fans, equipped with fluid dynamic bearings, operate quietly even under heavy loads, making it a great choice for those who value silent operation.
One feature that sets this cooler apart is its offset design, which provides improved RAM clearance. In my experience and personal opinion. this is one of the best CPU coolers for compact builds where space can be a premium. The installation process was also quite smooth, thanks to the included user-friendly mounting system.
While the FUMA 2 doesn't boast flashy RGB lighting or a premium aesthetic, it more than makes up for it with its cooling efficiency and affordability and hence comes highly recommended by me.
FAQs about CPU Coolers for Ryzen 5 5600X
Factors to Consider When Choosing a CPU Cooler
When you're shopping for a CPU cooler, consider compatibility, noise level, price, size, aesthetics, and brand reputation. Each of these can significantly impact your overall PC-building experience and the end result.
Do I need a CPU cooler for Ryzen 5 5600X?
Yes. You would need a good CPU cooler for a Ryzen 5 5600X because 5 5600X is a powerful processor that can generate substantial heat, especially under heavy loads.
And while the Stock cooler that Ryzon 5 5600X comes with is sufficient for basic cooling, if you are going to do anything other than browse youtube or consume media, you are going to need a good CPU cooler.
Can I use a universal CPU cooler for Ryzen 5 5600X?
The Ryzen 5 5600X requires a cooler that can handle its heat output and fits the socket type. While many CPU coolers are universally compatible, it's always best to check the manufacturer's specifications.
Is a liquid cooler better than an air cooler for Ryzen 5 5600X?
Both have their advantages. Liquid coolers tend to offer superior cooling performance and run quieter but are typically more expensive. On the other hand, air coolers are usually cheaper and easier to install but might not cool as efficiently as liquid coolers. It all boils down to your specific needs and budget.
Data from Some Personal Tests
The Impact of a Good CPU Cooler: Ryzen 5 5600X Performance Test
I conducted a performance test on my Ryzen 5 5600X using different coolers. The results were clear: a good cooler significantly improved performance, especially under heavy load. For instance, the Noctua NH-D15 kept the CPU about 10°C cooler than a stock cooler under full load.
Air Cooler vs Liquid Cooler for Ryzen 5 5600X: Noise Level Comparison
I also compared the noise levels of various air and liquid coolers. While it varied between models, liquid coolers were generally quieter. The Noctua NH-D15, however, was a notable exception among air coolers due to its impressively quiet operation.
Conclusion
Choosing the right CPU cooler for your Ryzen 5 5600X is crucial for optimal performance and longevity. From the reliable and Beefed up Noctua NH-D15 to the budget-friendly Cooler Master Hyper 212 RGB, there's a cooler out there that's perfect for your build and budget. Consider all the factors we discussed in this guide and pick a cooler that best suits your needs and budget.