So you have read hundreds of reviews and watched more than 10 hours of videos on gaming monitor reviews and still can not decide which monitors are the best for your new 30 series (RTX 3080 and RTX 3090) graphic card from Nvidia.
These are some of the most powerful graphics cards right now that can put out serious graphical-compute numbers but choosing the right display to pair with the 3080 or 3090 cards will not only give you the absolute best possible experience and cause little to no bottleneck possible. This is very important as no one wants a bottleneck after spending that much money on a PC built with RTX 3080 or RTX 3090.
My main focus will be the gaming capabilities of the monitors because this is why most people are going to use these graphic cards anyways. Don't worry, content creators are also on my list, so my recommendation list is going to have a balance between both with a slight edge for gamers.
Here in this article, I am going to suggest to you what I think are the best monitors for these graphic cards. So, let's start my list:
LG 27GN750 – 240 Hz Budget Gaming Monitor for RTX 3090 in 2023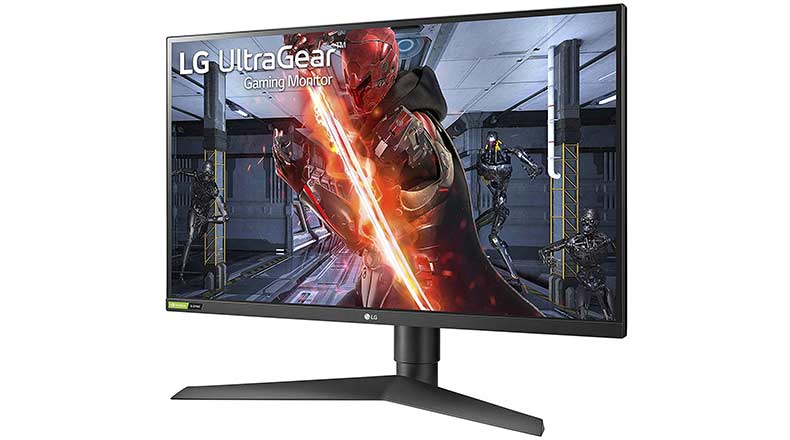 This monitor stays true to LG's ultra gaming lineup with its aggressive RGB back, triangular base, and slim three-sided bezel. This gaming monitor is only 1080p, which might seem obsolete in 2023, but it has a much higher refresh rate of 240 Hz.
This low resolution and high refresh rate panel makes this the most affordable and budget-friendly gaming monitor for high-end builds.
The stand on this monitor is pretty decent on medium to small heights but not the sturdiest. If you raise the monitor too high, the monitor is not stable and is prone to wobbles.
It also supports a 100mm x 100mm VESA mount, so you can use a third-party stand or even mount this to a monitor arm. This monitor has an IPS panel that has superb viewing angles along with excellent color reproduction. This monitor has a sustained brightness of 350 nits and a contrast of 1000:1. The backlight bleed is there but not something to worry about. I have seen some expensive monitors have a much worse backlight bleed, so I am not complaining.
It has all the ports, including two HDMI and one display port, and a USB 3.0 Hub for plugging in your keyboard/mouse dongles. This gaming monitor comes with all the necessary cables, including ones for HDMI, DisplayPort, and USB upstream cables. The settings on this monitor are controlled via a joystick, which I hate due to its reliability over longer periods, but LG claims that this joystick is a pretty reliable one. It is a question only time will answer.
This monitor is compatible with Nvidia's G-Sync technology which means its compatibility with RTX 30 series GPUs and the future generations of Nvidia GPUs, so you are going to get less smearing and blurry effects in high FPS games like PUBG, FarCry, and many alike.
Like many other gaming monitors, it also has a 1-ms low input lag, but this is achieved with pixel overdrive. The chroma/ghosting effect caused by pixel overdrive is less noticeable on this monitor.
Gaming on this monitor is just as crisp and sharp as any other high-end gaming monitor from Asus, LG, or Samsung. And the only downside is the resolution, but this is why this monitor is cheaper than other high-resolution monitors on the market.
In games, you are barely going to notice the resolution and more of the FPS, so this monitor makes up for that with its 240 Hz high refresh-rate panel.
Color accuracy is also great on this monitor, and LG claims that it is calibrated to 99% sRGB and 78% of Adobe RGB. You can easily do light to moderate photo/video editing on this monitor. But if content creation is the main focus, I would steer you toward something like BenQ, Asus, or Dell monitors. The only limitation will be the pixel real estate which will limit you to spread out your video timeline or other tools in your editing software of choice.
Overall, as a 240 Hz no bells and whistles gaming monitor, it performs excellently and delivers the absolute best, and crisp gaming experience at a very affordable price.
Samsung Odyssey G9 – 49 Inch Ultra-Wide Gaming Monitor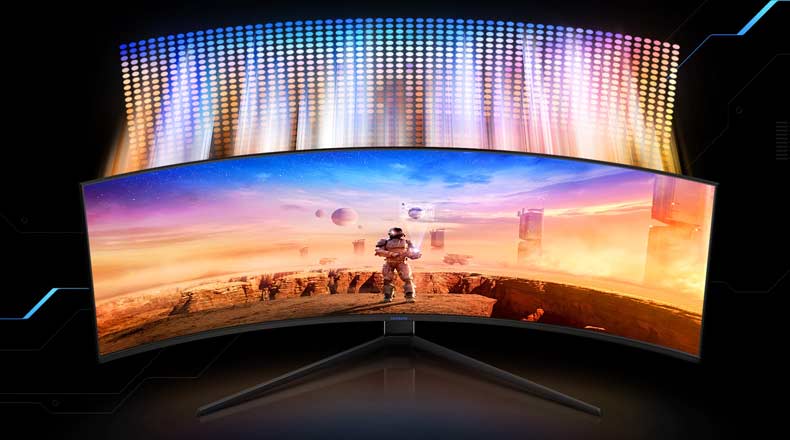 If you want an ultra-wide, most-baller gaming monitor for your RTX 3080 or RTX 3090 setup, there is nothing better than Samsung's Odyssey G9 49-inch 32:9 Gaming Monitor. It has a resolution of 5120 x 1440 with a variable refresh rate of 240 Hz. It uses QLED (or Quantum LED) for the backlight and has 10-zone local dimming. It not only enables the panel to have a high contrast ratio but also HDR-10 compatibility.
This gaming monitor uses a VA panel which is not only fast-refreshing but also highly color accurate. This makes it an all-in-one display that is not only suitable for gaming but also perfect for professional video/photo editing and production.
It has both HDMI 2.0 and DisplayPort 1.4 (with deep stream compression) and a built-in USB hub for connecting your wireless dongles to the keyboard and mouse. It also has a built-in headphone jack (for using HDMI audio), but I prefer to use a separate DAC and headphone amplifier or onboard audio. And it also has a sick-looking RGB ring that looks straight from a fighter jet or something.
It is a curved monitor with a much tighter 1000R curve. It is the same curve that human eyes use to look around without moving the head. It makes this monitor much more comfortable to game on or be productive. You have to sacrifice viewing angles (for others), and if you are not sitting in the dead center of this monitor, things are going to get a little distorted. Once you find a comfortable spot, it is hard to go back to an old-style, flat-looking monitor, ever.
Gaming on this monitor is a super immersive and rich experience. You get a much wider view of the scene. It not only gives you an unfair edge over other players in the game but with the 240 Hz high-refresh-rate display, you become a better gamer since you start to respond more quickly and get that shot or race to the finish line.
You can only fully utilize this monitor if you are using Nvidia's 20 series (or higher) graphic cards or something from the AMD GPU line that has been released in 2019 or newer.
1-ms fast response time on the Samsung's Odyssey G9 is achieved by overclocking the display. It means that you send more voltage to the display panel to shift colors and drive it at a much faster rate. This results in an overshoot of the voltage and ghosting on the screen. In short, on paper, it sounds amazing, but in the real world, it causes ghosting and chroma effects during games. It is annoying for me, but I have seen some people like the 1-ms response time.
When it comes to getting some work done and being productive, this monitor delivers what it promised. It produces highly accurate colors with a peak brightness of 1000 nits. But, that is only for HDR content. If you are working with SDR content, you will only get 300 nits of brightness. It has a DCI-P3 wide color gamut with 99% sRGB and 97% AdobeRGB coverage. This makes it perfect for highly accurate colorwork like photo and video editing.
The ultra-wide display gives you plenty of room to place all your Photoshop tools, histograms, and layers or have a complete view of the video timeline, video filters, pass-throughs, or plugins in Premiere Pro. This monitor gives you an edge in being productive, so you don't need to switch desktops/apps as often and focus on getting work done.
So, it is like having two 27-inch QHD monitors side by side, just without the bezel in between them.
In short, I think this monitor offers the best color, high refresh rate, and immersive gaming experience, or for watching ultra-wide movies, and it can most easily replace your multi-monitor setup for productivity. The only downside will be finding a wide-enough desk for it to sit on. Just remember, it is 49 inches of ultra-wide display goodness.
BenQ SW271 – 4K HDR IPS Monitor for Professionals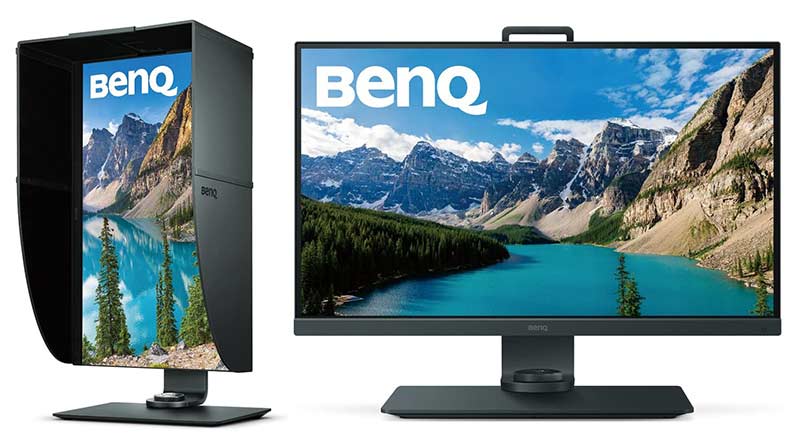 This 4K monitor does not have high refresh rates or an ultra-wide display, but it has a highly color-accurate IPS panel. It is targeted toward creative professionals.
This 4K monitor has a resolution of 3840 x 2160 and supports HDR 10-bit color. It has a brightness of 350 nits and a native contrast of 1000:1. It comes with a shading hood which helps to reduce glare in bright environments like studios or outdoors.
It also has a VESA mount for mounting it to a monitor arm or a wall mount. The included stand is very ergonomic and has height, tilt, and pivot adjustments.
Talking about picture modes, this monitor has them all, including the B&W and Gamut Duo modes. It also has three preset color temperature settings: 5000K, 6500K, and 9300K, and you can even adjust the color temperature to the precise kelvins that you want for your workspace.
This monitor is calibrated with 99% Adobe RGB, 100% sRGB, Calman Verified, and Pantone Validated. It means you should have confidence in the colors that this monitor reproduces and edit your photos without distortion or weird color rendering effects.
Furthermore, each monitor comes with a factory color calibration certificate, and you can recalibrate the monitor with an external calibrator like Spyder 5 Pro at any time that you want.
The cool thing that I like about this monitor is the Hotkey Puck it comes with. It is just like a wired remote control for all the settings of the monitor. This makes it very easy to adjust the settings, input sources, or color profiles without reaching under or behind the monitor. You can also use the buttons on the bottom of the monitor to change the settings.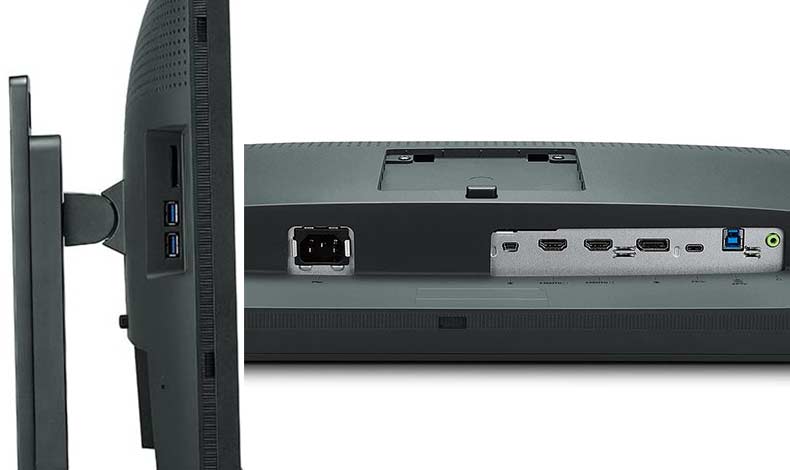 Connectivity on this color-accurate monitor is not a problem either as it has two HDMI 2.0 ports, one DisplayPort 1.4 port, a USB 3.0 Hub, Audio, and a USB-C display/data port for a one-cable clean setup. It also has an SD card reader directly built in, which interfaces with a USB 3.0 upstream cable or USB-C, and it is a fast one.
My only complaint is about the ergonomics of the SD card reader, which makes it a little finicky to use. The power supply is built-in, so no need for a separate 12v or 24v power brick.
The picture quality is excellent on this display, and everything looks sharp and crisp on this panel with a PPI of 163. I have yet to see a more color-accurate monitor in this price range for professional photography and video work. The blacks are very-deep (not like an OLED panel), and I enjoyed using this monitor. The text looks crisp, and the images look extremely realistic.
In short, this monitor gives the best value for money when it comes to highly color-accurate photo/video work or CAD modeling. There are a lot of pixels, and this makes it an excellent choice for complex workflows. And the real hardware-level calibration support makes it a hard-to-beat choice for monitors in this price range.
Alienware AW2721D – High Refresh Rate 240Hz Gaming Monitor for 3090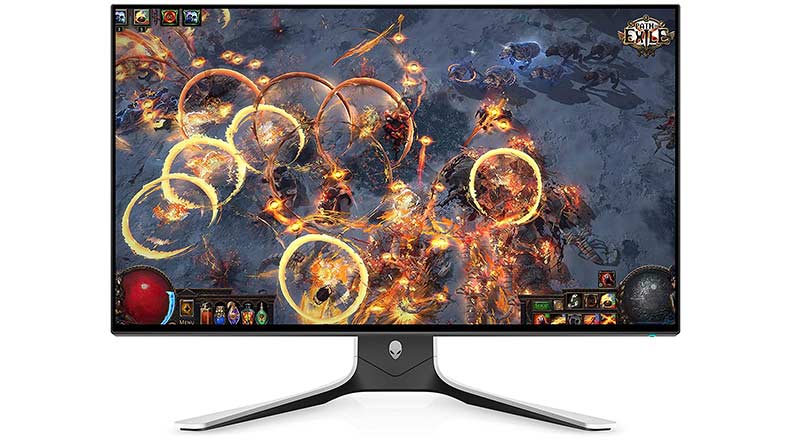 This is the newest high-end gaming monitor from Alienware with a resolution of 2160 x 1440 and a peak brightness of 750 nits. The stand on this monitor is very beefy and sturdy. And there is no play or wobble of any sort. The whole thing is built like a tank and is much larger than other 27-inch monitors on the market.
It has a wide range of high adjustability, swivel, tilt, and pivot capabilities. The stand also has an RGB accent light, and the overall white and black build gives the monitor a very modern and sleek look. Overall, this monitor resembles something from sci-fi movies, like Star Wars and Tron.
This gaming monitor has two HDMI 2.0 ports and a single DisplayPort 1.4. There is also a USB 3.0 pass-through, and you can plug in the wireless dongles for your keyboard or mouse. All of the cables can be routed through the stand, and the white magnetic port cover is going to hide the cables and give your set-up a clean look.
The monitor settings are controlled by a joystick in the bottom right corner. It has a decent set of features, including different color profiles, adaptive sync control, and variable refresh rate options.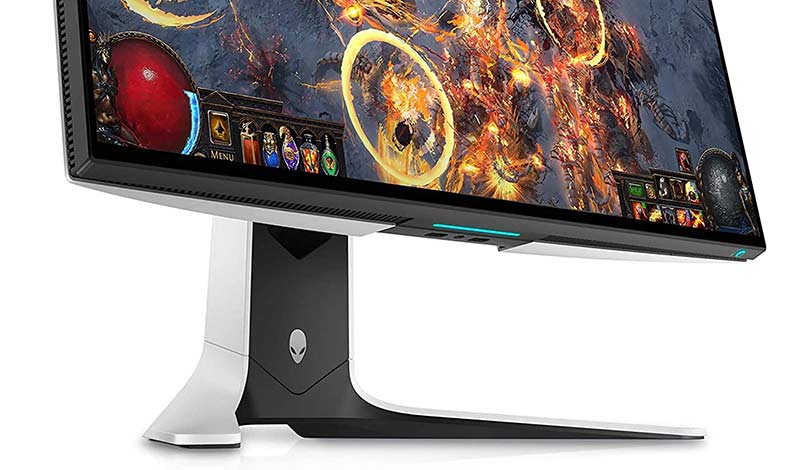 Aside from the specs, this gaming monitor is not as bright as LG 27GN950. But you are going to notice it if you are in an extremely bright room or if you compare these two monitors side-by-side. This monitor uses the latest, high-end LG IPS panel, so the performance is going to be as good as the latest, more expensive monitors from LG. This gaming monitor is HDR 600 certified and has support for G-Sync Ultimate.
It offers 98% of DCI P3 wide color gamut and 10-bit color reproduction. It not only makes this monitor an excellent choice for gaming but also for content creation.
The picture quality of this monitor is crisp and sharp. And games look stunning on this 27-inch QHD, high refresh rate panel. There is a little bit of ghosting at the super-fast setting of this monitor that can be avoided by switching to the "fast setting" of the refresh rate.
This ghosting is due to the overshoot caused by pixel overdrive. This is not the issue with the panel itself but rather the aggressive pixel drive method that Alienware is using for this gaming monitor. On the fast setting, there is no (noticeable) ghosting at all and the fast action looks smooth on the display.
For color-sensitive work, this monitor performs excellent (but with an *) with its 10-bit IPS panel that is calibrated to 97% Adobe RGB. It has HDR 600, wide 96% coverage P3 color space, and a decent resolution of 2160 by 1440.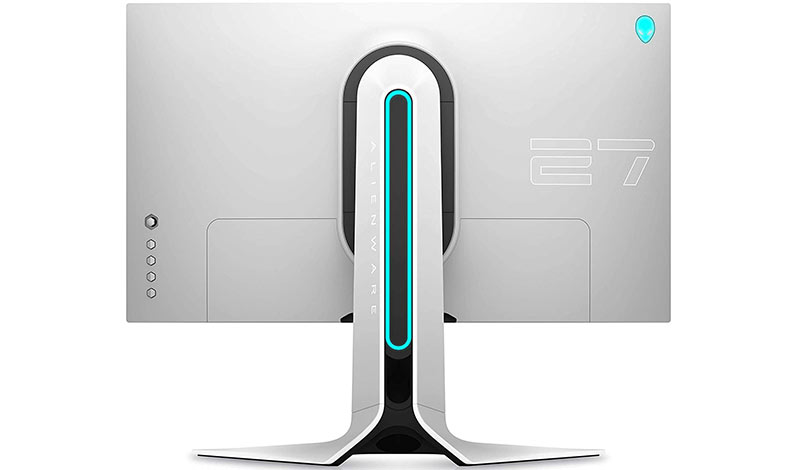 In short, Alienware has made a display that can be used for gaming as well as content creation and productivity. It has a nice and sturdy build quality, great viewing angles, and a 240 Hz display for super-smooth action games. And it doesn't look boring with its white-back design.
AOC CU34G2X – 34 Inch 2k, 144Hz Ultrawide Monitor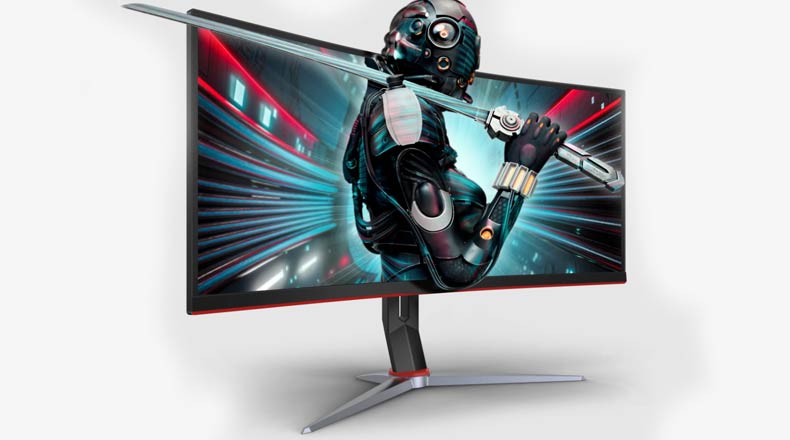 When it comes to desktop monitors and displays, AOC is a well-known brand that makes excellent-performance gaming monitors. This ultra-wide monitor is no different and an excellent choice for gamers to pair up with their RTX 3080 or RTX 3090-based gaming rigs.
The monitor features a three-sided slim bezel design and a 1500R curve. This curve is not as tight as Samsung's Odyssey G9 but is still very noticeable and comfortable to use. Especially, if you are coming from the traditional flat-screen monitor.
The stand on this monitor is made out of plastic but it doesn't feel cheap. It wobbles a little at the maximum height, but that is expected because of the high center of gravity. At low to medium height, the monitor does not wobble and feels very sturdy and secure on the stand. This monitor has a VESA mount, so you can use any VESA-compatible monitor arm, monitor stand, or even a wall mount.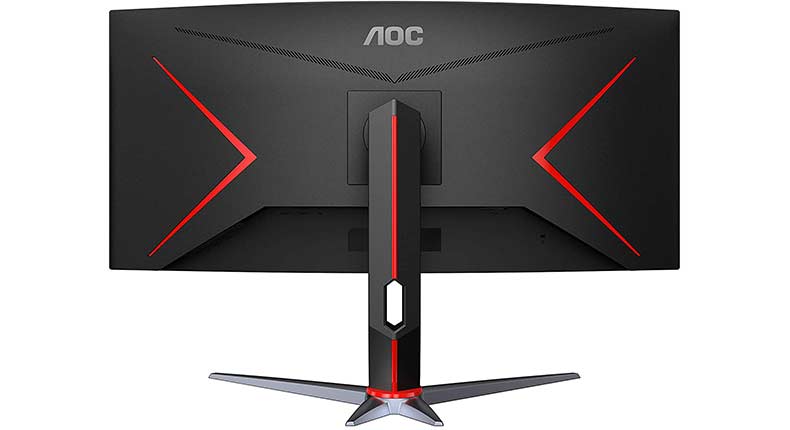 It has a resolution of 3440 x 1440 pixels and a refresh rate of 144 Hz. It has two Display Port 1.4 ports, two HDMI 2.0 ports, and a 4-port USB 3.0 hub with two upstream connections to your computer.
It uses a VA panel, which is known for its deep blacks and high contrast picture quality, and excellent refresh rates. This display panel has 250 nits of sustained brightness and 300 nits of peak brightness. It's not a dim display, but it is not suited for brightly lit rooms or in a room with a lot of windows either. You are not only going to get a lot of glare, and the picture quality is going to suffer a little too. Overall it is a decently bright display for most situations.
The gaming experience on this monitor is very immersive, with sharp details and a high refresh rate of 144 Hz. There is very little to no ghosting or tearing, thanks to the AMD FreeSync Premium and G-Sync compatibility.
AOC's pixel overdrive is not overdone and controlled in a way that very little ghosting or chroma distortion happens on fast-moving objects.
For content creation, this monitor is calibrated for 115% sRGB and 98% Adobe RGB. It does not support a 10-bit P3 wide color gamut. It is still a decent spec for any monitor, and you can use it to do light to medium photo/video editing work. If you are going to create HDR content, you are out of luck with this monitor. Other than content creation, content consumption is an excellent experience too. Watching ultra-wide movies, like John Wick or Transformers is an unmatched experience.
The built-in speakers in this monitor are just fine, with nothing to brag about. I would suggest you use headphones or dedicated desktop speakers with your setup.
Overall, this ultra-wide monitor has a 144 Hz refresh rate, 3440 x 1440 resolution, excellent color reproduction, and is not super expensive. It makes it a great deal for anyone looking to join the curved, ultra-wide monitor club.
Now that we are done with the monitors I recommend for these GPUs, let's talk about common questions which are important for choosing a good monitor according to your needs.
What is pixel overdrive?
Pixel overdrive is just like overclocking your RAM, CPU, or GPU. You supply more voltage to the panel than its rated voltage to drive the display. This results in faster switching of pixels, and the image on the display changes faster than usual.
This technology (or trick) is used in almost all monitors that advertise a 1-ms response time. This overdrive can sometimes cause chroma distortion or shadow of moving objects on the screen. It is because when you overdrive (send more voltage) pixels at a much faster rate (like 144 or 240 Hz), voltage overshoots and results in a slight shift of color.
This overshoot can not be avoided with the current technology used in driving these displays, but it is possible in the future as the technology advances and becomes more mature.
Can I use a gaming monitor for photo and video editing?
Long gone are the days when only TN panels had higher refresh rates. Technology has advanced over the years, and now manufacturers can produce high refresh rate IPS panels that are more affordable than ever.
Yes, you can use a gaming monitor for video and photo editing as long as the display panel is calibrated to 99% (or so) sRGB and 97% Adobe RGB. You must always do your research about the specific monitor you are planning to buy of course and see what color spaces it supports, and how accurately is it calibrated from the factory.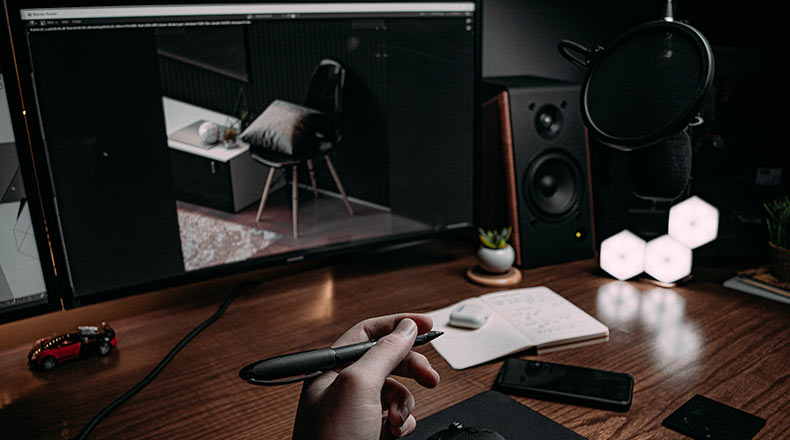 If your main focus is content creation and production, then you should go for a dedicated video/photo monitor. These are highly color-accurate and must support all the color spaces needed for your workflow. You should also consider investing in a screen calibrator like this Spyder 5 Pro or a SpyderX Pro from Datacolor.
Is the difference from 60 to 144 to 240 Hz noticeable?
Yes, the difference is noticeable even to an untrained eye. Our eyes are capable of refreshing at a much higher rate than 30 to 60 Hz. Some studies disregard this theory, but other studies support it.
In short, science has not decided on it yet, and there are no final scientific results.
In the real world, you are going to notice a big difference between 60 Hz, 144 Hz, or even 240 Hz. If you play first-person shooters, you will immediately notice that your response time has increased, and you can aim better.
With higher refresh rate monitors, everything seems fast, even dragging windows across your display or moving a cursor seems faster than normal. Safe to say if you invest in a color-accurate monitor with a high refresh rate like 144hz, you are going to benefit from that high refresh rate screen in your professional workflow and will definitely see the difference. And once you go high FPS, it is difficult to switch back to 60 Hz.
Conclusion
I have mentioned the best monitors (both for gaming and content creation), which are available for and fully supported by Nvidia's RTX 3080 and RTX 3090 GPUs. These monitors can take full advantage of your GPUs and are (probably) going to last you at least the next two to three generations of GPUs.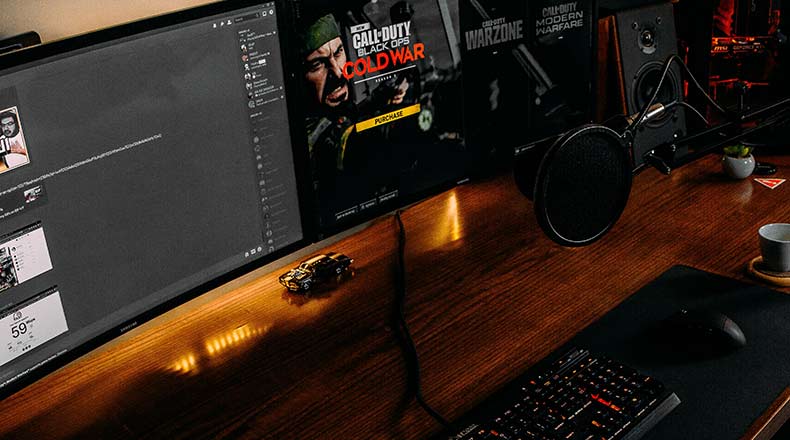 If you are on a budget and want the absolute maximum frame rates, LG27GN750 is a great 27-inch 1080p monitor that offers a 240 Hz refresh rate. It has great build quality, an adjustable stand, and excellent picture quality, coming at 99 percent sRGB.
If you think 1080p is the resolution of the past and you need highly accurate Adobe RGB color space, meet LG 27GN950. This monitor not only has a 240Hz refresh rate but also a wide 10-bit P3 color gamut. And is calibrated to 99% sRGB and 97% Adobe RGB. It also has HDR 600 certification and a peak brightness of 600 nits. This makes it an excellent choice for gaming and content creation. The 4K resolution gives you enough room on the screen to work.
If you want an absolute-baller gaming monitor for your GTX 3080 or 3090, that is ultra-wide and has excellent color reproduction, Samsung has you covered. Their Odyssey G9 is an excellent curved gaming monitor that is super ultra-wide.
This monitor is designed to replace three separate monitors from your desk. It offers a 240 Hz refresh rate with a resolution of 5120 x 1440. The total pixel count is less than 4k, but it is like using two QHD monitors side by side without any bezels. You get an absolute-immersive gaming experience that is both crisp and sharp.
The color reproduction capabilities of this monitor are also the absolute best with 99% sRGB, and 97% Adobe RGB, and support DCI P3 wide color gamut. This makes it excellent for video and photo editing alongside its superb gaming capabilities. Just make sure you have enough horsepower in your system that can drive this pixel-hungry display at 240 Hz.
If you want a curved ultra-wide gaming monitor that is not as expensive as a G9 (because you spent all your budget on building that sick new gaming rig), AOC has an excellent option that just does that. CU34G2X is a 34-inch curved monitor with a 144 Hz refresh rate. Not as fast as G9 but not as expensive either.
Display brightness peaks at around 300 nits, and it is not HDR-compatible. The biggest complaint is about the build quality of the stand. But since this monitor has just a standard VESA mount, you can use any third-party VESA adapter and stand with this monitor. They are not that expensive, and there are many options under $50 on Amazon.
If you think I have missed something or there is a great monitor that I must include in this list, drop a comment.