Choosing RAM in your PC build is one of the most crucial decisions, after a motherboard and processor, and like any other component in your PC, it also needs to be carefully paired with your CPU (and motherboard as well) to give you the best possible performance without any bottlenecks. Deciding on a RAM module for AMD Ryzen 5900X or 5950X can be pretty tough. There are lots of manufacturers, and they all claim their product is going to turn your PC into a supercomputer.
But are those sick-looking graphics and sci-fi-like marketing ads telling the truth?
I am here to debunk all the marketing fluff and tell you which RAM kit is worth spending your money on. I have done my homework (this working from home thing is real) and tested each memory kit. Let's start.
G. Skill Trident Z Neo Series 32GB 3600 MHz DDR4 C16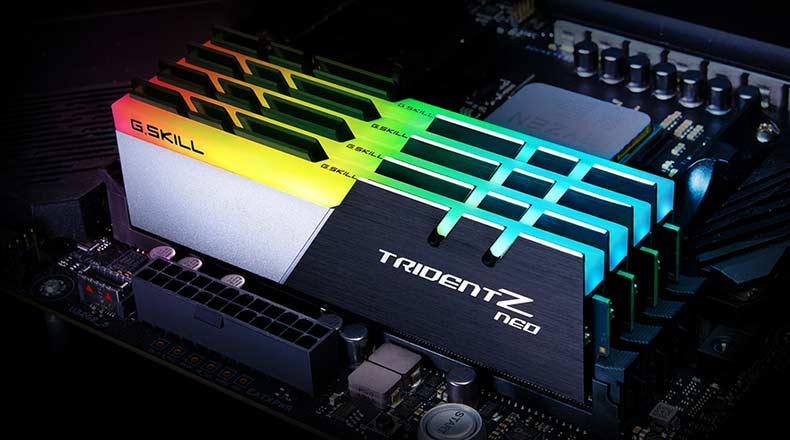 Trident Z Neo Series from G. Skill is specifically designed for AMD Ryzen CPUs, and this 32 GB kit is a perfect match for your 5900X or 5950X. It has a two-tone design with dark black brushed aluminum and powder-coated steel finish. Which makes it look cool even if you turn off the RGB lights on this RAM. And speaking of the RGB, the software used to control RGB is customizable, so you can tweak all the settings you want and make this RAM match your lightning setup.
This 32 GB C16 RAM kit is running at 3600 MHz and utilizes full Ryzen 5900X and 5950X bandwidth with its 288 pin connector. It utilizes Hynix D-die memory chips for reliability and performance. This RAM is rated at CL16 for CAS at 1.35 volts, but you can overclock this RAM and get more speed and lower latency out of it. I have tried overclocking it and got it to work stable at 3800 MHz.
The heat spreader on this RAM not only looks cool but does a pretty excellent job of keeping the RAM cool and keep its performance up under heavy workloads or gaming.
Overall, this 32GB DDR4 kit costs 32 cents over $114 and my most favorite RAM kit ever. It not only looks good with two-tone metal heat-spreaders, and RGB lighting, but also performs a lot better than most of its competition, some of which costs double its price.
And if you only want a 32GB RAM kit with maximum performance, this quad channel 32GB C14 kit from G. Skill is going to put a bullet through your wallet, but at the same time will fully take advantage of all the memory lanes, and you won't even need to overclock it to get the maximum performance out of your system.
Corsair Vengeance LPX 16GB 3200 MHz DDR4 C16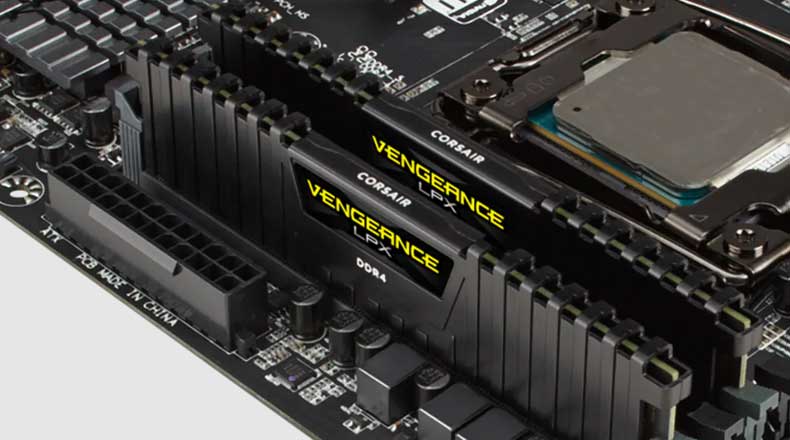 Corsair is a well-known brand when it comes to computer components and accessories, and their Vengeance LPX series of RAM modules are no different. This RAM kit is my go-to choice for my PCs and as well as recommending to others.
I call it a bullet-proof, get-me-out-of-jail RAM. It has beefy aluminum heat-spreaders, a durable build (I have thrown this around, and it still works), and a stealthy low-profile design, so it should not have any problem with most large air-coolers. You should still check RAM clearance if you are using a low-profile air cooler.
It is widely compatible with AMD and INTEL 64 bit CPUs, including the latest 5900X and 5950X. You will need to enable XMP in-memory settings of your BIOS to take full advantage of the 3200 MHz clock speed of this RAM module.
If black is not your style, you can choose between red, blue, or white to match your PC aesthetics. For just $85 this DDR4 RAM module is the one you can count on every time. I have had this RAM kit for a long time now, overclocked the heck out of it, and it just works every time.
Corsair Vengeance RGB PRO 16GB DDR4 3200 MHz C16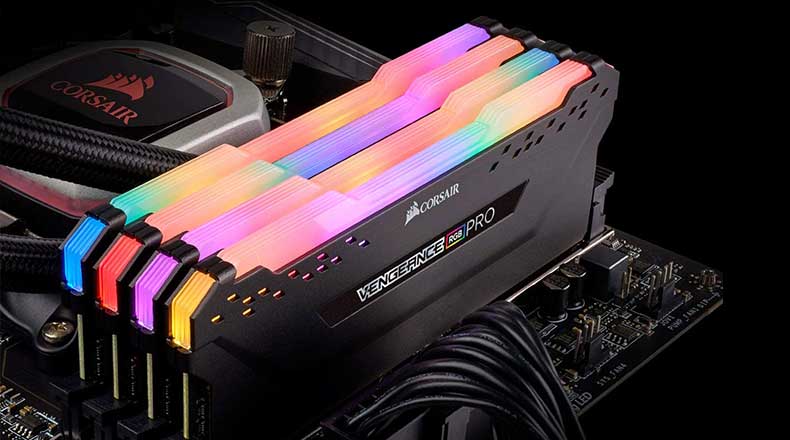 It is the second RAM module from Corsair on my recommendation list. Why? Because Corsair makes some pretty reliable computer hardware, and these RAM modules are no different. This specific one is a 16GB DDR kit clocked at 3200MHz.
I bought two of these kits that are used for a total of 32 GB DDR4 memory, and it has been going strong on my PC without any hiccups. I recently upgraded to Ryzen 5950X, and I can confirm that this RAM pairs perfectly with my system. At first, this RAM was set to 2133 MHz, but as soon I enabled XMP, it came back to 3200 MHz of its advertised frequency. I have not had any heating issues with this RAM, even in small form-factor builds that I have done.
Unlike some other RAM modules, you do not need to connect any extra wires for the RGB lights, and they can be controlled with Corsair's Cue software. This lighting system is also compatible with MSI's Mystic Light Sync, Gigabyte's RGB Fusion, and Asus's Aura Sync.
For $100 (or sometimes even less on Amazon), this 16GB RAM kit is an excellent value for money. And it is perfectly compatible and stable with new Ryzen 9 series CPUs. You can overclock this pretty easily, and there are a lot of guides floating around the internet for this specific RAM kit from Corsair.
I have nothing to complain about other than their RGB control software which doesn't work sometimes. But the RAM kit is flawless, and you can use your motherboards lightning software to control the RGB stuff of this RAM.
TEAMGROUP T-Force Vulcan TUF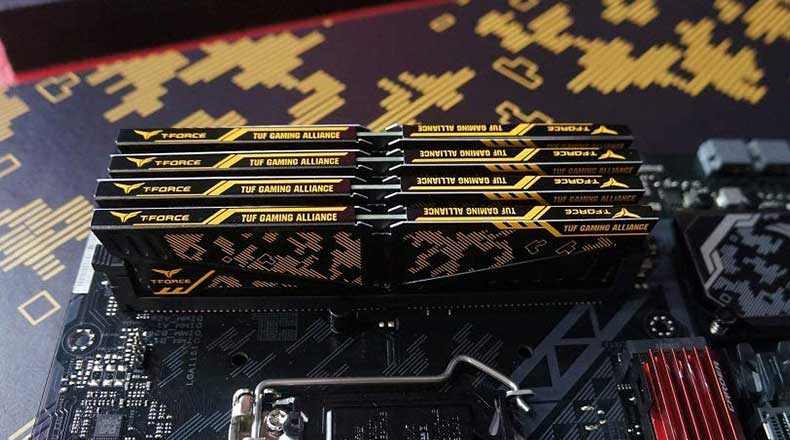 You may not have heard about this computer parts company, but TEAMGROUP is a reliable company which produces awesome looking and solidly working computer parts. This 16GB DDR4 RAM kit is no different.
It is a 3200 MHz kit (which you can overclock) which not only looks good but performs excellently. It has nearly 5,000 5-star reviews on Amazon. This RAM kit features an asymmetric aluminum forged heat spreader, which not only looks cool but also helps to dissipate heat more effectively.
It also has a low voltage mode and supports XMP 2.0 for high-performance memory profiles. I was able to get the timings lower down to 14-14-14-30 at 1.35 volts rather than the advertised 16-18-18-38. I did run around 30 successful rounds of MemTest86, including some other RAM tests, (like Karhu's RAM test) to check the complete stability of the memory (before adding it to my recommendation list) and it showed no errors.
So, I will consider this an improvement over the stock advertised speeds.
In the end, if you want a RAM kit that is low-profile, moderately overclockable, and fits with most big air coolers, TEAMGROUP has done a fantastic job here. It is available in three colors, but I like the yellow camouflage one more. I would strongly suggest considering this when buying a RAM kit for your Ryzen 9 series 5900X or 5950X. And did I mention it has a "lifetime warranty" on it?
HyperX Fury 16GB CL15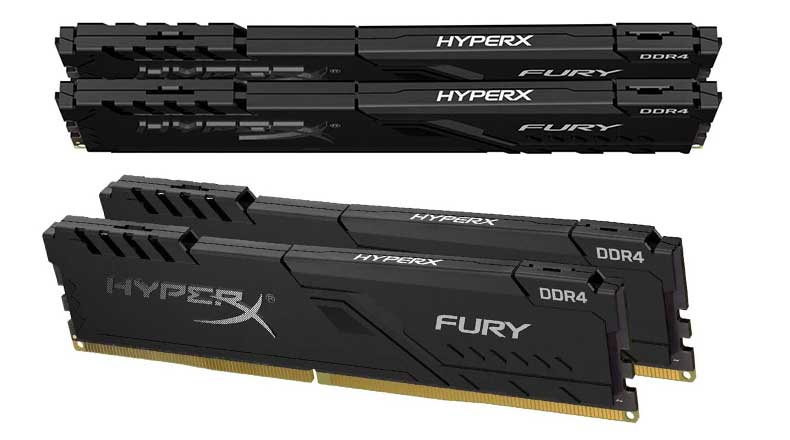 This 16GB memory kit from HyperX features an updated low-profile heatsink design and a matte black, stealth-looking finish.
This RAM is RGB so if you are a fan of rainbow, get excited. It's subtle and not so bright, which I think is a good thing as it makes my PC look more sleek, elegant, and professional. My only gripe about RGB is that the color-changing modes are a bit choppy, in my opinion. It's like 30 FPS and not 60 FPS. I don't care much about this, but you might do.
I have tested this RAM with Gigabyte GA-A320M-52H and MSI B450 motherboards, and it works flawlessly. You just need to switch on XMP for memory in your motherboard if you are not getting the advertised 3200 memory speeds.
I have overclocked this memory in Gigabyte, but it seemed unstable for me as I was getting the blue screen of death quite often. But overclocking this RAM kit in MSI B450 was the opposite story, and I got excellent performance and stability. MemTest86 was able to complete 30 tests without any problem, and I got around 3600 MHz of clock-speed out of this.
So for Around $120, this RAM is not cheap at all but not expensive either. It fits somewhere around a decent budget build, and I am not complaining about it in many regards.
Kingston advertises its plug and play, but you are only going to get slower 2400 MHz (or similar) clock speed out of it until you turn on XMP. In short: it's affordable, sleek, fast, and reliable. What else do you want?
HyperX Predator Black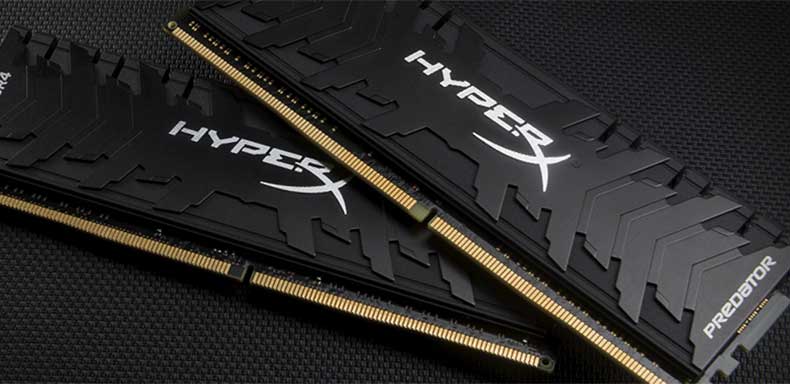 This RAM kit is my second recommendation from HyperX. Why? Simply because it is one of the best RAM for 5950X, and I am not alone, there are thousands of other people who have the same to say about this memory kit.
This 16GB 3200 MHz kit looks like a tiny city with skyscrapers if you look from sideways. And looks like a Minecraft thing when looking from the top.
And it is RGB. So yes, you can make your PC look like it's puking rainbows. But the rainbows are still choppy. I think this has to do with clearly the software and hardware compatibility thing. Because it runs fine on ASUS's motherboard with Aura lighting software. The RGB straight-out fails to work on some MSI motherboards. I think Kingston still needs some time and hardware revisions to fix their RGB stuff.
This RAM is designed for Intel CPUs, but I have tested it with the new AMD Ryzen 5900X and 5950X, and it is fully stable and performs excellent with these Ryzen CPUs.
This RAM uses Hynix CJR C-Die modules which are known for their excellent overclocking performance. So I did exactly that. I overclocked this memory to around 3700 MHz and ran MemTest86 as a joke. Guess what? This RAM performed excellently and did not give out any error (which I was expecting).
The system was very stable at 3700 MHz, and thanks to the large aluminum heatsink, and the excellent memory chips from Hynix. These chips are really on the level of Samsung B-Die chips, which do not skip a bit and are known for their stability.
In the price range of 110 dollars, it is a robust RAM kit that is built for overclocking, thanks to those Hynix CJR C-Die chips. The RGB is the only thing that might put you off when buying this kit, but I don't think it is a major deal-breaker as the performance of this RAM kit is a great deal in itself.
What are C16, C14, C18, or 16-19-19-39 numbers? Do they matter?
C rating of a memory which is often labeled as CL16, C16, or 16-19-19-39 is referred to as the memory timings of a DRAM module. It is a factor that determines the latency or delay of how quickly the memory chips can be accessed and the data starts flying around.
The first number (which is 16 in our example) is called CAS or Column Address Strobe which is the time in nanoseconds a RAM module will need to start responding to your request. Lower is better, but how much? Not much noticeable at all… If at all, it will be a 2 to 3 nanoseconds difference.
The second number is tRCD or Row Address To Column Address Delay. This number tells about the small delay in nanoseconds in which the data can be accessed in the internal matrix of RAM.
The third number is the tRP or Row Pre-charge time, which is 16 in our example, which tells about the latency involved in opening a new row.
And the last one is tRAS or Row Active Time which is the minimum number of cycles (or clock speed) a row has to be open for the data to be accessed successfully.
But does this all matter? It depends on what kind of workload you are going to put on your system or what type of user you are. For most average users, like 95% of all, you won't even notice a difference. And the remaining 5% who like to race in benchmarks may find a little edge when choosing these numbers.
In my opinion, these numbers don't matter as much as the actual clock speed or frequency of a RAM module, which is measured in MHz. And you can change these numbers by yourself (if your motherboard supports overclocking) and fine-tune the RAM modules to your liking.
What RAM is compatible with my system?
For RAM (or any other component in your system), the motherboard is going to dictate compatibility. All motherboard manufacturers have a QVL or Qualified Vendor List available on their websites. It tells us about what is compatible with this motherboard and what doesn't work or if you need to update your BIOS to make stuff work.
Also, there is a chance that the RAM you want to buy is compatible with your (few years) old motherboards, but the manufacturer has forgotten to update their QVL. You can try googling about it with keywords like "compatible" "bios update" along with RAM model and motherboard model.
When checking for compatibility, you will also need to account for CPU air coolers to see if the RAM height is going to be a problem or not. Generally, taller rams with big air coolers do not play nice together.
The best solution is to go liquid cooling, and if designing your water loop is something that seems a lot of work, then you can always opt-in for an AIO water cooler like this one on Amazon. (Idhr link dal dena apni pasand k aio water cooler ka)
So in this regard, your mileage is going to vary a lot. Here is a little compatibility hack that will make your life a lot easier when building your PC: Pick your CPU and RAM first and then decide what motherboard you want for your system.
I am not getting the advertised speed of RAM I just bought. What should I do?
Sometimes when you first install your RAM in your system, it defaults to the lowest frequency possible (something around 2200 MHz). It is done to prevent boot issues or other components/hardware from getting damaged. You will need to go to your BIOS settings and change the memory profile to XMP. This option will vary from motherboard to motherboard, but generally, it is under memory settings denoted as A-XMP. You will see a huge performance boost as your RAM will switch from 2200 MHz to 3600 MHz, or whatever the fastest speed your CPU supports under your current configuration. Forums like Reddit are a great resource here as these things are not mentioned by vendors/manufacturers.
I don't like RGB, Can I turn it off?
I don't know if you already know this or not, but RGB makes computers fast by nearly 1000x. Which is a fact.
And if you want to turn off RGB, you can do that by using the control software from the manufacturer, or by using the control software of your motherboard. Or you can change it to a more executive color, like white. Or dim the brightness. It all depends on you and what you want your computer to look like. Have fun customizing it or turning it off.
Conclusion
I hope I have helped you out in deciding to choose the RAM for your new Ryzen 5900X or 5950X based system.
I would suggest you buy the G. Skill Trident Z memory kit if you are looking straight for gaming and want the highest FPS. It is a great, overclock-able choice, and has RGB. So, it will match your gaming aesthetics. If you are on a tight budget, HyperX Fury has some decent options, and their Predator Black is by far the cheapest, overclock-able choice that stays stable (when overclocked) under heavy loads.
If your main focus is creativity and productivity for the most part, and casual gaming, Corsair has some decent RAM kits to offer. Both Vengeance RGB and LPX are excellent options while staying on budget. TEAMGROUP is also something to keep an eye out for if it is available at a discount as I have seen it as low as $57 for a 16GB kit. That is a steal for that price.
Compatibility is a big thing which you should always look at before making your decision. Of-course, CPU compatibility is just one-third of the story when it comes to choosing the RAM for your build. You will also need to check the RAM compatibility with your motherboard and CPU cooler. A great way to check compatibility with your motherboard is to refer to the QVL list on the motherboard manufacturer's website.
High-profile RAMs with Large heatsinks are not going to work with large-sized air coolers. But they are going to be fine with water cooling.
I would suggest you look for AIO water coolers. They have gotten pretty cheap, and there are some excellent options available from Corsair. You definitely should check them out as they cost just about an air cooler but are more silent and improve the overall thermal performance of your system. Because now the hot air from the CPU is not going to get blown on other compartments.