As with most Apple products, the real fun begins when you start accessorizing the Apple AirTag. And trust me, I've tried a plethora of AirTag accessories, from the luxurious to the rugged, and from the quirky to the downright practical. Let's dive into the world of the best Apple AirTag accessories.
We are going to start with talking about some fairly basic and most useful accessories first.
Table of Contents
Belkin Secure Holder with a keyring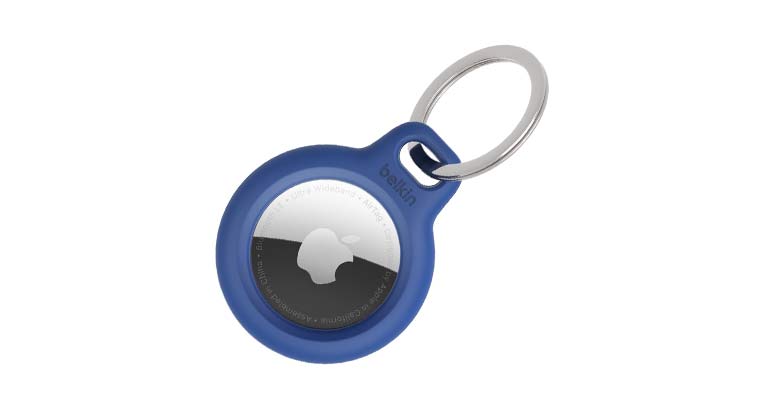 The Belkin Secure Holder for Apple AirTag seamlessly combines simplicity with essential functionality. Its design is intuitive, ensuring that the AirTag is cradled securely, providing a sense of reliability. The twist-and-lock closure is impressive, offering an added layer of protection that makes sure the AirTag doesn't just fall out of the holder, giving me peace of mind.
However, while it manages everyday challenges without any hiccups, its durability in more extreme conditions seems slightly questionable. Despite this minor drawback, the Belkin Secure Holder stands out as a practical and stylish accessory for safeguarding your AirTag in everyday life.
Spigen AirTag Case Valentinus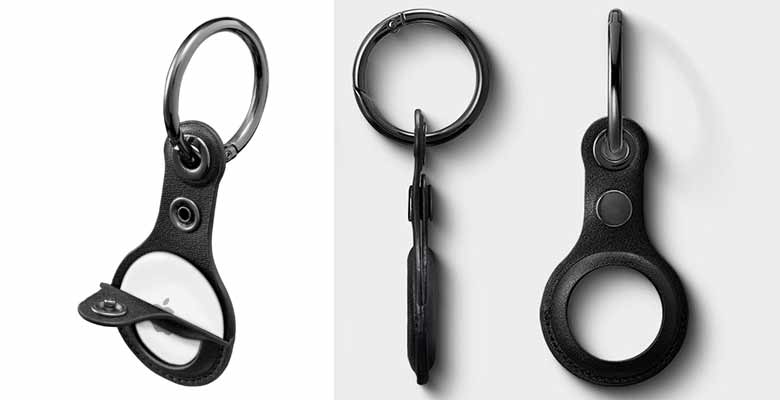 Spigen's AirTag Case Valentinus exudes a sense of refined elegance that complements the Apple AirTag's sleek design. In my experience, it not only serves as a protective cover but also as a stylish accessory that enhances the overall appeal of the AirTag. Crafted with precision, the Valentinus case offers a snug fit, ensuring that the AirTag is securely housed.
For people who want something a little more in terms of a sense of style or luxurious feel in terms of materials. The Vegan leather exterior provides a luxurious feel, adding a dash of class. However, while the leather adds a touch of sophistication, it demands care and maintenance to preserve its refined appearance. Despite this, the case stands as a testament to Spigen's commitment to quality and style.
Best Keychain Holders for Apple AirTag
Marrying your keys with your AirTag? Genius. Especially for someone who's lost their keys in their own home (guilty as charged).
Elago Basic AirTag holder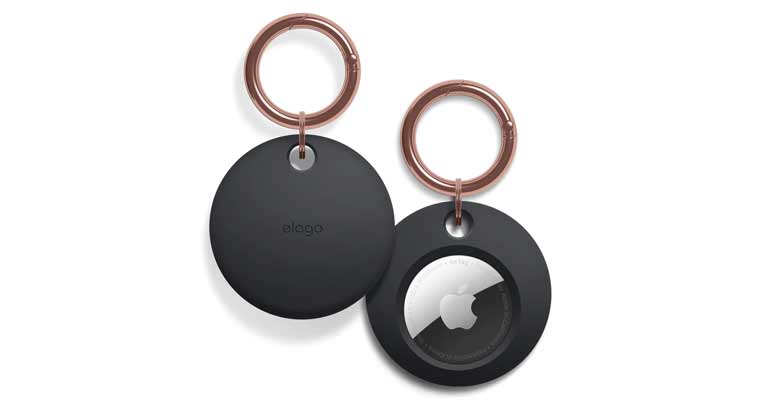 The Elago Basic AirTag Holder emerges as a practical choice for those seeking functionality at an affordable price point. Its simplistic design aligns well with the AirTag, ensuring a snug fit and adequate protection against daily mishaps. In use, the holder feels durable, providing a sense of reliability without any unnecessary bulk.
However, it doesn't quite match the luxurious feel of some of its pricier counterparts, like the Spigen Valentinus or Nomad's leather Airtag keychain holder. Despite this, considering its cost-effectiveness and the protection it offers, the Elago Basic Holder stands out as a value-for-money accessory for carrying your AirTag in your keychain.
Nomad Leather Keychain holder for AirTag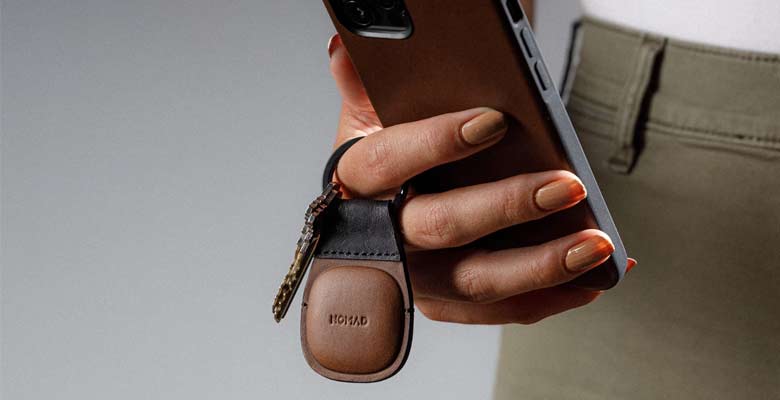 The Nomad Leather Keychain for AirTag effortlessly marries luxury with practicality. Crafted from genuine Horween leather, it feels strong and safe for holding the AirTag. The Nomad AirTag holder hides the AirTag completely inside but doesn't affect the Bluetooth signals of the airtag. Using it feels fancy and looks good with my keys But, it costs more than other holders like the Elago Basic Holder.
Even though it costs more, to me it feels worth it because it is made of high-quality leather and has a sleek design. It's not just about keeping the AirTag safely attached to my keyring, but also about having something that looks great. If you don't mind paying a bit more for something really nice, this could be a good choice.
Moshi Airtag Keyring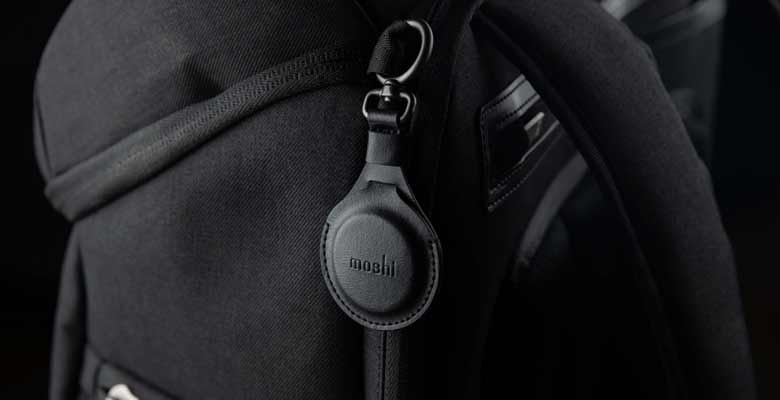 Moshi's AirTag Keyring is another Leather AirTag holder to attach to your keyring that's easy to use and pretty durable. It holds the AirTag tightly, so you don't have to worry about it falling out. I had no difficulties attaching it to my keys, and it feels secure. It's not too expensive, and the quality feels good for its price. One thing that's not so great is that it might get scratched over time, especially if you put your keys in your pocket a lot.
And while it may get scratched, it is made of vegan leather instead of natural leather like Nomad's AirTag holder is made of, so the scratches will act differently and it won't develop a patina as nice age as gracefully as a real leather Accessory. Compared to others like the Nomad Leather Keychain, it's simpler and more about being practical than looking fancy, not that it doesn't look good. It does the job well without costing any more than Nomad's AirTag holder.
Best AirTag wallets
I can't count the number of times I've misplaced my wallet, mostly at home. But a wallet with an AirTag compartment solves the problem for me.
Typecase Slim Leather AirTag Wallet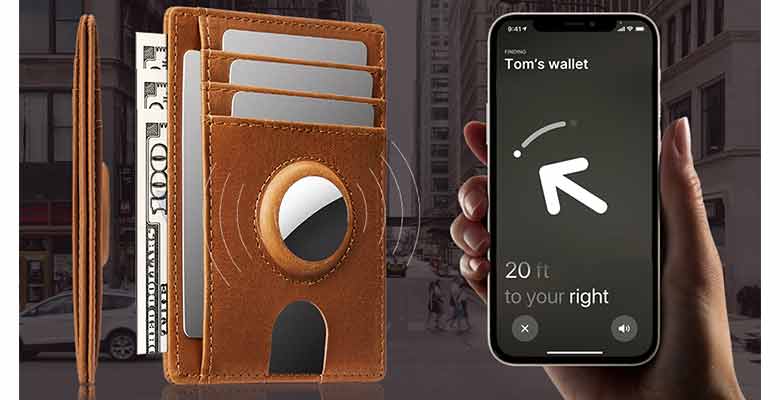 The Typecase Slim Leather AirTag Wallet is quite useful and stylish, it is more of a cardholder for the most part to be honest. The main feature is that It has a special compartment for an AirTag, which is great for keeping track of your wallet. The leather is good quality and feels nice to touch. Over the period of using it, I have noticed that having an AirTag in the wallet makes me worry less about losing it.
But, it is a tad more costly than some other card-holder style wallets on the market. Even though it costs a little more, the extra peace of mind can be worth it. It's more than just a place to keep your money and cards, it's also a way to make sure you don't lose them. If losing your wallet is something you worry about, this wallet could be a good choice.
doeboe Airtag Wallet For Men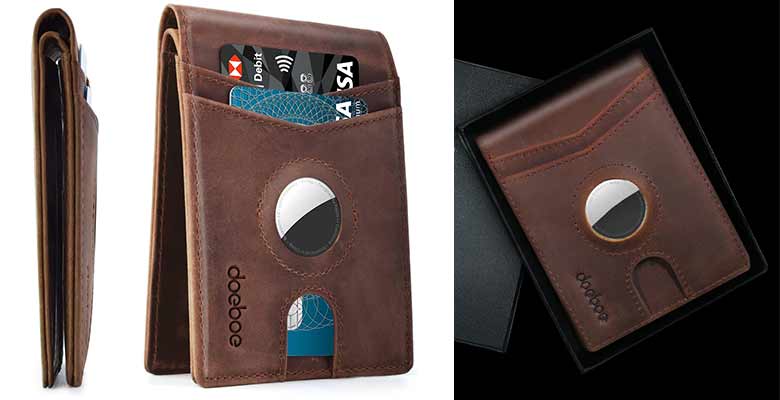 The doeboe AirTag Wallet For Men is a practical choice for anyone looking to combine the security of the AirTag with a functional Bi-Fold style wallet. Similar to the Typecase Slim AirTag Wallet It also has a compartment for the AirTag, which makes sure that you always know where your wallet is. In terms of design, it's quite sleek and fits comfortably in the pocket.
Using it feels normal, and it doesn't feel bulky or overcrowded, even with the AirTag inside. Another thing I like about this wallet is its RFID blocking feature, considering I typically carry anywhere from 2-5 cards in my wallet, this feature alone is worth getting this wallet over. Considering its price, it offers a good balance between functionality and cost, making it a reasonable choice for those who want a Bi-Fold style leather wallet that is AirTag-compatible without spending too much.
Spigen Air Fit AirTag Wallet Card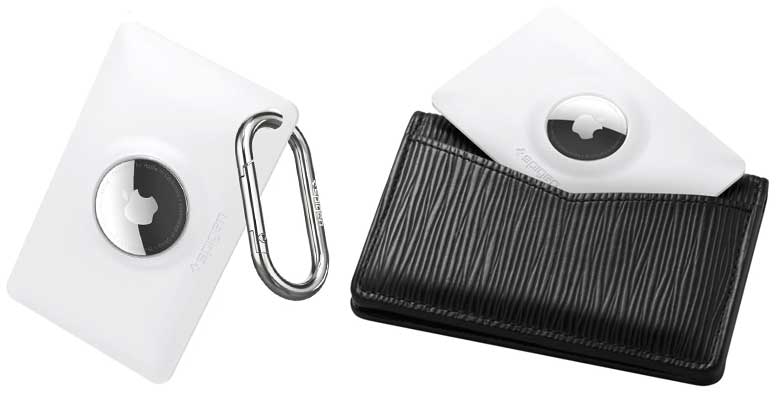 Now that we have talked about the AirTag wallets that have a special slot or compartment inside them to house an airtag. What about if you do not want to buy a new wallet because you already have enough of them or you have a wallet that you already love and don't want to put away because you switched to a new wallet to carry an airtag in it?
The Spigen Air Fit is a credit card-style case for an Apple AirTag. It has a special slot for an AirTag, making sure your wallet is always easy to find. It's slim and doesn't take up much space and the design is neat, keeping cards and the AirTag secure inside the wallet. It may not feel as luxurious as some might prefer, but it does the job well. It offers good value with a practical choice of having an AirTag slot in a wallet that's easy to carry around.
Best Luggage Attachments for Apple AirTag
Traveling can be stressful, but knowing where my luggage is at all times gives me peace of mind while traveling.
Cyrill Color Brick AirTag Case for Pets and Luggage (2 pack)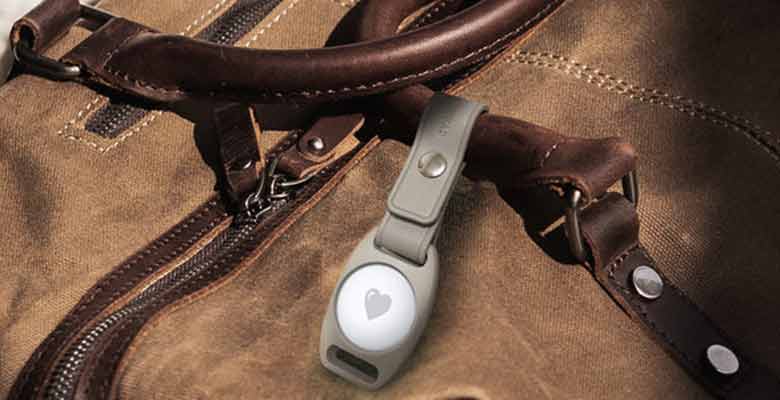 The Cyrill's Color Brick AirTag Luggage Tag is a reliable companion for frequent travelers. It does hold the AirTag securely with the luggage, making sure the luggage is always traceable. Its sleek design is not too bulky, making it a convenient addition to any luggage.
The way it works is you attach it to the strap of your luggage or carry bag and that is why it can also be attached with a pet collar and used as a pet tracker (we have published a complete guide about using AirTag as a pet tracker). Considering the price and the fact that it's a two-pack, it offers a good balance of functionality and affordability, making it a useful accessory for those wanting to keep track of their luggage without too much hassle.
Pelican Luggage Tag for AirTag (Downright best and affordable luggage tag for AirTag)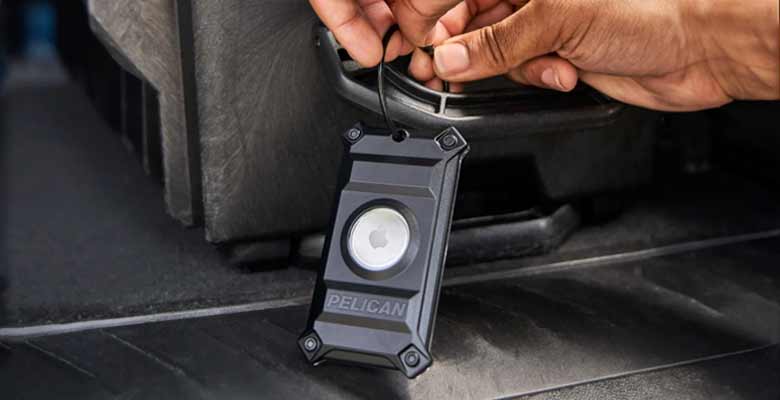 The Pelican Luggage Tag for AirTag, at first glance, offers a robust and virtually indestructible design, ensuring that your AirTag is well-protected. This tag is meant for larger items such as luggage due to its somewhat bulky nature, which makes it less suitable for smaller, everyday items like handbags or pockets. The attachment cable, however, leaves something to be desired.
Although tough, it is susceptible to being cut or loosened, posing a risk of losing the tag and AirTag altogether. To mitigate this, I found that tightening the cable with pliers adds an extra layer of security. Considering its price point, it presents a reasonable value, but potential buyers should weigh its robustness and size against their actual needs and the security of the attachment cable.
Conclusion
I'm sure after exploring various accessories in this blog post, it's clear that each AirTag accessory brings something unique to the table whether it be a luxurious feel, travelling, or using something to attach to your keyring. Whether you're just going about your day or on an adventure, the right accessory can make things a lot easier and protect your AirTag better.