From the moment AMD announced the Ryzen 5 5600X, it was clear this powerhouse had a lot to offer. But how to unlock its full potential? The answer lies in pairing the Ryzen 5 5600x with the perfect motherboard.
It's a task I've dedicated 50+ hours to, building test benches to see which motherboard works best in combination with a Ryzen 5 5600x CPU. The synergy between a CPU and its motherboard is crucial to getting the best out of your gaming rig, and choosing wisely can make all the difference. So buckle up, and join me as I share my top motherboard picks to harness the raw power of the Ryzen 5 5600X.
MSI MAG Tomahawk B550 AMD AM4
In my hands-on time with the MSI MAG B550 Tomahawk, I've come to appreciate its comprehensive feature set, especially when paired with the Ryzen 5 5600X. When I tested PCIe 4.0 support, the data transfer speeds were nothing less than impressive, which especially stands out in load times for GPU-intensive games and high-speed NVMe drives.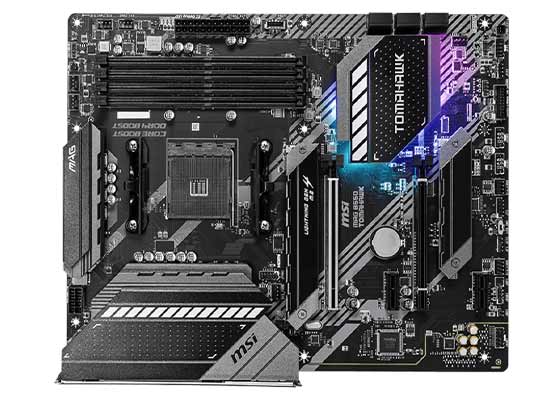 The thermal design is another thing that is a stand-out feature of this motherboard. During testing, even under sustained heavy load, the Frozr heatsinks on the M.2 slots and the extended VRM heatsink kept temperatures comfortably low, allowing the Ryzen 5 5600X to flex its muscles without breaking a sweat.
The 2.5G LAN is a noticeable step up from standard 1 Gbps connections. It makes Online gaming a breeze thanks to nonexistent latency on the part of the motherboard, and traffic optimization ensures a smooth multiplayer experience.
Lastly, the board's BIOS is user-friendly, with the Click BIOS 5 offering a clear, concise layout that both veterans and newcomers to PC building will appreciate. Ryzen 5 5600X and B550 Tomahawk's compatibility here is seamless, ensuring that CPU settings and optimizations are just a few clicks away.
In my eyes, the MSI MAG B550 Tomahawk while coming just under $180 it isn't the absolute cheapest board on the market it is affordable. It also manages to provide an incredible balance between high-end features and a reasonable price tag, outperforming other motherboards in its price range.
That is why this motherboard is my Top pick for the Ryzen 5 5600X. The only possible downside for some people that I can see is its size. Being an ATX-sized motherboard it isn't going to fit into more compact cases like ITX or Mini-ITX builds.
Asus TUF Gaming B550-Plus AM4
I tested the Asus TUF B550-plus in my Ryzen 5 5600x test bench and tested it for over two weeks. Putting it through its paces and running a number of CPU-intensive synthetic and real-world usage tests.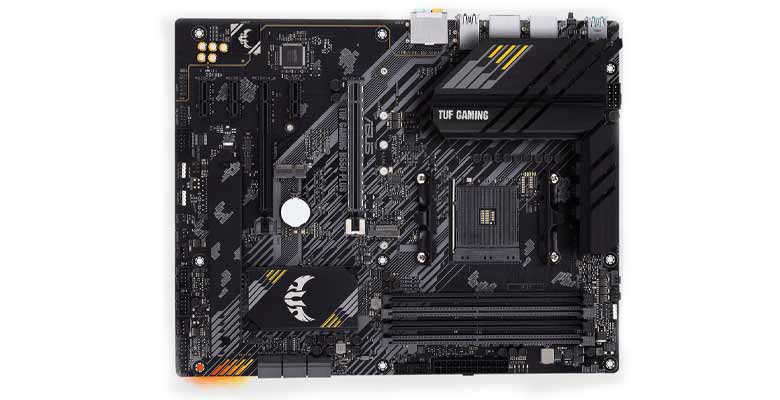 In all that testing the PCIe 4.0 support helped in pushing the 5600X to its limits, allowing me to exploit the full potential of my high-speed NVMe drives. And let's not forget the standout feature: AI Noise-Cancelling technology, which significantly improved my voice clarity in games and video calls as far as I could tell. Safe to say I did not face a lot of that floor noise like one faces in most of the low-end motherboards.
I also put the motherboard's thermal design through tough tests. The VRM and PCH heatsinks, working alongside the M.2 heatsink helped temperatures stay stable and allowed the Ryzen 5 5600X to perform without compromise.
Though the TUF Gaming B550-Plus may not dazzle you with flashiness, it stands strong in its class. It offers remarkable value for its mid-range price, combining performance and affordability effectively. It's a strong choice for Ryzen 5 5600X users seeking solid performance without breaking the bank.
Asus TUF x570-Plus (Wi-Fi) Gaming Motherboard
Asus TUF x570-Plus is a premium offering from the Asus TUF Gaming lineup, although it is priced in the same 200-220 dollars price bracket as the TUF gaming 550-plus motherboard above it stands in its own class.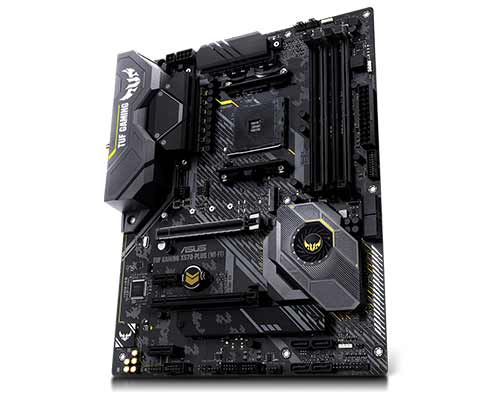 At the core of its appeal lies the full PCIe 4.0 support which is in line with most of the motherboards for this class of CPUs. With the Ryzen 5 5600X at its side, the motherboard performs at extraordinary speed, taking full advantage of high-speed NVMe drives and top-tier GPUs like Nvidia's RTX 3080.
One of the things that separate this motherboard from the rest is the Wi-Fi 6 (802.11ax) support, a game-changer for wireless connectivity. Pair this with the Ryzen 5 5600X, and you get a seamless online gaming experience with reduced latency (if you don't want to go with a wired network connection).
Under demanding loads, the comprehensive cooling system works quite efficiently. And the Active chipset heatsink, VRM, and M.2 heatsinks help keep your Ryzen 5 5600X-based PC build cool (you should also use a good CPU cooler for your Ryzen 5 5600X), ensuring stable performance.
When pitting the Asus TUF Gaming X570-Plus against other Ryzen 5 5600X compatible motherboards, it is a clear premium choice. Although it comes at a higher price point than many budget-oriented motherboards, the host of high-end features and the build quality justify the investment. If you're after exceptional performance and can stretch the budget, the TUF Gaming X570-Plus is a motherboard made to pair with your Ryzen 5 5600X.
ASRock X570M Pro4 (AM4) Micro-ATX Motherboard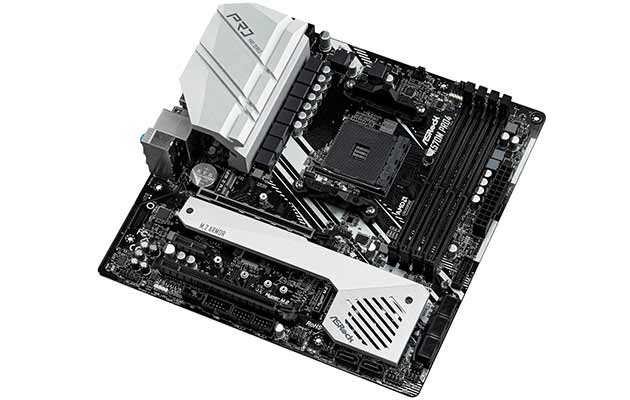 The main selling point of ASRock X570M pro4 isn't the price (although it is available for under 180 dollars on Amazon), for me, it is the smaller Micro ATX Form Factor of this motherboard enabling me to use it in smaller cases and PC builds.
With this motherboard being a bit more affordable and smaller in form factor, it is a surprise how there are no corners cut in terms of features as it supports PCIe 4.0 support and heatsinks for the VRM, chipset, and the whole works.
Let me talk about ASRock X570M Pro4's rich and versatile I/O a little. It hosts eight USB ports, dual M.2 slots, six SATA3 ports, and HDMI and DisplayPort outputs. An Intel Gigabit LAN and an HD Audio jack. The I/O's comprehensive nature caters to a wide variety of user needs to fully take advantage of the raw power of the motherboard and the Ryzen 5600x CPU.
I'd recommend this board to individuals who are especially looking to build a smaller, more space-efficient PC without sacrificing performance or features. This includes gamers who need a high-performance PC that can fit into a small or portable case and professionals who want a powerful workstation in a confined space.
In Conclusion
As we discussed above, picking the right motherboard and RAM for the Ryzen 5 5600X can enhance your PC's performance and longevity, ensuring you enjoy every bit of power this CPU offers. From the MSI MAG B550 Tomahawk's gaming-focused features to the compact ASRock X570M Pro4, there's a perfect board for every build in my picks.
Remember, your motherboard is a bit like a backstage crew at a rock concert, without which there wouldn't be a show. And speaking of shows, isn't it ridiculous how the AMD 5 series CPUs are like the Hulk in a tuxedo? All dressed up, but ready to smash through any task you throw at them!